Alberto Contador flew past twice as fast as I was going - and he had a broken leg!
Simon Yates blogs from the first rest day of the Tour de France
Last Updated: 19/09/14 3:38pm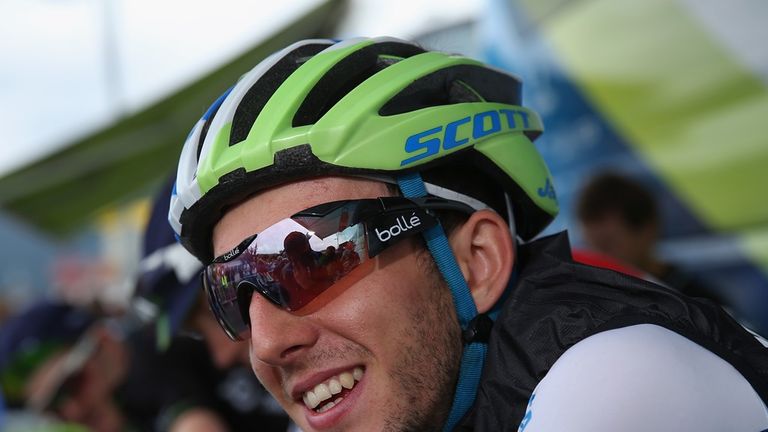 I'm writing this latest post from our team hotel in Besancon on the first rest day of the Tour, after what it's fair to say has been a really eventful first ten stages.
I won't lie, I'm pretty happy to have a rest today. I needed it. Unfortunately I came down ill on the day I was in the breakaway, on stage eight, and I'm feeling quite rough now.
The weather was bad and the rain really started hammering down just before the end, and because I was going for the win, I was going really deep. There was a lot of spray on the road and I think I must have swallowed some of that dirty water. I had a cough straight after and then woke up the next morning pretty sick.
Hopefully I can recover a bit today because, on paper, the next two stages look really good for the team and I'm keen to help out as much as I can.
Resting up
I've just been for a ride for about an hour and a half this morning, just to make sure we're ready for tomorrow, but there's not much else going on today. I'm going to get a massage and really just rest up.
I've been sharing a room with my Orica-GreenEdge team-mate Jens Keukeleire and he has brought his PlayStation along, so we've been playing Fifa every day, which has kept us entertained.
The highlight of the race so far has undoubtedly been the crowds in England. They were truly incredible.
Simon Yates
We've also been really getting into the TV series Breaking Bad and we're on the last couple of episodes now, so we're trying to slow it down and only watch half an episode a day because it's getting to the crunch and we want to string it out. We've been telling the bus driver and the masseurs to hurry up so that we can get back to the room and watch the next part.
Looking back on the racing, it's been a really tough and treacherous ten days. You only have to look at yesterday, with Alberto Contador crashing out. No one has an easy day out there.
I was actually in front of Contador on the next climb after he had crashed because he had obviously had to stop to get himself sorted out, but then I was dropped by the peloton and after about three or four minutes, he came flying past with his team at probably double the speed I was going.
Disbelief
I thought at the time he must be OK and not too badly hurt, but then it turned out he was riding with a broken leg! I couldn't believe it when I found out. It just shows you how much it means to some guys.
To be fair, I felt like I was going pretty well myself before I came down ill. On stage seven, we had a game plan to make the race really hard and I was on the front over the climbs and I felt really good, and then on stage eight I managed to get into the breakaway and, at one point, it looked like I could even be in with a chance of a stage win.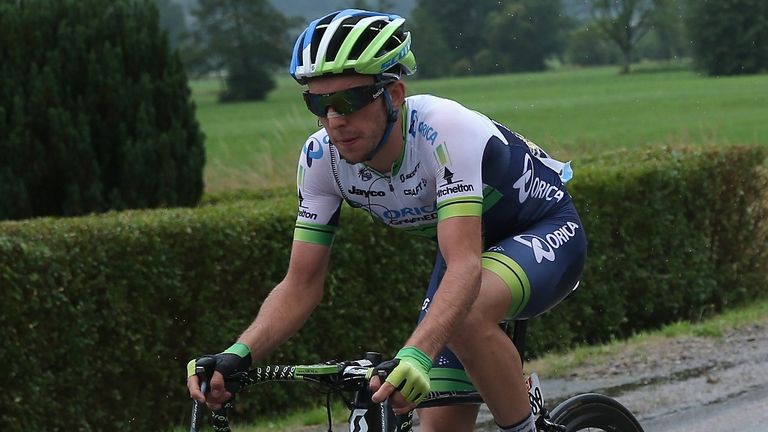 We managed to build up a gap of over ten minutes and when we still had that much time with 40km to go, you start thinking you could stay away.
Unfortunately, it started raining, and I think that had a big impact. If it didn't start raining, I think we would have all stayed away. I know Blel Kadri did hang on and ended up winning, but because the roads were getting wet, everyone wanted to get to the front of the peloton and the pace naturally went up. I had tried so hard getting into the break that when it came to the business end, my legs had already gone and I ended up getting caught just before the finish.
The highlight of the race so far, though, has undoubtedly been the crowds in England. They were truly incredible.
Incredible crowds
The cobbles on stage five were also something that I won't forget in a hurry. That was an experience.
Simon Yates
On the climbs it was just a wall of noise, and on stage two in particular, a lot of those roads were local to me and I could really hear my name being shouted out. I don't think I'll forget that for a long, long time.
The cobbles on stage five were also something that I won't forget in a hurry. That was an experience. I've ridden cobbles before, having done the under-23 Tour of Flanders a couple of times and Gent-Wevelgem earlier this year, but they were in the dry, so riding them in the wet was a totally different ball game.
But that said, we really nailed the set-up on the bikes and, if anything, it was surprisingly easier on the cobbles than it was on the flat because of the fight to get to the front prior to the cobbles. As soon as you get on to the cobbles, you're in one long line and you can't really move up, so it was just a matter of holding your position.
Admittedly, I didn't have any ambitions to win that day, so I was able to play it cool and sit at the back and just stay out of trouble, but it was quite a good day nonetheless.
Sadly, I might have to leave it there. Jens has loaded up Fifa and is giving me an angry look!