Giro Rest Day Q&A: Bernhard Eisel
As the Giro d'Italia halts for its second rest day Bernhard Eisel answers some great Team Sky fan questions from Twitter.
Last Updated: 20/05/14 5:57pm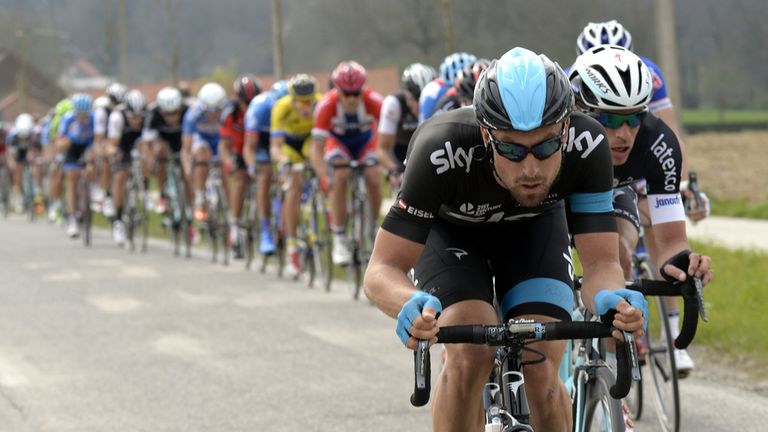 After nine demanding Giro stages we caught up with Bernhard Eisel from the team's rest day base in Riposo.
After a light training spin in the morning Eisel sat down to answer fan questions sent in via the #AskBernie hashtag.
Check out his responses below and see if your question got answered.
@TeamSky #AskBernie what did you think the start of the giro in Ireland?

— Caolán Stuart (@CStuart2010) May 19, 2014
I absolute love Ireland. I did the Tour of Ireland twice and I was really looking forward to going back there. Just the scenery and everything is incredible. The weather is a different story but no one can change that. We had such a great welcome and it was an amazing five days. The people and the organisation made up for the bad weather by far.
I really have my fingers crossed that the Tour of Ireland is back in 2015.
@TeamSky What would a "Weekend at Bernie's" be like? #AskBernie

— Tawny Cam (@TawnyCam) May 19, 2014
It would be a really lazy one. Cyclists in general tend to be quite lazy people. And when we're back at home it's our time to turn off and relax.
@TeamSky @EiselBernhard Whats your favourite food to get in a musette? #AskBernie

— andrew hildyard (@AndrewHildyard) May 19, 2014
I really like our rice cakes and our CNP bars. But sometimes just a little surprise of something new makes all the difference. I doesn't matter so much what it is.
@TeamSky how do procyclists manage with applying sunscreen on long stages? Do they just apply at the start & hope for the best? #askbernie

— JenJenJenJenJenJen (@Jenlovescycling) May 19, 2014
We put it on at the start but sometimes riders forget and we have spare suncream in the cars. So you can put it on whilst on the bike. It's really important for recovery that we make sure we don't get sunburnt. We always go for pretty much the highest factor protection you can get, just to make sure. You're body is always busy enough recovering from the stages or crashes that it doesn't need to be repairing skin.
@EiselBernhard Who is the prankster in @TeamSky?? That always tries to keep things interesting and entertaining in the squad? #AskBernie

— Adam Craggs (@CraggsAdam) May 19, 2014
I think Luke Rowe is pretty much on the way there. He is trying hard! He's really funny. He's a great talent and a really nice guy. He's always there if you want to have fun.
#AskBernie @teamsky @EiselBernhard how many miles would you guys normally do on a rest day in a grand tour?

— Steffan Rafferty (@stefantasist) May 19, 2014
It depends a lot on the race. Today was a good one we just did 40km and stopped for a coffee break. It helps that tomorrow is a flat stage with around 200km on the flat before we hit the final. But in contrast the final rest day before the Gavia stage we will actually do some efforts on the climbs. You can't let your body shut off. So I know that this is actually my last rest day for this tour. The next one will be a short day but definitely not a rest day. More like a training day.
@TeamSky So. The Austrian beard. Is it to be known as 'The Eisel' or 'The Conchita'??

May 19, 2014
I think (Eurovision Song Contest winner) Conchita did really well and I was really proud to watch it. I was on Facebook and Twitter while it was on and watching it with the British commentary in Belfast. It was a good night. I was probably up a bit too late but it was worth it. It was great for Austria and I think the rest of Europe.
@TeamSky What is the name of your new pet rabbit? #AskBernie

— Maria van Steijn (@luiske) May 19, 2014
My family back home have a lot of animals. I have a cat which I think most people know. But we have pretty much everything back home. It's not a farm but there are a lot of cats and dogs running around. Rabbits too. That's how I grew up – a boy from the countryside.
@TeamSky toughest single stage in your career?? #askbernie

— will denny (@will_denny15) May 19, 2014
I think the toughest one was probably one of the shortest in history (109.5km). Stage 19 in 2011 with the finish on Alpe-d'Huez. We did the Telegraphe, the Galibier and Alpe-d'Huez. I pretty much raced the whole day at the back with David Millar and the ambulance! I have tried to delete it from my mind but it always comes back in my nightmares.
@TeamSky #askBernie; what's your record speed downhill and in what race was this? Thanks!

— Racefietsblog.nl (@racefietsblog) May 19, 2014
We go really fast. I think people forget that we have just two tiny patches of contact with the asphalt. What if there is a rock in the road. But we're sometimes doing over 100km/h and when I look back when I was younger I think I was doing 117km/h at the Tour of Austria. I think now I would probably start braking! I still go fast downhill but you get older and you get wiser.
@TeamSky what's your favourite breakfast and how do u take your coffee? #AskBernie

— anne salvage (@SalvageAnne) May 19, 2014
For my coffee – always black or espresso with sugar. For a breakfast it depends. It could be just a nice croissant with coffee. Or some nice porridge and an omelette if I want more of a race food breakfast.
@TeamSky @EiselBernhard #askbernie How do you fill the spare time in the evenings when on tour?

— Linda Billett (@Thehenlady) May 19, 2014
I like this question because I think a lot of people think we have all this spare time. There really isn't much on a typical Grand Tour day. We race, spend maybe an hour on the bus and then at around 6.30pm you get back to the hotel. Some days it is much later. If you're lucky you have a massage before dinner. So 45 minutes to an hour of massage then something to eat. That's pretty much it before bed. If I have a bit of time I'll read or just go on the internet and catch up with friends. But there isn't really much time.
@TeamSky @EiselBernhard Which do you prefer The Classics or Stage races? #AskBernie

— Kendo (@Kenny79) May 19, 2014
I like both. The Classics are just a one-day shot and then it's over. But it's really nice when you achieve something. For the stage races you see the group come together as it goes on. It's not more fun but it glues teams and riders together.
@TeamSky @EiselBernhard #AskBernie What are your top 3 tips for taking part in a 10mile TT - on a Wednesday night A77 Glasgow Scotland?

— VC Glasgow South (@vcglasgowsouth) May 19, 2014
Don't do it! (laughs). Maybe ask Alex Dowsett for some tips if he isn't racing against you!
Make sure to follow @TeamSky on Twitter for all the latest news and more social Q&As. You can also follow Bernie via @EiselBernard.