Tour de France 2014 preview
Comprehensive guide to the biggest race of the year
By Matt Westby
Last Updated: 03/07/14 1:55pm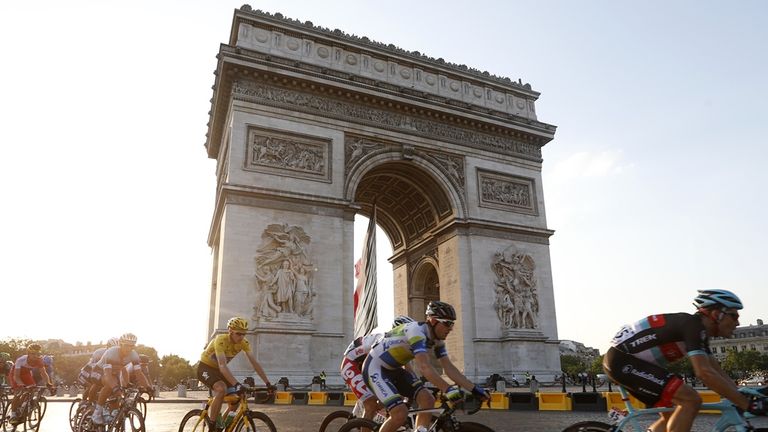 The Tour de France is always the cycling season's marquee race, but for the British fan, the 101st edition is set to be doubly special.
For only the second time in its history, the race will start on English soil with a Grand Depart comprising of two days in Yorkshire and a third from Cambridge to London.
In addition to that, defending champion Chris Froome is favourite to win the race for the second year in a row and hand Britain its third successive victory.
However, the Team Sky rider is set to face stiff competition from a host of talented and decorated rivals, not least a resurgent Alberto Contador, himself a two-time Tour winner.
The race will run from July 5-27. Here's how the action will pan out...
Stages
Stage 1: Saturday, July 5 - Leeds to Harrogate - 190.5km
The race opens with what should be a sprint stage into Harrogate. There are three categorised climbs on the route, but all three come in the middle third of the stage and with the last one being followed by more than 60km of flat to the finish, there is plenty of time for the sprint teams to bring the peloton back together should there be any splits.
Stage 2: Sunday, July 6 - York to Sheffield - 201km
Although early in the race, stage two could be one of the hardest days of the whole Tour. Likened by race director Christian Prudhomme to the Liege-Bastogne-Liege one-day Classic, the route contains no fewer than nine categorised climbs, including five in a truly brutal final 65km. The peloton should stay together for the first 170km, but once the riders enter Sheffield, the bunch could well be blown to pieces. The Cote d'Oughtibridge (1.5km at an average of 9.5 per cent gradient) is perfect for initial attacks, but it is on the now-famous Jenkin Road (800m at 10.8 per cent) where the stage-winning selection is likely to be made. A 33 per cent ramp awaits on this sharp and devilishly steep climb, and it could be that only a handful of riders are still at the head of the race over the summit. More riders should join the lead group on the 5km flat run to the finish, where a reduced-bunch sprint is likely.
Stage 3: Monday, July 7 - Cambridge to London - 155km
After the exertions of Sheffield, the peloton gets a bit of a breather with a short and flat day that is guaranteed to finish in a bunch sprint. The route enters London via the 2012 Olympic park and ends on The Mall.
Stage 4: Tuesday, July 8 - Le Touquet Paris-Plage to Lille - 163.5km
The race returns to France on a fourth day that is once again set to be a battle between the sprinters. There is a small category-four climb in the last third of the stage, but it is far too far out to derail the sprint trains.
Stage 5: Wednesday, July 9 - Ypres to Arenberg Porte du Hainaut - 155.5km
A potentially crucial day littered with hazards and danger. It's almost entirely flat, but the route includes nine sections of dreaded cobblestones, known in France as pavé, totalling 15.4km. All of them come in what is sure to be nervous and highly charged second half of the stage. Among them are the Carrefour de l'Arbre, made famous by Paris-Roubaix, and De Wandignies-Hamage a Hornaing, which is the longest stretch at a bone-rattling 3.7km. The pavé is ripe for crashes but is also foreign territory for general classification contenders such as Chris Froome and Alberto Contador, whose inexperience on such terrain could see them lose significant blocks of time if they are not careful. The winner on the day is likely to be a cobbled Classic specialist following a late acceleration.
Stage 6: Thursday, July 10 - Arras to Reims - 194km
Some semblance of calm should return to the peloton on a sixth stage that is once again set for a sprint finish. It's a fairly long day and there are two categorised climbs en route, but the last of them comes more than 35km from the finish, so too far out to deny the fast men a chance to battle it out for victory.
Stage 7: Friday, July 11 - Apernay to Nancy - 234.5km
The second longest stage of the race takes the peloton into eastern France and is largely flat but for two category-four climbs inside the final 20km. The pure sprinters may well get over the Cote de Maron, but they could struggle to survive the steep ramps of the Cote de Boufflers. Attacks will be plentiful on this climb and a small group may form over the summit and subsequent descent, setting up a reduced-bunch sprint in Nancy.
Stage 8: Saturday, July 12 - Tomblaine to Gerardmer - 161km
The race enters the Vosges Mountains and although it is a relatively short day, it ends with a brutal barrage of three categorised climbs in less than 30km. The Col de la Croix des Moinats will thin the peloton right down, but it is on the deceptively difficult Col de Grosse Pierre where the most serious damage will be done. This 3km climb has a maximum ramp of 16 per cent and is likely to blow what is left of the bunch to pieces, creating a select group of riders who will battle it out on the concluding climb to Gerardmer. Whether the stage victory will still be up for grabs is not certain, because the profile offers potential for a breakaway winner.
Stage 9: Sunday, July 13 - Gerardmer to Mulhouse - 170km
Another meaty day in the Vosges Mountains takes the riders over no fewer than six categorised climbs on a route that could once again suit a breakaway winner. The day actually ends with a long descent off the Grand Ballon climb and then 21km of flat to the finish, but the sprinters will have long-since been dropped, so if the winner comes out of the peloton, the spoils should go to a strong climber with a swift turn of speed for the finish.
Stage 10: Monday, July 14 - Mulhouse to La Planche des Belles Filles - 161.5km
The last stage before the first rest day, stage ten ends with a summit finish on the category-one La Planche des Belles Filles and is almost certain to produce fireworks as the general classification contenders look to put time into each other. This climb is a happy hunting ground for Chris Froome, having claimed his first Tour stage win there in 2012, and he will once again hope to use it to inflict damage on his rivals two years on. It is steep throughout its 5.9km distance, but is at its worst right at the top, where a 20 per cent wall awaits the riders just before the finish line. The ascent is actually the seventh categorised climb of a bruising day that should deliver thrilling racing.
Stage 11: Wednesday, July 16 - Besancon to Oyonnax - 187.5km
The riders ease themselves back into action after the rest day with a rolling stage containing four categorised climbs in the final 50km, but they do not look big or steep enough to split the pack and the day instead looks set to end in a bunch sprint. Much will depend on the ascent of the Cote d'Echallon, which averages 6.6 per cent in gradient over its 3km distance and could see the pure sprinters dropped if the pace is ramped up in the pack. This climb could also encourage attackers aiming for solo glory, but the likelihood is the peloton - or at least the bulk of it - will arrive at the finish as one.
Stage 12: Thursday, July 17 - Bourg-en-Bresse to Saint-Etienne - 185.5km
The race continues to make its way south with a day that contains four categorised climbs but should finish in a sprint. The climbs of the Col des Brosse and Cote de Grammond are both too shallow to facilitate significant splits in the pack, and the breakaway will also struggle to stay away with the sprint trains no doubt sniffing a stage win. The only question mark is whether the purest sprinters can get over the climbs, but unless the pace is ramped up ludicrously high, they should do.
Stage 13: Friday, July 18 - Saint-Etienne to Chamrousse - 197.5km
The riders travel into the Alps for the first time as the general classification battle sparks back into life. There is a category-one climb in the final 50km, but the race favourites will save their attacks for the long and difficult climb up to the summit finish at the ski resort of Chamrousse. The ascent is at its steepest at the bottom, but those looking to make gains on this day are more likely launch their moves in the final 4km, when the gradient is around nine per cent and more conducive to attacks. A big day in the race for the yellow jersey.
Stage 14: Saturday, July 19 - Grenoble to Risoul - 177km
This is arguably the queen stage of the race, taking in three huge climbs and ending with a second consecutive summit finish. The ascent to Risoul is not actually the hardest of the race - certainly easier than Chamrousse the day before - but the fact that it comes after the Lautaret and hors-categorie Izoard means the riders will be tired by the time they reach its lower slopes and the challenge is therefore amplified. This is the last mountain stage before the second rest day, so the general classification contenders will be keen to perform well here to ensure they enter the final week in as strong a position as possible.
Stage 15: Sunday, July 20 - Tallard to Nimes - 222km
The second week ends with a long transitional stage that is almost certain to end in a bunch sprint. Taking the peloton away from the Alps, through Provence and towards the Pyrenees, there are no categorised climbs en route, so nothing to concern the sprint trains.
Stage 16: Tuesday, July 22 - Carcassone to Bagneres-de-Luchon - 237.5km
Following the second rest day, the action resumes with the longest stage of the race. Taking the riders into the Pyrenees, it rolls gently for the first 140km, but soon starts to get more challenging and ends with the hors-categorie ascent of Port du Bales and then a high-speed, 21.5km run to the finish in Bagneres-de-Luchon. The climb is tough enough to get the general classification contenders interested and a group could well break clear over the top. Then it's a question of whether they can hang on all the way down to the line.
Stage 17: Wednesday, July 23 - Saint-Gaudens to Saint-Lary-Soulan (Pla d'Adet) - 124.5km
Another huge and relentless day in the mountains, with three category-one climbs and then a hors-categorie summit finish awaiting the riders. The fact that the stage is so short could make for a frantic pace and generate significant splits in the peloton as early as the first or second climbs. By the time the front-runners hit the foot of the ascent to Pla d'Adet there might only be 30 or so riders left in contention, and that number will be whittled down further by some tough opening ramps of over ten per cent in gradient. A breakaway might be given licence to battle it out for the stage win between themselves, but back down the road, this will be a key day in the general classification battle.
Stage 18: Thursday, July 24 - Pau to Hautacam - 145.5km
The race's final day in the mountains is another short but bruising affair, with riders being taken over the legendary Col du Tourmalet and then up to a summit finish at the Hautacam ski station. The riders will tackle the Tourmalet from its eastern flank, but with a challenge as significant as the hors-categorie Hautacam still to come, it's difficult to envisage too much attacking action here. The final climb is a different matter, with the climbers no doubt looking to capitalise fully their last sortie uphill.
Stage 19: Friday, July 25 - Maubourguet val d'Adour to Bergerac - 208.5km
A transitional 19th stage sees the battle for the yellow jersey take a back seat and the sprinters return to the fore. However, there's a catch. Less than 15km from the finish is the short and sharp climb of the Cote de Montbazillac, which has the potential to catch people out, so positioning leading on to the foot of the ascent will be important.
Stage 20: Saturday, July 26 - Bergerac to Perigueux - 54km individual time trial
This is the day on which the race winner will finally be decided. A rolling, 54km individual time trial, it is a dauntingly difficult test that will brutally expose any general classification contender who is not at their best - and could consequently see plenty of movement in the overall standings. The first three-quarters of the route are not overly technical, but then the course starts winding as it nears Perigueux, ensuring effective cornering will be just as important as raw power in the finale.
Stage 21: Sunday, July 27 - Evry to Paris - 137.5km
Whoever is in the yellow jersey will merely have to survive this largely processional day without crashing to complete their overall victory of the Tour. For the sprinters, however, the race is very much still on. The finishing straight on Paris' Champs-Elysees is the most prestigious sprint in the sport and so all of the fast men will be going all out to claim a famous victory.
Key stages
Stage five: The cobbles of northern France could see general classification contenders lose early time, or worse, crash out of the race altogether. It should be a great watch.
Stage 13: It's difficult to pick between the mountain stages, but the long climb to Chamrousse could see significant splits and do irreparable damage.
Stage 20: The only individual time trial of the race could decide the destination of the yellow jersey.
Previous winners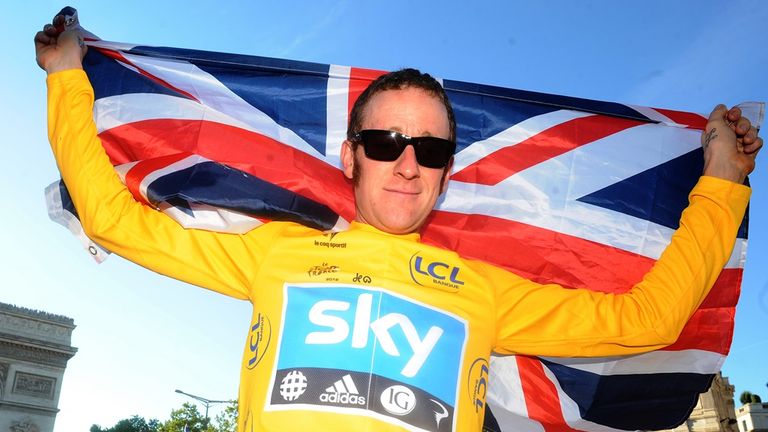 2013: Chris Froome (GB)
2012: Sir Bradley Wiggins (GB)
2011: Cadel Evans (Aus)
2010: Andy Schleck (Lux)
2009: Alberto Contador (Spa)
2008: Carlos Sastre (Spa)
2007: Alberto Contador (Spa)
2006: Oscar Pereiro (Spa)
The jerseys
- Yellow: General classification.
- Polka dots: King of the mountains.
- White: Best young rider.
- Green: Points classification.
Points allocation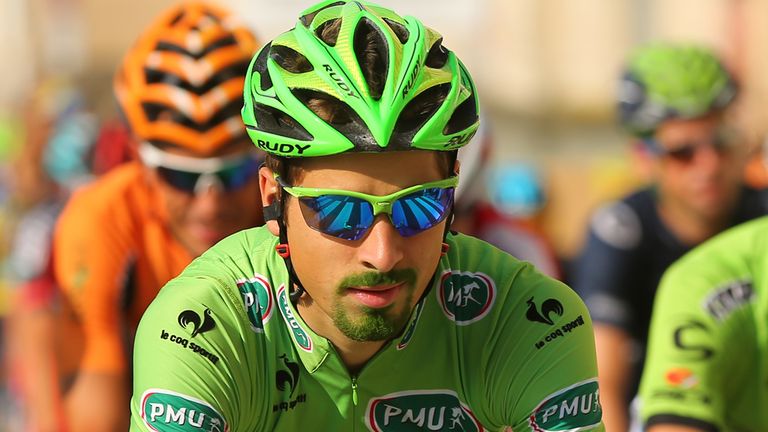 Points classification
Each stage of the race falls into one of six categories, or "coefficients". Points are awarded in each coefficient in the following way....
- Coefficient one (flat stages): 45, 35, 30, 26, 22, 20, 18, 16, 14, 12, 10, 8, 6, 4 and 2 points to the first 15 riders over the line.
- Coefficients two and three (medium-mountain stages): 30, 25, 22, 19, 17, 15, 13, 11, 9, 7, 6, 5, 4, 3 and 2 points to the first 15 riders over the line.
- Coefficients four and five (high-mountain stages): 20, 17, 15, 13, 11, 10, 9, 8, 7, 6, 5, 4, 3, 2 and 1 point for the first ten riders over the line.
- Time trial stage (stage 20): 20, 17, 15, 13, 11, 10, 9, 8, 7, 6, 5, 4, 3, 2 and 1 point to the 15 quickest riders.
Points are also allocated at intermediate sprints in the following way...
- 20, 17, 15, 13, 11, 10, 9, 8, 7, 6, 5, 4, 3, 2 and 1 points to the first 15 riders over the line.
Mountains classification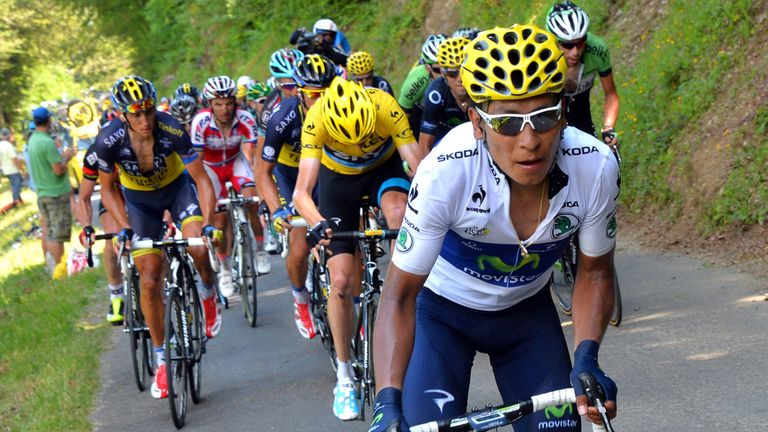 Points are awarded in the following way...
- Hors-categorie climbs: 25, 20, 16, 14, 12, 10, 8, 6, 4 and 2 points to the first ten riders over the summit.
- Category-one climbs: 10, 8, 6, 4, 2 and 1 point to the first six riders over the summit.
- Category-two climbs: 5, 3, 2 and 1 point to the first four riders over the summit.
- Category-three climbs: 3, 2 and 1 point for the first three riders over the summit.
- Category-four climbs: 1 point for the first rider over the summit.
Double points are awarded on the summit-finish climb on stages ten, 13, 14, 17 and 18.
Further reading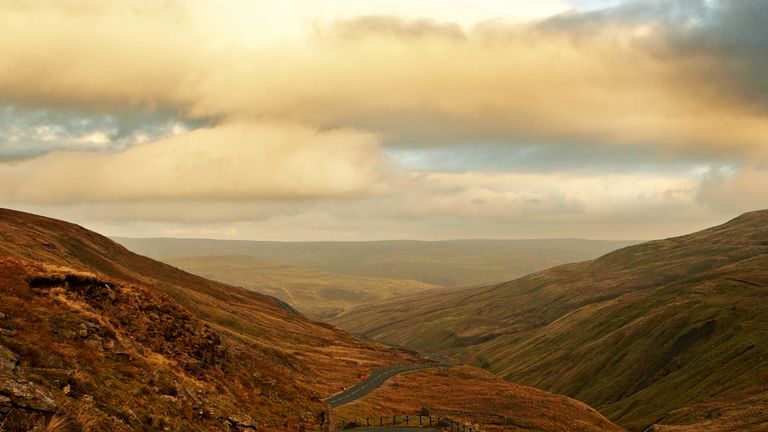 Where to watch in England
Time schedules for the English stages
Stage two analysis
Route analysis
The Contenders
The Sprinters - to follow
Ten to Watch - to follow
The Climbs
Britons at the Tour - to follow
Betting guide
Teams and riders
AG2R-LA MONDIALE
Country: France. Status: WorldTour
A squad rich with climbing talent, they don't have the pedigree to challenge for overall victory but will be looking for stage wins.
Team: Romain Bardet (Fra), Mikael Cherel (Fra), Samuel Dumoulin (Fra), Ben Gastauer (Lux), Blel Kadri (Fra), Sebastien Minard (Fra), Matteo Montaguti (Ita), Jean-Christophe Peraud (Fra), Christophe Riblon (Fra).
ASTANA
Country: Kazakhstan. Status: WorldTour
Astana are eyeing overall victory with Vincenzo Nibali and will concentrate all their efforts to help the Italian's tilt at the yellow jersey.
Team: Jakob Fuglsang (Den), Andriy Grivko (Ukr), Dmitriy Gruzdev (Kaz), Maxim Iglinskiy (Kaz), Tanel Kangert (Est), Vincenzo Nibali (Ita), Michele Scarponi (Ita), Alessandro Vanotti (Ita), Lieuwe Westra (Ned).
BELKIN
Country: Netherlands. Status: WorldTour
They have two potential general classification contenders in Bauke Mollema and Laurens ten Dam, so their focus will be on the bigger picture rather than select days.
Team: Lars Boom (Ned), Stef Clement (Ned), Laurens ten Dam (Ned), Steven Kruijswijk (Ned), Tom Leezer (Ned), Bauke Mollema (Ned), Sep Vanmarcke (Bel), Maarten Wynants (Bel).
BMC RACING
Country: USA. Status: WorldTour
With no Cadel Evans at this year's race, Tejay van Garderen will be leader and his team-mates will dedicate all their efforts to his cause.
Team: Darwin Atapuma (Col), Marcus Burghardt (Ger), Amael Moinard (Fra), Daniel Oss (Ita), Michael Schar (Swi), Peter Stetina (USA), Greg van Avermaet (Bel), Tejay van Garderen (USA), Peter Velits (Svk).
BRETAGNE-SECHE ENVIRONNEMENT
Country: France. Status: Pro Continental
As representatives of the host nation, they will look to get in as many breakaways as possible, but a stage win will be beyond them.
Team: Jean Marc Bideau (Fra), Anthony Delaplace (Fra), Brice Feillu (Fra), Romain Feillu (Fra), Armindo Fonseca (Fra), Arnaud Gerard (Fra), Florian Guillou (Fra), Benoit Jarrier (Fra), Florian Vachon (Fra.
CANNONDALE
Country: Italy. Status: WorldTour
Cannondale have split priorities. On flatter days they will work for sprinter and green jersey hopeful Peter Sagan, while on hillier days they will focus on breakaways and snatching stage wins.
Team: Maciej Bodnar (Pol), Alessandro de Marchi (Ita), Ted King (USA), Kristijan Koren (Slo), Marco Marcato (Ita), Jean-Marc Marino (Fra), Fabio Sabatini (Ita), Peter Sagan (Svk), Elia Viviani (Ita).
COFIDIS
Country: France. Status: Pro Continental
A second-tier team but a regular fixture at the Tour, they will look to get in as many breakaways as possible and also back Daniel Navarro's general classification challenge.
Team: Nicolas Edet (Fra), Egoitz Garcia (Spa), Cyril Lemoine (Fra), Luis Angel Mate (Spa), Rudy Molard (Fra), Daniel Navarro (Spa), Adrien Petit (Fra), Julien Simon (Fra), Rein Taaramae (Est).
EUROPCAR
Country: France. Status: WorldTour
The French team like to go on the attack and this year's race will be no different, with infiltrating breakaways and sneaking stage wins high on their list of priorities.
Team: Yukiya Arashiro (Jap), Bryan Coquard (Fra), Cyril Gautier (Fra), Yohann Gene (Fra), Alexandre Pichot (Fra), Perrig Quemeneur (Fra), Kevin Reza (Fra), Pierre Rolland (Fra), Thomas Voeckler (Fra).
FDJ
Country: France. Status: WorldTour
One of the more versatile teams in the peloton, FDJ will look to challenge in the general classification with Thibaut Pinot and in the sprints with Arnaud Demare.
Team: William Bonnet (Fra), Mickael Delage (Fra), Arnaud Demare (Fra), Arnold Jeannesson (Fra), Matthieu Ladagnous (Fra), Cedric Pineau (Fra), Thibaut Pinot (Fra), Jeremy Roy (Fra), Arthur Vichot (Fra).
GARMIN-SHARP
Country: USA. Status: WorldTour
Attacking has become a trademark for the American team and that will no doubt continue at this year's Tour. However, in Andrew Talansky, they also have a rider with general classification hopes to look out for.
Team: Janier Acevedo (Col), Jack Bauer (NZ), Alex Howes (USA), Ben King (USA), Sebastian Langeveld (Ned), Ramunas Navardauskas (Lit), Tom-Jelte Slagter (Ned), Andrew Talansky (USA), Johan Vansummeren (Bel).
GIANT-SHIMANO
Country: Netherlands. Status: WorldTour
A sprint team whose only interest will be setting Marcel Kittel and John Degenkolb up for stage wins and ushering them safely through the mountains.
Team: Roy Curvers (Ned), John Degenkolb (Ger), Dries Devenyns (Bel), Tom Dumoulin (Ned), Cheng Ji (Chn), Marcel Kittel (Ger), Koen de Kort (Ned), Albert Timmer (Ned), Tom Veelers (Ned).
IAM CYCLING
Country: Switzerland. Status: Pro Continental
One of the newest teams in the sport, they will make their Tour debut and hope to make their presence felt by hunting for stage wins and maybe even challenging for a top ten overall through Mathias Frank.
Team: Sylvain Chavanel (Fra), Martin Elmiger (Swi), Mathias Frank (Swi), Heinrich Haussler (Aus), Reto Hollenstein (Swi), Roger Kluge (Ger), Jerome Pineau (Fra), Sebastien Reichenbach (Swi), Marcel Wyss (Swi).
KATUSHA
Country: Russia. Status: WorldTour
Katusha's 2014 Tour de France campaign will be all about snatching stage wins, on the flat with Alexander Kristoff and in the mountains with Joaquim Rodriguez.
Team: Vladimir Isaychev (Rus), Alexander Kristoff (Nor), Luca Paolini (Ita), Alexander Porsev (Rus), Joaquim Rodriguez (Spa), Egor Silin (Rus), Gatis Smukulis (Lat), Simon Spilak (Slo), Yuri Trofimov (Rus).
LAMPRE-MERIDA
Country: Italy. Status: WorldTour
Another team with designs on the general classification, they will concentrate all their efforts on supporting Rui Costa's bid for overall glory.
Team: Davide Cimolai (Ita), Rui Costa (Por), Kristijan Durasek (Cro), Chris Horner (USA), Sacha Modolo (Ita), Nelson Oliveira (Por), Maximiliano Ariel Richeze (Arg), Jose Serpa (Col), Rafael Valls Ferri (Spa).
LOTTO BELISOL
Country: Belgium. Status: WorldTour
One of the most powerful sprint teams in the peloton will be geared towards helping Andre Greipel to stage wins, although they could also have their eye on winning a cobbled stage five.
Team: Lars Ytting Bak (Den), Bart de Clerq (Bel), Tony Gallopin (Fra), Andre Greipel (Ger), Adam Hansen (Den), Greg Henderson (NZ), Jurgen Roelandts (Bel), Marcel Sieberg (Ger), Jurgen van den Broeck (Bel).
MOVISTAR
Country: Spain. Status: WorldTour
Another team packed with climbers who will support the general classification ambitions of leader Alejandro Valverde.
Team: Imanol Erviti (Spa), John Gadret (Fra), Jesus Herrada (Spa), Benat Intxausti (Spa), Ion Izagirre (Spa), Ruben Plaza (Spa), Jose Joaquin Rojas (Spa), Alejandro Valverde (Spa), Giovanni Visconti (Ita).
NETAPP-ENDURA
Country: Germany. Status: Pro Continental
A second-tier team making their Tour de France debut, NetApp-Endura will pursue the general classification ambitions of team leader Leopold Konig.
Team: Jan Barta (Cze), David de la Cruz (Spa), Zakkari Dempster (Aus), Bartosz Huzarski (Pol), Leopold Konig (Cze), Tiago Machado (Por), Jose Mendes (Por), Andreas Schillinger (Ger), Paul Voss (Ger).
OMEGA PHARMA - QUICK-STEP
Country: Belgium. Status: WorldTour
Arguably the most complete and powerful team in the sport, they will target the sprints with Mark Cavendish, general classification with Michal Kwiatkowski and time trial with Tony Martin.
Team: Jan Bakelants (Bel), Mark Cavendish (GB), Michal Golas (Pol), Michal Kwiatkowski (Pol), Tony Martim (Ger), Alessandro Petacchi (Ita), Mark Renshaw (Aus), Niki Terpstra (Ned), Matteo Trentin (Ita).
ORICA-GREENEDGE
Country: Australia. Status: WorldTour
Stage wins are the primary target for the Australian outfit, and they will no doubt also have their sights set on one of their riders wearing the yellow jersey early in the race.
Team: Michael Albasini (Swi), Simon Clarke (Aus), Luke Durbridge (Aus), Simon Gerrans (Aus), Mathew Hayman (Aus), Jens Keukeleire (Bel), Michael Matthews (Aus), Svein Tuft (Can), Simon Yates (GB).
TEAM SKY
Country: Britain. Status: WorldTour
Winners of the race for the past two years, 2014 will once again be all about the yellow jersey and protecting the interests of defending champion Chris Froome.
Team: Bernhard Eisel (Aut), Chris Froome (GB), Vasil Kiryienka (Blr), David Lopez (Spa), Mikel Nieve (Spa), Danny Pate (USA), Richie Porte (Aus), Kanstantsin Siutsou (Blr), Geraint Thomas (GB).
TINKOFF-SAXO
Country: Russia. Status: WorldTour
Alberto Contador is Froome's biggest rivals and Tinkoff-Saxo will throw all their weight behind helping the Spaniard in the mountains and protecting him on the flat.
Team: Daniele Bennati (Ita), Alberto Contador (Spa), Jesus Hernandez (Spa), Rafal Majka (Pol), Michael Morkov (Den), Sergio Paulinho (Por), Nicolas Roche (Ire), Michael Rogers (Aus), Matteo Tossato (Ita).
TREK FACTORY RACING
Country: USA. Status: WorldTour
Trek have half-hearted designs on the general classification with the out-of-sorts Andy Schleck, but the cobbled fifth stage and stage 20's time trial will be in Fabian Cancellara's sights.
Team: Matthew Busche (USA), Fabian Cancellara (Swi), Markel Irizar (Spa), Gregory Rast (Swi), Andy Schleck (Lux), Frank Schleck (Lux), Danny van Poppel (Ned), Jens Voigt (Ger), Haimar Zubeldia (Spa).