Wayne Mardle says late Sid Waddell will still have presence at World Darts Championship
Wayne Mardle says the late Sid Waddell will be remembered throughout the World Darts Championship.
Last Updated: 12/12/12 11:42am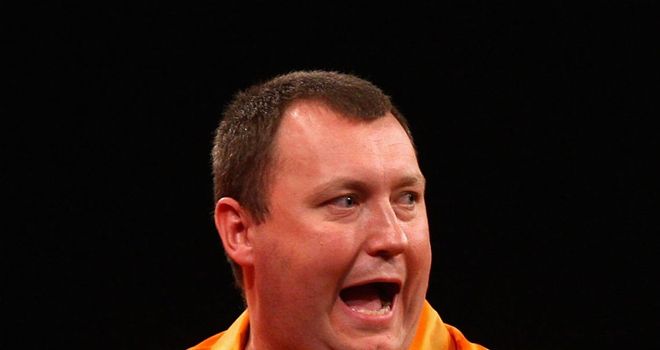 The 2013 Alexandra Palace showpiece will be the first since the death of the legendary Sky Sports commentator and the players will be competing for a new trophy that has been named in his honour.
Mardle made his commentary debut alongside Waddell at the World Championship two years ago and says his trademark humour immediately helped him to feel at ease.
And while he admits he will be sorely missed, there will be plenty of chances to remember his late colleague throughout the three weeks of competition.
"When we were at the Grand Slam, some of the previews and trailers were Sid's commentary and it made you feel like he was there," Mardle explained.
"It feels like he's still about and I like that because it makes it slightly easier for you. We're all going to miss him, of course we are, because he was a larger than life character and you can't forget someone like that, but I'm so glad Sky Sports are still using his voice on the promos.
"The first time I ever worked with him was at the World Championship two years ago. We were doing a Barney-Kevin McDine game and Sid told me to be myself and when I wanted to say something just gesture.
"I had something quite relevant to say and I went to say it, but Sid jumped in. During the break he said: 'If you want to say anything, don't do it while I'm trying to... in fact, I'm always trying to say something. Keep quiet.'
"He obviously meant it as a joke and it stuck with me because he was trying to make me feel at ease on my first time. Having the chance to work with him was nice and I feel quite fortunate that I had that opportunity."
Involved
Mardle hasn't competed at a World Championship since his first-round defeat to the unseeded Jyhan Artut in 2010 and says he doesn't have what it takes to compete with the world's best players any more.
However, the four-time semi-finalist says he is thrilled to be part of the Sky Sports team for the event and is looking forward to his third year in the commentary box.
"For me, Christmas is darts. That's what Christmas is about - and nothing has changed," he added. "I love it because I'm involved.
"If I'm not playing darts I want to have something to do within darts and I've been given an opportunity by Sky Sports - and they must think I'm half-decent because they keep asking me back!
"I would prefer to play, but the second best thing has to be watching the best players in the world. I would love to get up there, but I just haven't got the drive and focus I used to have. With the standard these days you need that."
Mardle says the build-up to a World Championship was always the most gut-wrenching period of the year for a professional darts player.
He suffered first-round defeats twice in his eight appearances at the PDC showpiece and says it spoils Christmas when you suffer an early exit.
"You can play well all year and, believe it or not, it's irrelevant," he said. "You have to play well during the Worlds. It makes or breaks a year. There's no point playing brilliant up to the World Championship and then letting yourself down.
"If you go into it with no form, but come out of it as a semi-finalist, a finalist or a winner then the whole year has been transformed and revitalised by that one performance. That's what it's all about.
"People get judged on World Championships. You can be a four or five-time Matchplay Champion or someone like James Wade who has won lots of majors, but all people say is that you've never the World Championship. It really is that big.
"I was never a nervous type, but the week before a World Championship that was all I could think about. I wouldn't feel physically sick, but the thought of losing early could make you kind of queasy!
"All the players want to get Christmas Day out of the way and still be involved in the tournament. Some players play two rounds before Christmas and if you're out then it's horrible.
"We're professional darts players so this rules our life. Next year doesn't matter, this year is the one that counts."
Don't miss any live and exclusive darts coverage this festive season. Click here to visit Sky Sports' Festive Calendar