When Johnny Nelson met Phil 'The Power' Taylor for a game of darts
Read what happened when Johnny Nelson met Phil Taylor for a game of darts and some boxing chat...
Last Updated: 14/02/14 3:49pm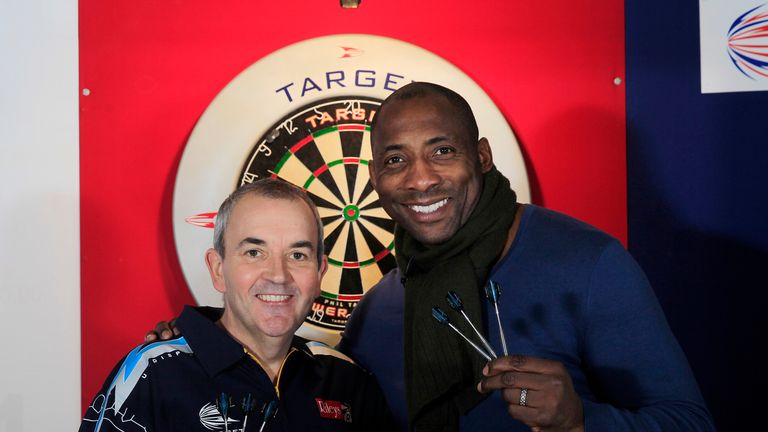 Head-to-head combat, raucous crowds, glamorous walk-ons... the similarities are numerous and it's no surprise that the greatest darts player of all time - 16-time world champion Phil Taylor - is a big boxing fan.
So we decided to send our own world champion - Sky Sports' Johnny Nelson - along to meet The Power as he launched his new range of Target Darts earlier this month.
Taylor challenged the former cruiserweight champ to a game of 501 and as they flung their arrows we listened in to their chat.
Here's what happened when Johnny met The Power...
JOHNNY: Why didn't you box?
PHIL: I went boxing when I was younger. I had four fights... lost one and chickened out of three! I loved the training. I used to go training with somebody could Ernie, if I remember rightly, who had won a British title. I think boxing is the best fitness, bar none really. It's not just your diet, it's everything that you do and that's why I've got so much respect for boxers. I know a few personally like Ricky (Hatton) and Joe (Calzaghe) and Amir (Khan). I see what their lives are like and people don't realise it's not just about getting there and fighting, it's everything else that goes with it. It's getting up at 4 o'clock in the morning and going running. I remember Barry McGuigan telling me he used to get up at 4am, go running and then go back to bed and get up again. That was his life.
JOHNNY: People only see the end product, don't they?
PHIL: People just see somebody getting in there and performing at their best or not. I've got so much respect for you lads and the people that are coming through now.
JOHNNY: Do you feel like there's a bit of a similarity because people see you getting up there and performing on the board, but they don't know the hours you put in day after day after day?
PHIL: The only similarity really with boxing is it's man on man. You can't snooker and you can't hide behind somebody; you haven't got some defenders and a couple of midfielders protecting you. You're on your own and you've got to get on with it.
JOHNNY: Is it for real when there's a bit of beef between you?
PHIL: The animosity? Yes, there's a few players. It's like any sport; you're always going to get that. It's a friendlier animosity, but there's a couple I could strangle - don't get me wrong! That's good because it gives you something to get up and get back at them.
JOHNNY: When you're in the dressing room before you come out, why don't you put something on him or say something that will really do his head in? We do it in boxing and then all you can think about is wanting to smash him.
PHIL: Ours is a non-contact sport, unfortunately! You can't do that, otherwise you'd be in trouble
JOHNNY: So you can't whisper something in his ear to put him off?
PHIL: Not really, no. It wouldn't be sportsmanship.
JOHNNY: You went to Vegas to watch Ricky box, didn't you? Is that the only fight you've been to abroad?
PHIL: I've not been to many abroad, mainly it's been the UK.
JOHNNY: What's the best fight you've ever seen?
PHIL: There's been a few actually. I've seen Joe a few times and I love Joe Calzaghe. Ricky against Kostya Tszyu was dead exciting because you never knew how it was going to turn out
JOHNNY: You were at that one?!
PHIL: Yeah, I was there. In fact I was sat next to you believe it or not!
JOHNNY: I can never remember.
PHIL: I was also at George Groves v Carl Froch.
JOHNNY: Who was your money on?
PHIL: I'm friends with Carl and my money was on him. I thought he was going to walk it, I'll be honest with you. I was so impressed with George, but I was disappointed with the reaction for Carl though because he did nothing wrong. He did his job and the referee acted.
JOHNNY: The crowd weren't fair on him were they?
PHIL: Not one bit and I think in the rematch Carl is going to be a different fighter - and I think George will be as well.
JOHNNY: Who's your all-time favourite? We all have one for different reasons...
PHIL: Besides you? My era was Sugar Ray Leonard, Thomas Hearns, Marvin Hagler... and then I loved Ricky. I loved watching Ricky and I was always excited watching him. I loved Joe, but also Steve Collins and Chris Eubank. I've got a real big soft spot for Nigel Benn, too. I haven't got one favourite really, I've got a lot. I just respect people that have done what they've done. You won a world title and you won a heavyweight title, didn't you?
JOHNNY: Did you hear that? He said heavyweight...
PHIL: Then you didn't defend it?
JOHNNY: That's right.
PHIL: I don't blame you!
JOHNNY: Ha ha!
PHIL: I respect anybody's who successful. You're the same because you work hard at what you do. Any motor racing drivers, squash players, anything... I admire winners. I love the mindset. I just read Novak Djokovic's book called 'Serve to Win' and it's not just about tennis, it's about his lifestyle. His diet is gluten-free and that fascinates me. Pete Sampras' book fascinated me. I love anything that goes into their mindset. I remember talking to you at the MEN Arena once and you said you don't eat one wrong thing and you don't drink anything that's bad for your body. When I talk to people I always think Johnny Nelson is a perfect sportsman.
JOHNNY: I do like Skittles, though...
JOHNNY: I've got to give you a little challenge. Now you've embarrassed me on the dart board, why don't you come down to the gym and we'll have a little dust-up?
PHIL: I'd love to. In fact, we have a Premier League night in Sheffield so I'll call in while I'm round there.
JOHNNY: Aren't you scared or intimidated?
PHIL: Yeah... I haven't turned up yet!
JOHNNY: You're one of them smart fighters, aren't you? Nice one mate.
PHIL: Thanks Johnny. Good to speak to you again.
You can see Johnny Nelson on Ringside every Thursday night on Sky Sports, followed by Phil Taylor on Premier League Darts.