Scott Waites and Dean Winstanley earn Rod Harrington's praise after big Grand Slam of Darts wins
Rod Harrington says shock defeats for Phil Taylor and Simon Whitlock have shaken up the Grand Slam.
Last Updated: 14/11/12 11:52am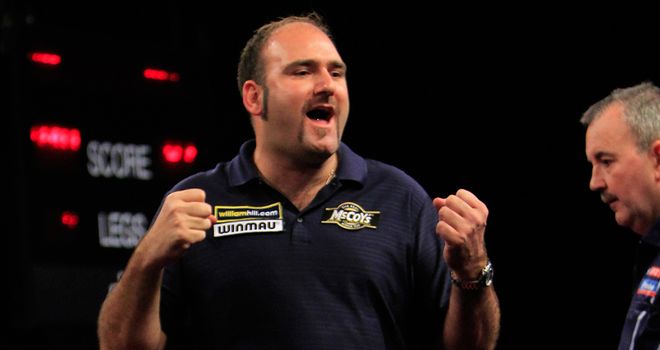 Two of the tournament favourites suffered surprise round-robin stage losses with defending champion Taylor losing 5-2 to Scott Waites and world number six Whitlock going down 5-1 to Dean Winstanley.
As a consequence, The Power will finish second in Group A, while Whitlock has been sent crashing out of the tournament altogether - and Sky Sports expert Harrington paid tribute to the two men who stole the show in Wolverhampton on Wednesday.
"We talk about Waites and Winstanley and their performances have brought this alive," he told Sky Sports.
"There are a couple of others, but those two stand out for me because they were exceptional performances.
"What you've got to realise is that their backs were up against the wall and they had nowhere to go but to come up here and do the business - and they've both done the business.
"Scott Waites played absolutely brilliant, he took his game onto Phil and he held his throw so well. We keep emphasising that you mustn't give your throw away and what Scott Waites did was a professional job on Phil Taylor.
"Dean Winstanley played exceptional as well, so there's been some stand-out performances."
Ruffle
Harrington believes that Winstanley highlighted some flaws in Whitlock's game, showing that you can ruffle Australian if you attack him early.
But he believes the European Championship winner will bounce back in time for the World Championship, which kicks off in London next month.
"When the tournament's over they'll still talk about him as a contender going into the World Championship at Ally Pally," Harrington said.
"But Dean Winstanley, right out of the blocks, absolutely flew at him and Simon didn't really have anything to come back.
"Winstanley kept pounding the treble 20 and when pressure is put on you, like it was tonight on Taylor and Whitlock, it is very hard to keep it going, no matter how good you are."
Favourites
Taylor's defeat means he now faces a tough last-16 clash with World Grand Prix champion Michael van Gerwen.
The format changes from best of nine legs to best of 19 in the next round - and Harrington suspects that will play into the hands of the 15-time world champion.
"It will be an open game and they won't fear each other," he said.
"It's ironic that the two favourites with every bookie will be playing in the last 16; we didn't expect that, but that's the way darts goes.
"The format will help Taylor. There's no question it's going into the realm of his profession, where he's come from and how over the years he's perfected the throw.
"So over that distance it will go into Phil Taylor's favour and if Michael's going to beat him he's going to have to get into him early and stay at that 100 average, otherwise Phil could run away with it."