Rod Harrington Q&A: Sky Sports expert on his life in darts
Rod looks back on his life in darts and tells us a few things you probably didn't know about his career.
Last Updated: 06/12/13 6:32am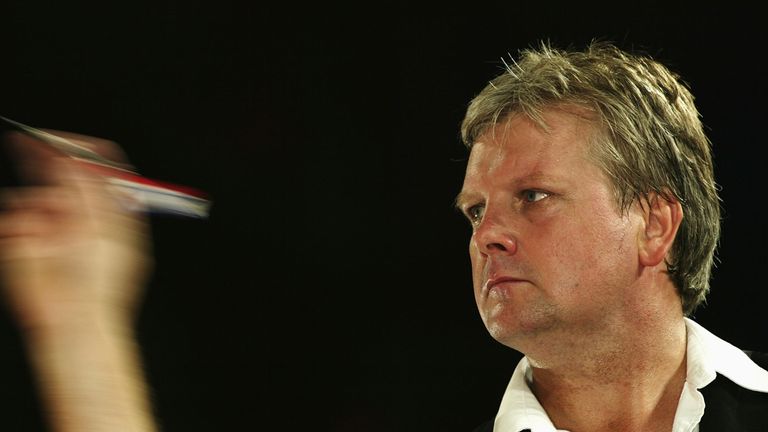 MY EARLIEST DARTS MEMORY... Playing for my local pub, the Queens' Head in Boreham, when I was 19. Me and the wife had a flat opposite and I wasn't playing darts seriously back then, but in those days going to the local pub and throwing darts was something to do. I was actually a good footballer as a schoolboy and I was on the books at Southend - but when one door closes another one opens.
MY FAVOURITE OPPONENT IN DARTS... I don't think I had one. I've never really thought about that. When I was playing I just tried to beat whoever was in front of me. Back in the 1990s there was Priestley, Taylor, Warriner... I suppose they were the main people I knocked about with. But even if I was playing one of my mates I would just try to beat them.
MY FAVOURITE DARTS VENUE... Blackpool has got to be the best. It's not just the venue, but I love the whole week of the Matchplay. We could play golf, we could go for a run on the beach to get some fresh air... for me it felt great.
THE BEST WORLD CHAMPIONSHIP MATCH I PLAYED IN... Probably the game I played against John Part when I was 4-1 down and got it back to level pegging. The match went to a tie-break and I had darts at a double, but he took out a 161. That's the one that sticks in my mind. There's also the final against Phil Taylor in 1995 when I felt I should have been 4-0 up. It got to 2-2 in sets, but he twice took out a 136 when I was 2-1 up in legs!
THE BEST WORLD CHAMPIONSHIP MATCH I'VE WATCHED... It would have to be the Taylor v Barneveld final in 2007 - but I must say the Lewis v Taylor match in Wolverhampton this year was probably better in terms of standard. However, that final between Barney and Taylor was simply incredible.
IF I HADN'T BECOME A DARTS PLAYER I WOULD... I'd probably still be a builder. Either that or I'd be working in a bar. We actually took a bar over and I only started playing darts seriously to drum up some trade. In fact, Kevin Painter's mate came in one Friday night giving it large and I challenged him to a game for £500 a month later - and I beat him. We had a rematch and Kev won and we ended up as good friends and that's how I ended up on the pro tour.
THE BEST DARTS I'VE THROWN... It was two darts to be honest. It was the two double tops to take out 125 and beat Ronnie Baxter in the World Matchplay in 1998. He had left 36 to win the title and I took out the 125 to get back into it. He was one of the players who was still with the BDO and he'd beaten Taylor, so I didn't only have my reputation on my shoulders but the company's reputation as well. If you ask Dick Allix and Tommy Cox they would say that one game could have really hurt us if I'd lost.
MY FAVOURITE WALK-ON SONG... Arron Monk comes on to the Theme from the Monkees, who are one of my favourite groups. I remember dancing in the commentary box with Nigel Pearson in Wolverhampton a couple of years ago - if they'd had a camera in there they'd have got quite a sight! I always tell the youngsters to get some music that the crowd will love to get them on your side.
THE BEST NICKNAME IN DARTS... It's got to be The Power. It sums him up. That one word describes him and what he's done in darts because he is the power force of this game. There are a lot of good nicknames - I also like Peter 'Snakebite' Wright - but some of them are terrible. It's good when the nickname describes the person and certainly "the power" describes Phil.
THE BEST PLACARD I'VE SEEN... The one I love is a bloke dressed as a turkey with "I hate Christmas" on his placard. I thought that was a good use of initiative.
THE BEST FANCY DRESS I'VE SEEN... I've seen hundreds, but the one that made me laugh so much was when about six Mr Blobbys turned up and they were about three times the size of a normal person. They couldn't fit in their seats so they had to deflate their costumes so we ended up with six guys sat there in deflated Mr Blobby suits. That really tickled me. I also remember driving home from Alexandra Palace and coming across a snowball fight between Scooby Doo, Batman and the Hulk. We stopped to look because it was so funny and somebody recognised me so they pelted the car as well!
WHAT THE WORLD CHAMPIONSHIP MEANS TO ME... It's Christmas. The slogan is that "Christmas wouldn't be Christmas without the darts" - and I think that's right. As a player you never had much of a Christmas because you were either nervous about the games coming up or angry about being knocked out. I have a young grandson who is mad on darts and his eyes will be glued to the screen once again this year.