World Darts Championship 2014: 'Semi-finalists inspired by Phil Taylor exit'
Phil Taylor's early exit has inspired semi-finalists Simon Whitlock and Peter Wright, says Wayne Mardle.
Last Updated: 29/12/13 12:20pm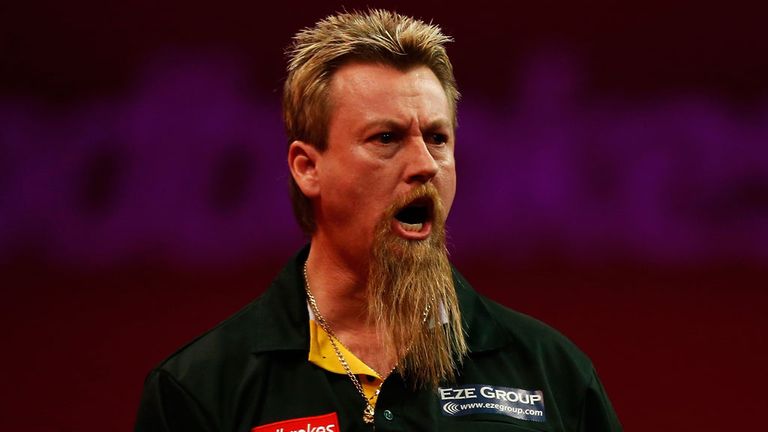 The pair will clash at the final four stage on Monday after coming through their respective quarter-finals with nail-biting 5-4 victories over Ian White and Wes Newton, respectively.
It is a semi-final match-up few would have predicted at the start of the tournament, given the fact 16-time world champion Phil Taylor lurked in the pair's half of the draw.
However, title-holder Taylor's shock second round defeat to Michael Smith has handed his rivals a golden opportunity to get their hands on the coveted crown.
"I noticed Simon Whitlock say after his match 'I won't have to play Taylor in the final' so he obviously feels with Phil out of the way he can do the job," said former semi-finalist Mardle.
"Since Taylor was knocked out people in the top half, like Whitlock and Peter Wright, have thought 'hang on, I can do a job here' and with some of the performances they've put in they're capable of winning it."
Commenting on Whitlock's narrow success over White, which produced 27 180s, Mardle applauded the standard of play but also the resilience of the Australian, who was a runner-up in this event in 2008.
"You get close games in other tournaments throughout the year but this is the world championships, it means so much and you could see the sheer relief on Simon Whitlock's face after he got through that," he said.
"The theatre this tournament produces, you can't make it up. It was brilliant of Ian White to come back - it wasn't because Whitlock folded. But it was sheer brilliance from Whitlock to pull away again and showed massive character.
"The standard these days, these guys know they have to produce it to come out on top. But that's going to stand Whitlock in good stead for the semi-final to come against Peter Wright."
Draining
Earlier on Saturday, Wright had just got the better of Newton, who for the third time in four years saw his challenge ended at the quarter-finals by a 5-4 defeat.
John Part paid tribute to the defeated Newton for his part in the fantastic duel with flamboyant Scotsman Wright.
"They both gave everything they had," said the 1994 winner. "When things didn't go their way they bounced back, they hung in there and fought.
"There's only one winner but you have to feel for Newton who really gave a great effort."
However, Part says Wright will have to rest up and re-gather his energies ahead of his semi-final match-up, following the long battle with Newton.
"That's pretty draining. When you play over two hours on stage you feel it and it definitely takes something out of you," said the Canadian.
"The day off will be a plus - and we'll get better darts on Monday because of it."