Premier League Darts 2014: Rod Harrington previews Week 10 in Sheffield
Peter Wright plays twice in Sheffield and Rod Harrington says he can go top of the Premier League.
By Rod Harrington
Last Updated: 08/04/14 4:52pm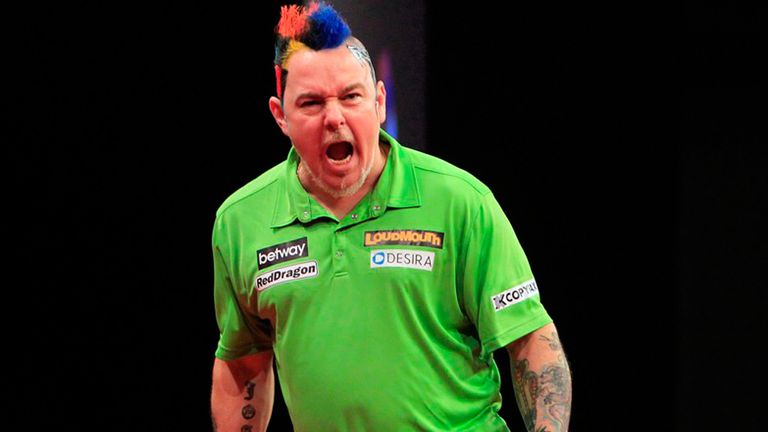 Dave Chisnall v Raymond van Barneveld
From now until the end of the season some players have two matches per evening - and that's where the crunch is going to be. A lot will depend on how you prepare yourself for the first match and in previous years we've seen that the experienced players cope with it better; the less experienced guys seem to play well in one, but not the other. I think if you can take three points from two games you've had a right result.
Raymond van Barneveld plays twice this week and I expect the Dutchman to win this because he has consistency. If Chisnall is going to win the game he needs to do it in the first three or four legs by getting in front and getting in his opponent's head. Barney is not at the top of his game, but is taking out shots at the right time and, despite Chsinall's electric scoring power, I expect Barney's consistency to come through.
Peter Wright v Gary Anderson
This is the first time Peter Wright has played twice in one night and he needs to go hammer and tongs in this game, so there's less pressure on the second match. He doesn't make many mistakes and, as he proved against Michael van Gerwen the other week, he has plenty of bottle. As I wrote in my William Hill blog, a guy Tweeted me this week asking if he's ultra-confident or mad for changing his darts all the time. To be honest, it's a bit of both - but that's a perfect combination - you need the extrovert to do the exceptional.
Gary Anderson has a newborn baby and perhaps will come into this game with his eye off the ball, but you never know with him. They played each other in Cardiff last week and Gary missed three clear darts at a double to go 6-5 up and those mistakes could be the difference. I think it will be a long game that goes all the way, but I think Wright will nick it.
Raymond van Barneveld v Peter Wright
Peter Wright is in prime position to go top of the table on Thursday night - and he'd love to stick it up current leader Van Gerwen after some of the tension between the two of them in the last few weeks. I'd rather have points on the board than games in hand and that's why Wright has got to take advantage of playing twice.
It's tough to call this game because it all depends on what happens in their first matches. If Barney beats Chisnall he will be on a high and if he loses he will just want to walk out of the building. Wright will be bang up for it either way and I'm backing him to pick up three or four points this week, but a lot depends on Barney and his attitude.
Michael van Gerwen v Robert Thornton
This is a top v bottom match, but Van Gerwen played Simon Whitlock last week, who was already eliminated, and only got a draw so you can't say this is a foregone conclusion. Whitlock had nothing to prove, went up there relaxed and played possibly one of the better games of the Premier League.
Thornton is bottom and can still make the top four, but it will be a struggle, so can he step up and just enjoy himself - and when players are relaxed, that's when they throw some exceptional darts. I'd still back Van Gerwen to win though because he knows Wright can go top of the table and doesn't want to fall too far behind. The top two had a bit of a spat on stage a couple of weeks ago, but I've seen a lot worse and I don't think Wright did too much wrong. Unless someone turns around and pokes you in the eye you should just get on with the game, that's my opinion. No professional sport is run on goody-goodies!
Phil Taylor v Adrian Lewis
This is possibly going to be the game of the night because Adrian Lewis beat Phil Taylor in Week Two and Phil wants to put that right. Lewis didn't play well last week and was lucky to get a draw with Barney; he said he was tired after being in Ireland for a few days and I personally don't agree with that when you're playing in the Premier League and it's worth so much money. You'll make more by getting into the top four than you will by going and playing in exhibition matches and I don't understand why some players do it.
Taylor was out there as well, but is a different breed and seems able to keep going, and if you look at the form book then you'd say he will win in Sheffield. He played really well last week and is starting to get things right again with his darts. Guys like Lewis can roll off four or five 12-dart legs - but so can Taylor - and I will go with the bookies and back The Power to win.