Maybe next year
Former world championship runner-up believes this year's event will come too soon for him after a nightmare season.
Last Updated: 12/12/12 9:32am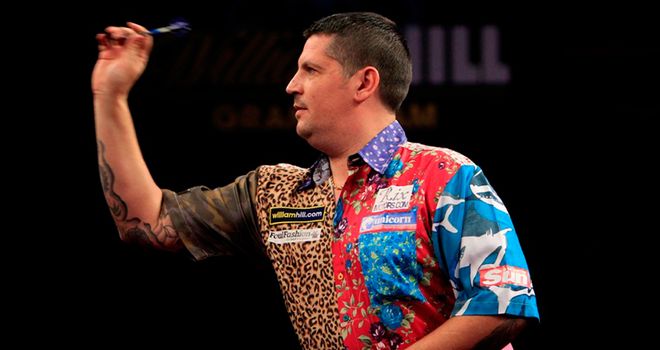 Gary Anderson's game is coming on "leaps and bounds" ahead of the PDC World Darts Championship but it could be a year too soon for the Flying Scotsman to go for the top prize.
The 41-year-old finished bottom of the Premier League standings during the first half of 2012 and was forced to take a month away from the oche in the summer due to a problem with his left eye.
Anderson is now back in action and gained a bit of momentum ahead of his return to the Ally Pally stage by qualifying from his group at the Grand Slam of Darts and reaching the quarter-finals of the Players Championship Finals.
"I'd like to but it's getting there slowly so maybe next year," replied Anderson when asked by Sky Sports about his chances of lifting the new Sid Waddell Trophy.
"I'd love to make the final again and see how it goes, but with the amount of talented players it's hit and miss who you are going to get and how well they're going to play.
"Six months ago my form was terrible but it is coming back in leaps and bounds. I'm back practising a lot and I'm starting to enjoy it a bit more so we'll see how it goes."
Favourites
Anderson is clear on his two favourites for the world crown with both the old and the new expected to impress.
"It's got to be van Gerwen and Taylor," Anderson added when asked for his leading contenders. "You can never write Phil off as he's won it 15 times.
"Van Gerwen's playing well but someone could play better than him on the day so we'll see who wins it. I've known Michael since he was 14 and he played like he does now when he was that age. He was phenomenal but then he just disappeared for six years.
"He's got his confidence back. You see it when a lot people get into this purple patch and they can't lose but when the bubble bursts, what happens then?
"They always sing there's only one Phil Taylor and you'll not see that kind of class again.
"For all the years that we live you'll never see it but Michael will probably lift the world title a good few times and Adrian Lewis will probably lift it another few times as well."
The Flying Scotsman has surprised people by ditching his trademark all-black outfit for extravagant multi-coloured shirts as a result of a new sponsorship deal.
Anderson admits the change has seen him get some stick and he's not sure what reception the crowd will give him when he walks to the stage for his opening encounter against Jarkko Komula or Jani Haavisto.
"I'm getting a lot of grief but it's definitely tuning heads. It's a new company that we've signed up with and they're over the moon with the product
"I have not got a clue what the crowd at Ally Pally will be like but even the ones that don't like the shirts are still talking about them."