Premier League Darts: Phil Taylor looks to secure a top-four finish
Phil Taylor will be aiming to secure a spot in the Premier League play-offs when he takes on Peter Wright in Newcastle.
Last Updated: 08/05/14 10:41am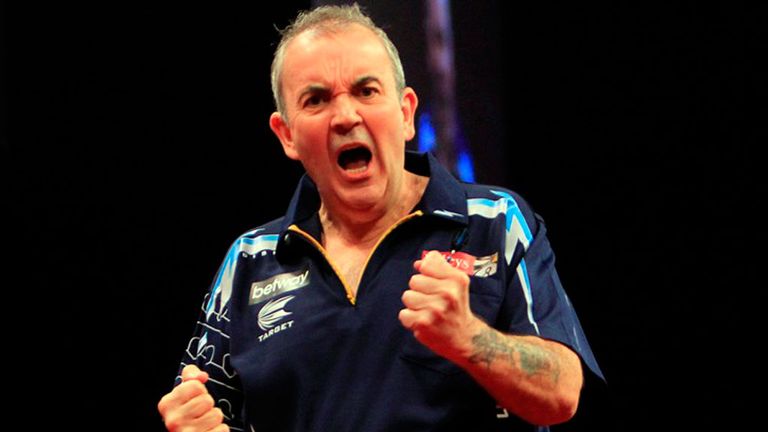 The 16-time world champion takes on Scotland's Peter Wright on the penultimate league night in Newcastle knowing that he can secure a top-four finish with a win.
Wright defeated Taylor 7-4 in Belfast when the pair met earlier in the season, but he has since slipped just behind Taylor into fourth in the table heading into Thursday night's clash.
"It's a massive game," said 53-year-old Taylor. "I'm really up for it and I opted not to play in the two tournaments last weekend to get myself ready for this - that's how important it is to me.
"It's a race for the ticker-tape now, so everybody's going to push forward and the pressure's on. I've been very impressed by Peter this season.
"He's been confident and I think he's wound a few players up and they've bitten to it, but he's doing it on the board, he's hitting the right shot that's hurting players and the other players don't know how to handle it.
"It's good to watch to be honest, he's been a little breath of fresh air. He beat me earlier in the season, but it gives me something to look forward to this week.
"It's a clean slate and I'll get up there and just get on with it. I've beaten him more times than he's beaten me, but he's confident on TV and thinks he's unbeatable, so bring it on!"
Practising well
World Championship finalist Wright has bounced back from a three-game losing run by picking up a win and a draw over the past two rounds of the campaign, and is now determined to secure the double over Taylor.
"Phil's the master and we all look up to him, but I beat him the last time so I want to do exactly the same again," said Wright.
"People put a downer on it, saying that Phil wasn't playing well, but his losing average was over 100 and I thought I played pretty well actually to beat him - but I know I've got to do more this week.
"I've been practising really well recently, and every week I'm having to dig deeper and deeper, and I'll never give up. I'm still trying to qualify and I want to try and get something out of the this week."
Watch all the action from Newcastle on Sky Sports HD2 from 19.00 tonight