World Matchplay Darts 2014: Adrian Lewis bidding to restore English pride
Jackpot hopes to end Dutch domination and go one better in Blackpool
Last Updated: 18/07/14 7:51pm
Adrian Lewis is hoping to restore some English sporting pride when he takes to the stage at the World Matchplay Darts.
England's footballers, cricketers and cyclists have all endured disappointing results in recent weeks, while England's darts players lost their own World Cup crown to the Netherlands at the start of June.
Lewis is hoping to tip the balance of power back towards the British Isles by lifting the trophy at Blackpool's Winter Gardens – where he narrowly lost out in a classic final against Phil Taylor last year.
Ahead of the tournament, which is live on Sky Sports, he told skysports.com about his form, why you can't write off Phil Taylor and the injury in the shower that scuppered his World Cup hopes.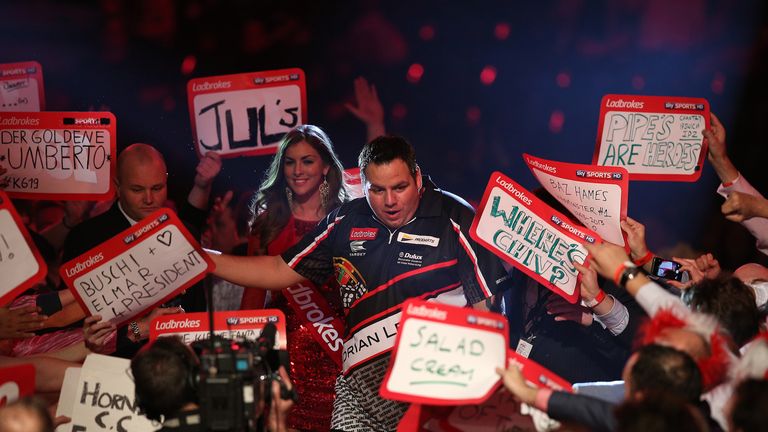 skysports.com: What does the World Matchplay mean to you?
ADRIAN LEWIS: It's definitely in the top three biggest tournaments and it's my favourite tournament regarding the atmosphere. The venue is a fantastic place to play in and you get the real darts crowd in there; the ones who give best of order at the right times and cheer at other times. They're fantastic.
The venue is right by Blackpool beach. Is this tournament like a holiday for you?
AL: Not really. We always stay just outside Blackpool for a bit of peace and quiet. We take the family up as well, which is always good.
You got to the final last year and lost a great match against Phil Taylor. Would you say that was your best tournament in Blackpool?
AL: Without a shadow. I think I played well all the way through. I obviously had a big game with Michael van Gerwen in the semis and produced something like a 107 average in the final, but it wasn't good enough on the day. He took out a lot of bull finishes, I remember that, but that's what Phil Taylor does. I played even better than that in the Grand Slam and lost to him with a 111 average!
What have you made of Phil Taylor's form this year? A few of the pundits are questioning whether he'll do quite so well.
AL: That's a good question. He's been tinkering a lot with his gear, his stems, and I've been trying to give him a bit of advice on the way I think his darts are lying at the minute. He has tried some different stems, but he says that at the minute his darts are going fantastic so we'll have to wait and see what's happening when he's under pressure.
Do you still expect him to be a contender for this title?
AL: I still expect him to be up there. If Phil plays his A-game then he's obviously going to be the man to beat. Never write Phil Taylor off!
You've won two World Championship titles, but you've never won in Blackpool. Does that frustrate you? Do you need this one on your CV?
AL: The World Championship is obviously more important than any other tournament, but I'd say the Matchplay is the second biggest one. It's a tough field out there this year – and it is every year to be honest – but it just seems that it's growing year in, year out. If you're not on your game you've only got to have a little blip and you're out.
Who do you see as the main contenders?
AL: You've got to look at the likes of Gary Anderson, who has had a fantastic year on the circuit so far, winning about five events on the floor. MVG has been up and down, the same as myself. Whitlock is coming into a bit of form and Phil has got to start upping his game. We are coming to the middle of the year now, so I think he'll be sharp. James Wade has had a good couple of months. It's the usual contenders really.
How do you feel your form has been this year? Is it fair to say your results haven't reflected how well you've been playing?
AL: Yeah, I think so. In the last month I've certainly put in a lot of work – four or five hours a day to prepare for the Matchplay. I'm consistently knocking in 100 averages at the minute, so I'm happy with that. A few points on that and I'll have a great chance.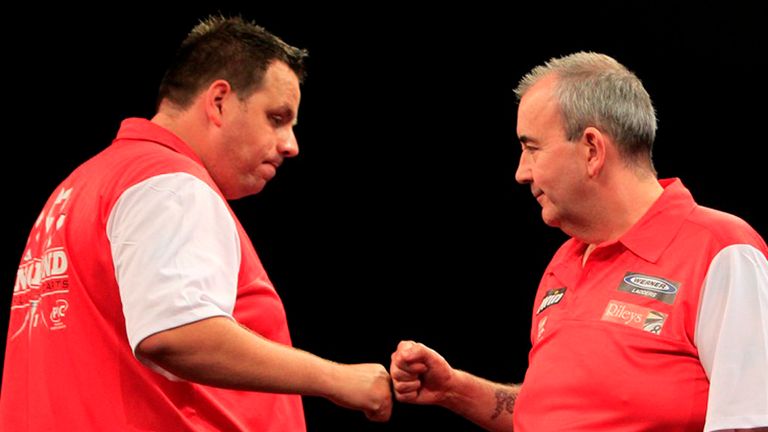 We haven't seen you on Sky since the World Cup when England lost to the Dutch team. Were you disappointed not to win that?  
AL: I was. We got to the final, but we were shattered. On the first day I arrived there I was getting out of the shower and had a freak accident where the shower head came off as I turned it off and I jarred my neck. I had whiplash all weekend! I turned my head the other way so it missed me, but I jarred my neck. I couldn't sleep properly, so that didn't help.
Was it sabotage by the two Dutch players do you think?
AL: Ha ha! Yeah, we might as well blame them. We blame them for everything else!
It's not been a very good summer of sport for England all round has it?
No. I watched the World Cup and I thought we played well against Italy. If we'd played like that against Uruguay I think we'd have beaten them, but it wasn't to be.
Do you think we can at least get an Englishman winning the darts? Dutchmen have won the last three big tournaments on Sky?
AL: Definitely! We can't have the Dutch taking over. It's about time we had a winner over here!
World Matchplay Darts 2014 starts this Saturday from 7pm on Sky Sports 1. Adrian Lewis plays Andrew Gilding on Monday evening from 7pm on Sky Sports 1.
Adrian Lewis will be playing with Target Darts at the World Matchplay in Blackpool. Click here for more information about their range.