Phil Taylor is favourite for 2013 World Championship title, says Rod Harrington
Rod Harrington reflects on the World Championship draw and says Phil Taylor is desperate for a 14th win.
Last Updated: 04/12/12 1:50pm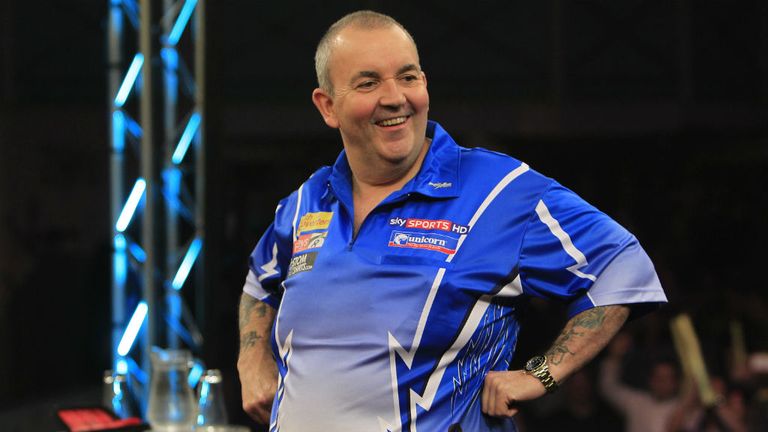 Some have suggested Taylor's powers are on the wane but three majors and nine tour event wins this season tell a different story.
And Sky Sports expert Rod Harrington would love to see The Power come up against Dutch ace and recent World Grand Prix winner Van Gerwen.
"That would be an unbelievable final - the young gun against the old fella," Harrington told Sky Sports News.
"We always knew from the age of 15, when we were first saw Van Gerwen, he was a great player but he just didn't do it on Sky Sports.
"He was missing doubles, losing 6-4, 6-5 in tour events - but now he's learnt how to win and he's got that confidence in himself. He is on fire at the moment."
However, Harrington says the big name favourites won't have it all their way at this year's event, which gets underway on 14 December at 7pm on Sky Sports 1 HD.
"There are so many players on form at the moment," said Harrinton, who believes the Tour events are cultivating a higher standard of play across the board.
"The tour events are getting people coming through and they're breeding a really tough, experienced player.
"There will be a lot of upsets and the first round draw is so crucial to a lot of players."
You can see the full draw here
Harrington and four-time PDC world championship semi-finalist Wayne Mardle picked out their ties of the first round:
Phil Taylor (Seed: 1) v Michael Mansell
Harrington: "Taylor hasn't won this since 2010 and he has got a lot to prove this year. He's won a few majors but it's the world pro that he wants back. Mansell is a tough opponent, especially over the short distance in the first round. But I always go with my old mate Phil and he's got to be the favourite for the title."
Adrian Lewis (2) v Gino Vos
Mardle: "Vos is a very good young player, that's why he's in it. Adrian has got to be on his game straight away. He's won this twice and is looking for the hat-trick and if he plays well who knows? It's more than possible he could do it. He has just had a little baby boy, Matthew, and his life is well and truly sorted - maybe his head will be as well. If he plays well he wins."
Mervyn King (14) v Dean Winstanley
Harrington: "Both these players will be looking at this draw and thinking 'why us'. King has started playing really well this year. Winstanley, meanwhile, is a good scorer and he's starting to take the doubles out. That's the match of the first round for me."
Mardle: "King is playing superbly at the moment but if he has a bad game Winstanley will punish him, so it's a coin flip as to who wins this one."
Raymond van Barneveld (13) v Michael Smith
Mardle: "Barney's won five world titles for a reason. He started to doubt himself over the last three or four years but that win in the Grand Slam of Darts makes him a live runner. He's a form horse and when he plays well he can win anything."
Harrington: "In the last two tournaments Barney's played exceptionally well. He's slowed his throw down, he's more consistent and he'll be a good outsider."