Wayne Mardle, Eric Bristow and Rod Harrington preview World Darts Championship
Who is going to be the star of the show at Alexandra Palace this year? We sat down with three faces of Sky Sports' coverage - Wayne Mardle, Eric Bristow and Rod Harrington - to get their verdict on Phil Taylor, Adrian Lewis, Michael van Gerwen and the rest of the field...
Last Updated: 12/12/12 3:46pm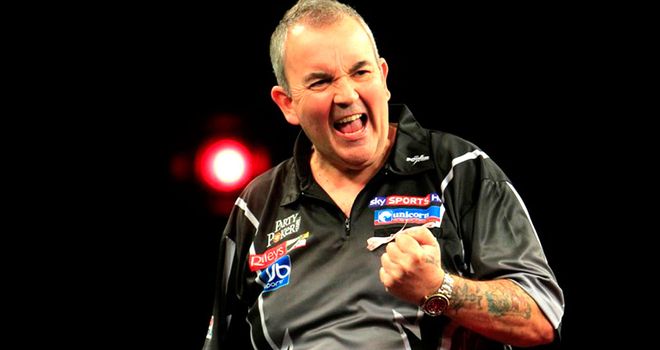 WAYNE MARDLE: The bookies do get it wrong from time to time but Phil Taylor has proved on 15 occasions that they are rarely wrong! I just think that when Phil Taylor plays well he wins and when Phil Taylor plays decent he has a chance of winning as well. There's no-one else in the field who can win the World Championship on their B-Game or C-Game - but Phil Taylor can. He is the favourite and rightfully so. He's had the best year this year out of anyone - and that includes Michael van Gerwen. He is still the man to beat, but the standard is so high that he's probably more beatable than ever before.
ERIC BRISTOW: I think it's got to be Taylor's year because he hasn't won it in the last two years. He should be ready for this one. He got a new girlfriend and seemed to go off the boil a little bit but now he seems a bit more hungry again. He won the last tournament and he's still not playing at his peak at the moment, but his bad game is still a good game. He's a very dangerous player and I think he will be ready.
ROD HARRINGTON: I think he's got to be the favourite. Anybody who's come off the last tournament two weeks before the World Championship [the Players Championship] and won it has got to be put down at favourite. I've seen him at 9/4 and that's good value. Sometimes value doesn't always win, but that's the best value Taylor has ever been because he's lost a lot of games on stage this year. He's lost twice to Robert Thornton and to Michael van Gerwen and people are starting to think he's fallen off the top a little bit. There are other people in the mix and other players aren't scared to take the shots out against him any more, but there's no doubt he's the favourite.
Adrian Lewis is the defending champion, but he's struggled for form since his victory last January. What are his hopes of retaining his crown?
WAYNE: This time last year we were all asked if he could win it again and we all said no because of his form. He had a hard first-round game against Nigel Heydon that he probably should have lost and he probably should have lost in the semi-final against James Wade. But then he got to the final and there was never any doubt he was going to win. Can he do that again? I just think this year there's more players playing well and I don't think Adrian Lewis can play that bad again and be World Champion. He's got to buck his ideas up, but the thing with Adrian is he plays well at the World Championship - and what a place to play well! I would love to see him win it, I really would, but he's got to play his best darts.
BRISSY: Well he hasn't been in any sort of form for the last two years and yet he's won the World Championship twice, which is crazy! He can't keep getting away with it. He was lucky last year - he should have gone out in the first round last year - and Wadey should have beaten him in the semi-final. He should never have walked off the stage when that draft started blowing. Andy Hamilton ran out of bullets against him in the final and he can't keep getting away with this. I don't think he prepares right and I think he's lost the plot a bit.
ROD: Adrian's going to be in the mix. He's had a lot going on this year with getting married and having another kid. I interviewed him at the World Championship launch and asked if there was a weight off his shoulders and he said yes, he was just going to go for it. He may well turn up and play the best darts he's played all year. He's only won one Tour event all year and has lost to players he shouldn't have lost to, but maybe he'll let the weight off his shoulders, practise for two weeks, relax with his new-born and turn up and put a few of the doubters to rest. He hasn't had a good year at all, but I think he may throw some great darts again.
A lot of people are talking about the rising star Michael van Gerwen following his win at the World Grand Prix? Is he the real deal?
WAYNE: He's the second best player I've ever seen in my life; he's that special. I've seen no-one better than him apart from Phil Taylor. The way he plays the game is sometimes unplayable. He will have a mediocre leg and then suddenly take out a 152 when his opponent's on a double and he leaves you wondering where that came from. You're never settled in a leg against Michael van Gerwen. He's got everything on his side. He's 23-years-old, but he's got the experience of a 40-year-old. He's been there, seen it and, this is the main thing, he's done it. He has won a major. He's had a lot of bad days at the darting office, but now times are good. Just before his big win in Dublin he was winning tour events and sometimes players win a big one and think they've done it for the year and take their foot off the gas without realising it. Since then he's won another three events and got to the Grand Slam final. Is he ready to win the Worlds? My God yes.
BRISSY: I love him and I think he's great for the game. He's emotional and it's so nice to see someone throw some emotion when they hit a double. He wants to win and he loves darts. He's a great talent when he gets on the power scoring and his finishing is great as well. When he's on song he looks like a proper darts player and he's had a marvellous six months. He's playing well and he's beaten Taylor in a long format. He's matured very well over the last few months.
ROD: He's not too young because he's been playing at this sort of standard since he was 15 years old. He's a great scorer and he's got every aspect you need except one thing: he sometimes misses doubles at crucial times. Every time he got close to Barney in the Grand Slam Final he missed a few big shots. In the Tour Players Championship he missed big doubles against Andy Hamilton and you will be made to pay by someone at the World Championship. He's got to tighten that up. Saying that, he won the Grand Prix which is double-in and double-out, so he can do it and when he does that I think there's no doubt he will become World Champion. He has age on his side and there's no doubt he can go and win this one.
Raymond van Barneveld ended a long major tournament drought with his win at the Grand Slam, but has he got the form to win at Alexandra Palace?
WAYNE: He won the Grand Slam and even in the games he's been losing he's been playing well and keeping his head. As we saw in 2007, he can win anything and it's great for darts when he's playing well. I really do believe that sometimes you can beat yourself up so much that you're not really expecting anything. You put yourself down so often that you stop caring - and I think he has realised that he was making all the trouble for himself; he was causing himself to lose and sometimes he wasn't as much getting beat as throwing games away. I think he just started playing the game for what it is and he ended up winning a major!
BRISSY: I said three or four months ago that he'd never win another World Championship, but he's got another tournament in him. How right was I? I don't think he can win the World Championship again, but you never know sometimes. When you win a tournament on TV it gives you a bit of confidence, but to me he looks tired after he's played a couple of games. He's got to get through six games to win this and I don't think he can.
ROD: I think Eric's wrong when he says that. He's the third favourite for me, just behind Taylor and Van Gerwen. He lost to Steve Beaton last week, but that was the best Beaton has played for years, and the way he's throwing his darts now is much better. He's taking an extra second - which is a lot in darts terms - and not rushing them. If you're getting thrashed you can't be considered to win tournaments, but when you're losing by the odd leg and throwing really good averages then you have to be seriously considered. Having watched him in the Grand Slam I think he's got another big win in him - and it wouldn't surprise me if it's this year.
We've discussed four of the big names, but are there any other players we should look out for?
WAYNE: There's a few names that can give it a good run. Simon Whitlock is playing superb, Kim Huybrechts is going to be tough to beat, but the one that could give Taylor and Van Gerwen what-for is going to be Gary Anderson. He had a terrible time earlier this year when he lost his father and struggled in the Premier League, but in the last three or four months he's started to play as we know he can. If he scores well he gives himself chances to win everything. He's a little bit older and more relaxed than when he lost in the final two years ago and I think Gary Anderson is ready and more than able to win the big one.
BRISSY: You need to look at the brackets because if you get an easy first couple of games you can build a bit of confidence and go on from there. I think Simon Whitlock and James Wade can go far because they're playing well, though I'm not sure if Wade believes in himself. Whitlock believes he can win one though.
ROD: I certainly agree Gary Anderson has the prolific scoring power and he's a Premier League champion, so he knows how to hold it together on the big stage. He won two sets against Colin Lloyd last year in less than four-and-a-half minutes, which is incredible, but he misses a few doubles and needs to tighten up on that to win a World Championship. He's in there and Simon Whitlock has a big shout because he has so much bottle. I think Andy Hamilton will do well. I love him as a player, I love his personality and he doesn't do a lot wrong.
So go on then... give us your tip. Who is going to win it?
WAYNE: It's got to be Phil Taylor because he's done it before... just a couple of times!
BRISSY: I think it's Taylor's year.
ROD: People say I always go with Taylor because we're old friends, but I'm sitting and saying what I think. He's going to be so hard to beat.