Wayne Mardle says Mark Webster's win over Ian White may save his career
Wayne Mardle believes Mark Webster rescued himself from darting oblivion by beating Ian White.
Last Updated: 27/12/12 9:36am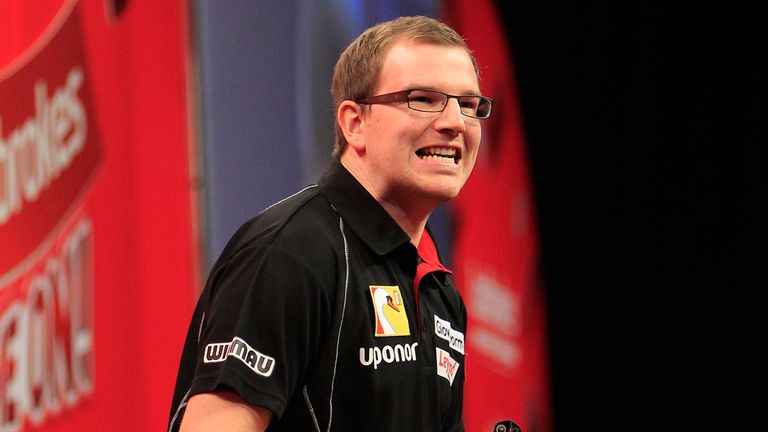 The number 10 seed knew that a second straight opening-round exit at Alexandra Palace - he lost to Ritchie Burnett at the first hurdle last year - would see him tumble down the world rankings and his cause wasn't helped when he was drawn against one of the top unseeded players in the hat.
Webster reached the semi-finals at Alexandra Palace two years ago, but those ranking points will be wiped at the end of this year's tournament and the 2008 BDO World Champion was at serious risk of losing his standing in the world game.
But despite starting the match as the underdog with the bookmakers he pulled off a nervy 3-1 win, which was much admired by Sky Sports expert Mardle.
"It's one of the best performances I've ever seen," he said.
"It's hard to say to a viewer what it means to someone, but if he'd lost the last set you might never see Mark Webster again.
"He would have gone from being a top-16 player to out of the top 16 and possibly out of the top 32 and having to qualify [for the World Championship].
"He was world champion in 2008 and saved himself with a set of pure bottle. It was brilliant to watch."
Worst
Webster missed eight darts for the match in the third set, but responded in style with a 115.6 average to claim victory in the fourth.
And fellow Sky Sports pundit Rod Harrington agreed he showed his class to overcome a difficult match at the end of a difficult season.
"The 2013 career of Mark Webster was resting on that game," he said.
"He's had so many draws and he's not done it since the Premier League of two years ago. He is a real nice guy and he had the worst draw possible. As Kevin Painter would say: 'How's your luck?'
"But he had eight darts to win the leg and the match and he missed them and sometimes some of us - myself included - don't come back from that.
"But the next set was superb. He showed bottle, he took a 154 out in the first leg and that was incredible. That showed the class of the man.
"Now, instead of him being on a right downer if he'd gone on to lose the match, he's on a right high. This tournament - and next year - is hopefully going to be a big plus."