Wayne Mardle tips Raymond van Barneveld to win Premier League Darts 2013
Premier League Darts is back with 10 players and a new quickfire format. But who will be relegated after nine weeks? Which four will make the play-offs? We asked Sky Sports expert Wayne Mardle to run the rule over the field...
Last Updated: 06/02/13 2:08pm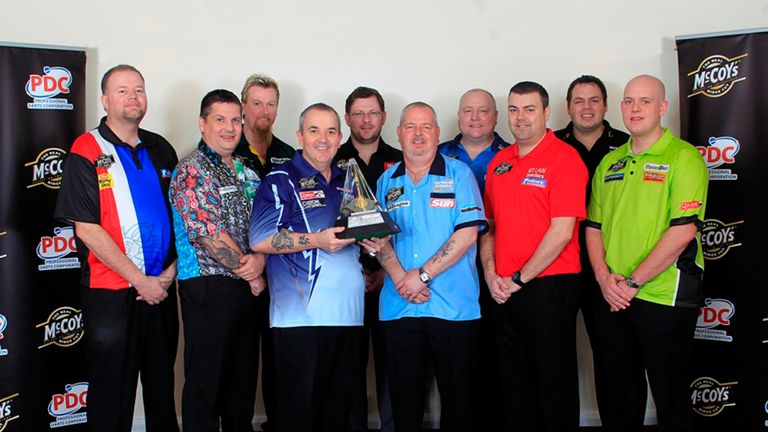 Gary won the Premier League in 2011, but had a disaster last year when his form was not even erratic, it was just poor. Since last October things have improved so I think we can expect a better show this time and if he's confident he's got a chance, but he doesn't seem to win as many games as he used to and I really think that's a worry ahead of this competition. Even when he's on form he tends to miss doubles, but his scoring gets him through. In the World Championship he had nineteen 180's in his game against John Bowles and yet he still should have got beat, which shows his issues with his finishing. If he doesn't hit his doubles he's got no chance and I don't think he will make the semi-finals. He won't be relegated, but I think he'll finish bottom after the relegation period.
THE MARDLE FORECAST: 8th
Andy Hamilton
Andy is very tough to beat and it's obvious that he loves the Premier League after reaching the semi-finals in his debut season last year. He's always going to do the right things and is not going to make mistake after mistake, so it's up to the other players to outplay him. He will simply go up and do his thing and his opponent will need to be better than him to win - and that doesn't happen very often with him. I don't reckon he'll lose many and I think he'll be the draw specialist this season, acting as a bit of a spoiler for some of the other players.
THE MARDLE FORECAST: 5th
Adrian Lewis
In commentary at the World Cup, Rod Studd referred to him as Adrian "The Light Switch" Lewis because his form really does go on and off that quickly. He's absolutely dreadful, then he's magnificent, and then he's dreadful again but in the Premier League - and I emphasise the word "league" - you can't be that inconsistent. Personally I think he might end up in a bit of trouble and it wouldn't surprise me if he got relegated. Of course it can all change around and if he plays his A-Game then he can win this tournament, but his A-Game seems a long way off at the moment and as a pundit you can only go on form...
THE MARDLE FORECAST: 9th, relegated
Wes Newton
I think Wes will do well in his debut season. In almost every single major he's there or thereabouts and he has reached the finals of the UK Open and the European Championship in the last two years. He was unlucky to lose to James Wade in the World Championship quarter-final and he hit a nine-darter at the World Matchplay too, so this guy is the real deal. I don't think being a debutant in the Premier League will bother him one bit. I think he's better over a shorter format (as his form in leg-play tournaments such as the UK Open and European Championship suggests) and I think this event will suit him. A bit like Andy Hamilton, I can see him giving everything every week and I expect him to do well.
THE MARDLE FORECAST: 7th
Phil Taylor
The league phase is tailor-made for Phil because he's ultra-consistent; he averages 92 in his bad games and there's no way on this planet that he will not make the play-offs. I'm pretty sure he will the top the table after 14 weeks because he's got everything you need. He will only lose once or twice in a season, he doesn't seem to draw many matches and he'll regularly take points off others so I can't see anybody, even an in-form Michael van Gerwen - threatening him in the league phase. However, he's not my tip to win on Finals night at the O2 Arena...
THE MARDLE FORECAST: 1st, then losing in the final
Robert Thornton
If the Premier League had started in November then I would have tipped Robert to have a real good squeak of making the play-offs, but he's lost form since then and hasn't looked dangerous at all. The main thing for me, having played at the highest level, is that he doesn't look comfortable or confident; sometimes you see players who aren't at the top of their form, but still look comfortable because they can go through the motions and perform. Robert, at the moment, doesn't look settled and I hope that changes because he's a nice guy and he deserves to do well. I think this might be like the year Mark Webster finished bottom in his debut season and it might prove too much for him. I'd say he'll probably win two games out of nine and go out.
THE MARDLE FORECAST: 10th, relegated
Raymond van Barneveld
I think we can safely say that Barney is back. He played beautifully at the Grand Slam and I say that not simply because he won it. I try not to look at results sometimes and focus on performances and, completely opposite to Thornton, he was looking comfortable. He looked like a man who wanted to be on stage because he knew where his darts were going. He carried that form on to the World Championship with a winning attitude that we haven't seen from Barney for a while and he got through to the semis where came unstuck against Phil Taylor. He's never reached the Premier League final, which I find incredible because this is his eighth season - and there's no reason why he shouldn't make the play-offs. He's one of the best players to ever pick up a dart and with the confidence and talent he's got then I think this could be his year.
THE MARDLE FORECAST: 2nd, then beats Taylor in the final
Michael van Gerwen
Apart from Phil Taylor, this is the best player I've ever seen - and I've said that for a long time. I remember being slated for it, but at least now those words are proving true, not for myself but for Michael because he is special. I think he'll make the play-offs because it's a short format and will suit his game. Also, he's one of those players who loves playing big-time darts; he's been successful playing on Tour in front of 30 people, but he wants to play in front of arenas of 10,000 so he will love the Premier League. He'll show bursts of brilliance over four or five legs and will beat anyone. I don't think he'll go on and win it, but I think he'll do some damage and get to the knock-out phase.
THE MARDLE FORECAST: 4th, semi-finalist
James Wade
James is Mr 92 Average and he's been that way for one or two years now. Whilst that is very good and you can't knock that, I don't think he's going to win enough points against those that play well. It seems that if you find a bit of form against James Wade these days you beat him. He's ultra-consistent and he has won the Premier League before, but I think it's honest to say he's not the player he was back in 2009. He's had some well-documented problems and doesn't seem to have the fight and drive that others have got, which will go against him. You wouldn't want to play him every week because he'll eventually get to you, but he's got to up his A-Game if he wants to reach the play-offs.
THE MARDLE FORECAST: 6th
Simon Whitlock
You're never safe against this man until the leg is over. Simon Whitlock is one of those players who will be way behind in a leg and then suddenly throw back-to-back 180's out of nowhere. Furthermore, he loves a high finish and something I like about him is that he leaves the big shots that he enjoys. So he'll leave himself 156 (t20, t20, d18) or 170 (t20, t20, bull) or 164 (t19, t19, bull) and you never see him leave 161 (t20, t17, bull) or 167 (t20, t19, bull) because those are more awkward. I think that finishing and scoring power will see him through to the last four with Taylor, Van Gerwen and Barney. What a good semi-final line-up that would be!
THE MARDLE FORECAST: 3rd, semi-finalist
Premier League Darts 2013 kicks off live from Belfast, Thursday, 7pm, Sky Sports 1 HD