Rod Harrington and Wayne Mardle divided over Terry Jenkins' future
The Sky Sports darts experts are divided over Terry Jenkins' future after his loss to Phil Taylor.
Last Updated: 24/07/13 3:11pm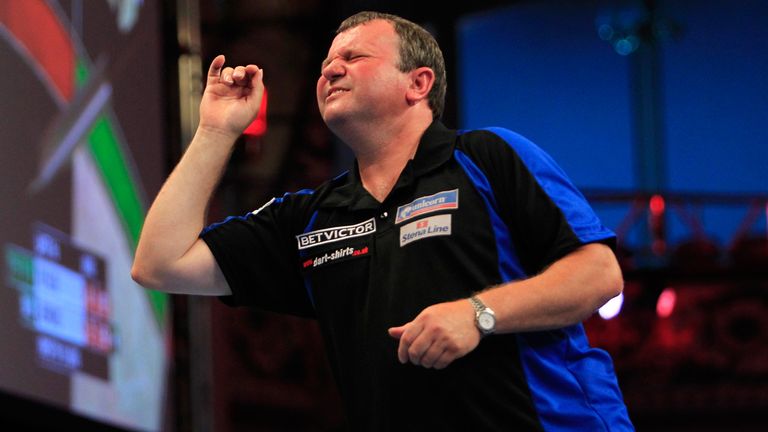 The former world number four is the last man to have beaten Phil Taylor at the World Matchplay - back in 2007 - and came agonisingly close to repeating the feat on Tuesday night when he took the world number one to sudden death before losing their second-round clash 14-12.
Jenkins, who has fallen out of Premier League contention in recent seasons, later said he is no longer willing to dedicate as much time practising darts and is considering quitting the game.
But Sky Sports pundit Rod Harrington says his performance against Taylor shows he still has plenty of fighting spirit.
He said: "We knew Jenkins wasn't going to roll over, but it's funny because he's been talking about retiring and all that rubbish.
"What I saw up on that stage was a guy that's still got the class and determination to carry on in this game and enjoy it.
"He really did take the game to Phil. He was a good bit behind at one time, but he's one of the old style of players who just doesn't give up.
"He kept pounding away and he found a little flaw in Phil's game."
Wanting
Jenkins, currently 16th on the PDC Order of Merit, says he now prefers to focus on exhibition events, rather than the slog of the PDC Tour.
And while Sky Sports pundit Wayne Mardle does not doubt his ability, he says The Bull will struggle to compete at the highest level if his heart isn't in it any more.
"The thing with Terry is I'm not sure if he's got the hunger and desire," Mardle said. "That is what you need.
"He keeps saying he's not going to go to this event or that event. I haven't seen him take a back seat yet, but I assume that's what is going to happen.
"The thing with Terry is he knows he's capable but the main thing is he's got to have that fight and he's got to have that desire.
"The other players have got it and if you haven't got it you can be found wanting."