Wayne Mardle says Michael van Gerwen may be better than Phil Taylor
Wayne Mardle says Michael van Gerwen is now hotter than Phil Taylor when he's at his best.
Last Updated: 25/07/13 1:12pm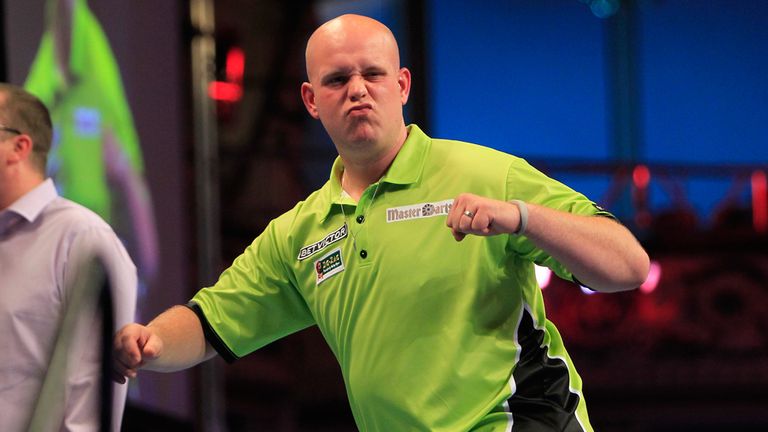 The Sky Sports pundit was speaking after the Dutchman's 13-3 demolition of Peter Wright at the World Matchplay in Blackpool, a tournament where The Power has not lost in the last six years.
Taylor's passage to this year's quarter-finals was less convincing - he needed sudden death legs to overcome Terry Jenkins in the second round - and Mardle believes that, on current form, Van Gerwen is a more dangerous opponent.
He said: "Van Gerwen will beat you within the space of two or three legs because you will think he's never ever going to miss, whereas Taylor takes slightly longer - so you will get a chance to react to what he's doing.
"With Van Gerwen you don't get a chance to react; he just does it. He was reeling off 140s, 180s and 177s, which is incredible.
"He only hit three 180s [against Wright] and yet was on for two nine-darters because he decided to go down for 177 and leave a 144, which is easier than a 141.
"He's thinking of a nine-darter three darts in! Normal players and normal human beings who play this game do not think like that. He's got a special way of thinking.
"Michael knows how to win these long matches. He used to be a short-runner, but now he's not. He can win anything and he knows it."
Special
Van Gerwen is the latest in a long line of contenders to Taylor's throne as the top darts player in the world.
The likes of Raymond van Barneveld and Adrian Lewis have won the World Championship and James Wade has seven major titles to his name.
But Mardle says nobody has displayed the class of the exciting 24-year-old.
"He's special. We've probably never seen the like," he added.
"It's the way he does it. He does it in a completely different way to Taylor and we can only compare those two because they are completely different to everyone else.
"We've seen Barney at his best and we've seen Lewis and Wade, but they're not in the same class at the moment as Van Gerwen or Taylor."