Grand Slam of Darts: Rod Harrington
The PDC and BDO collide at the Grand Slam - and Rod tips a few surprise names to shine.
By Rod Harrington
Last Updated: 14/11/13 4:54pm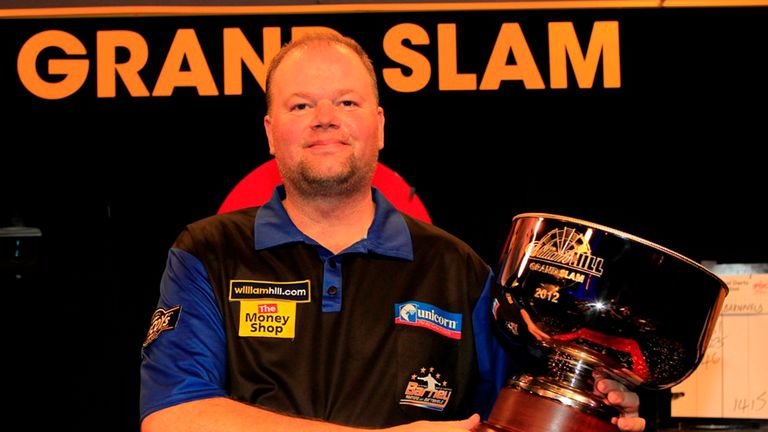 However, I think the PDC players have moved on and I think they have gone to another level. Some of the newcomers from the other code will find the way we run things a little bit alien, so I'd be very surprised if any of them won it.
It's also different from the other events because there is a group stage. Let's take a look at the eight groups of four...
GROUP A - Phil Taylor, Kevin Painter, Paul Nicholson, Stuart Kellett
This is probably the hardest group of all. Former Aston Villa footballer Ian Taylor did the draw last week and I couldn't believe he pulled Kevin Painter and Paul Nicholson into Phil Taylor's group. I'm usually the one who gives Painter a bad draw! You'd be an idiot not to back Taylor to win the tournament and the way he won the Masters, the Matchplay and the Grand Prix shows he is a cut above everybody else at the moment. This format - best of nine legs - will bring him back into the pack a little bit, but I expect him to win the group and any of the other three could be second. The man who won't be talked about much is Stuart Kellett and that kid is a very good player. He beat Barney and a few other players at Minehead earlier this year and has come back into some form. He gets Taylor out of the way early which is to his advantage and I wouldn't be surprised if he gets out of the group.
ROD'S VERDICT: Taylor will win the group and the winner of the Nicholson v Painter match will probably be second.
GROUP B: James Wade, Gary Anderson, Wesley Harms, Peter Wright
This is another cracking group. James Wade made the semi-final of the Masters, even though he has been playing mediocre darts and he produced an incredible finish to beat Simon Whitlock. We'll have to see if he turns up to Wolverhampton feeling good or not. Gary Anderson has had problems with his eyes; he's ok aiming for 20 because it's straight in line but he has vision problems when he drifts around the board and he can't wear glasses because it interferes with his throw. However, he can beat anybody when he gets in a rhythm. Peter Wright is the most improved player on the circuit in terms of performance, conduct, bottle and entertainment. He is turning himself into a nice character and we could see a lot of supporters turning up with multi-coloured hair! As for Wesley Harms, I don't think he has a chance because he's still learning the trade and lacks the firepower to beat the other three.
ROD'S VERDICT: I'll say Wright will win the group and then it's a flick of a coin between Wade and Anderson.
GROUP C: Adrian Lewis, Christian Kist, Ronny Huybrechts, Richie George
Adrian Lewis was ill at the Masters and therefore didn't put any pressure on himself to do well. As a result he had a fluent throw for the whole tournament and got to the final! He had a brilliant semi-final against Barney and his last dart was a little slower than normal, which made him more consistent. He's always been a great player, but if he slows up his third dart he'll hit the treble 20 more often. If he even plays his B-game he should win the group but it's hard to call the other spot. Christian Kist hasn't played a lot due to a hand injury and I know little of Richie George apart from his good run in last year's BDO World Championship. He's still learning the trade and this will be a good stepping stone for him. Ronny Huybrechts is a solid player who has played well in PDC Tour events.
ROD'S VERDICT: Lewis will win the group and I'll back Huybrechts because he's a PDC player!
GROUP D: Michael van Gerwen, Kim Huybrechts, Dean Winstanley, Vincent van der Voort
This is one of the most even groups in the competition. We all know what Michael van Gerwen is capable of, but occasionally he thinks he is going to win a game and then doesn't do so. He sometimes goes ahead and then sits back and expects things to happen. Believe it or not he is still learning the game and has to learn to stay focused for a full match. He needs to be careful against Kim Huybrechts, who is coming off a win in Eindhoven and he is a player who is coming through and stamping his authority. I expect him and Peter Wright to be the next two to push Taylor because they are fresh and don't know their boundaries. They can keep improving, unlike other players who think they've gone as far as they can. Vincent van der Voort has been playing well, while Dean Winstanley has not done as well as we expected when he switched from the BDO. He is starting to doubt himself when closing games out.
ROD'S VERDICT: I have to go with the two favourites - Michael van Gerwen and Kim Huybrechts. The bookies don't make mistakes too often.
GROUP E: Raymond van Barneveld, Mervyn King, Tony O'Shea, Ricky Evans
We know Barney is class act, but if someone gets in front of him then he might doubt himself. He's the reigning champion and the favourite for the group, but it wouldn't surprise me if we get to the end of the group stage and he hasn't made it through. Mervyn King has always been a battler and has started to play really well - he had a good run in Eindhoven - and will be tough to beat. We all know Tony O'Shea is a good player as well. As for Ricky Evans, he came runner-up in a Tour event last weekend and is a very quick thrower. He's one of those players who is unstoppable when his first dart is perfect, but if it goes into the wrong position then he struggles. He hasn't played on TV a lot and doesn't know what to do, but there's no question he is a great player.
ROD'S VERDICT: I'm going to go for Barney and then I'm going to sling in a wild card and go for Rickey Evans as well.
GROUP F: Andy Hamilton, Robert Thornton, Mark Walsh, Justin Pipe
All of these groups are hard and this one is no exception. Andy Hamilton has hardly missed the quarter-final of any major tournament in the last two years, so you have to put in a good performance if you want to beat him. Mark Walsh has not played well for ages, so I don't think he will qualify from the group and Robert Thornton hasn't been on top form either. My other pick to get out of the group is Justin Pipe, who came through the qualifiers and always seems to play well, even when he loses. He has something to prove and may well do that here. However, the form of the players is so close that anything could happen.
ROD'S VERDICT: I'm going for Justin Pipe to win the group and Andy Hamilton as runner-up
GROUP G: Simon Whitlock, Wes Newton, Mark Webster, Ross Smith
You know what you're going to get with Simon Whitlock; he will go up and play a great game every time and he should win the group. Ross Smith is an up-and-coming youngster with a really good solid throw and could be the spoiler in the group. I'm not saying he will qualify, but you wouldn't want to come up against him in a must-win game. He has plenty of ability and when he played Michael van Gerwen in Eindhoven he wasn't far off taking him to the wire. Mark Webster won the PDC fishing competition recently and will be a spoiler, but I don't see him getting out of the group.
ROD'S VERDICT: I'm going for Simon Whitlock and Wes Newton because they're the guys that know how to handle the big, noisy crowds
GROUP H: Scott Waites, Dave Chisnall, Michael Smith, Ted Hankey
I don't think Ted Hankey will get through because he hasn't been well. Many people will remember his mini-stroke during this tournament last year and he was in a car crash after that. He's missed a lot of tournaments lately so has little match practice and I don't think he will qualify. Scott Waites is a very good player and won the BDO at a canter last year, but I don't know much about his form. Dave Chisnall went off the boil a little bit after the Grand Prix final, but the very fact he got into that final shows how good he is. If he can get that defeat to Taylor out of his head and focuses on darts then he should win this group. The one to watch in this group is Michael Smith, who has unbelievable talent and is the next Adrian Lewis. As long as he works hard and doesn't just turn up expecting to play well then he can qualify.
ROD'S VERDICT: I think Chizzy will win it or come runner-up and then maybe Michael Smith can edge out Scott Waites over the short distance matches