Phil Taylor: Up to 12 challengers at Worlds, say Sky Sports experts
The Sky Sports experts feel there are up to a dozen players capable of winning the World Championship.
Last Updated: 05/12/13 6:42pm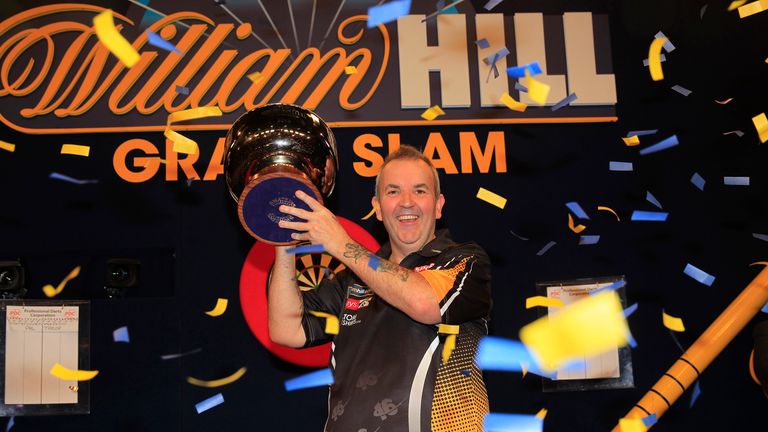 That's the view of Sky Sports experts Wayne Mardle and Rod Harrington following a week of intense competition at the Grand Slam of Darts.
The Wolverhampton tournament offers a good indicator of the form of the players ahead of December's showpiece event and Taylor proved he is the man to beat after overcoming the likes of Gary Anderson, Adrian Lewis and Robert Thornton to claim the title.
But Mardle felt the overall quality of the competition suggests Taylor faces a tough task in retaining his world title at Alexandra Palace next month.
"There's more names in the mix," he told Sky Sports.
"Before the tournament there wasn't many. Before the tournament there was Lewis, Michael van Gerwen and Taylor - but now there's James Wade who played superbly.
"Gary Anderson, for me, is the one that has really shot up the rankings and has a chance of being a world champion for the first time.
"He came into this tournament with no form whatsoever and played Taylor, had a brilliant game and lost with a 106 average. Before that he produced a 107 and 111 average.
"There's so many now with a chance - and don't forget Robert Thornton either. He's going to be tough to beat.
"We've just seen the quality through the whole of the Grand Slam. Darts is in a real good spot at the moment and there are so many good players.
"If 25% play like that at the Worlds then the last eight could be something incredible."
Realistic
Fellow Sky Sports expert Harrington agreed that more than 10 players have a realistic chance of winning the PDC's top prize.
And he highlighted three of the sport's rising stars as ones to watch in December.
"Kim Huybrechts is the most improved player alongside Peter Wright and Dave Chisnall," he said.
"Up until he lost the Grand Prix final, Chisnall was absolutely flying. He's the biggest 180-hitter in the game and I'm sure he's going to get over that before the World Championship.
"They are the three most improved players and that makes a good dozen players that stake a claim to having a go at the world title."
However, Harrington says 16-time World Champion Taylor is still the favourite to retain his title because even though he is in his fifties he is continuing to improve his throwing technique.
He added: "Phil Taylor just gets up there and plays the game that's in front of him and plays to the best of his ability,
"As I've said before, he doesn't care what happened yesterday and he's not looking forward to tomorrow he is looking forward to what is happening now and how to be the champion.
"He stays focused better than anybody else in the world and that is what the others have got to find out how to do. They've got to find out how to get that mindset that Phil Taylor has got.
"It's incredible how we sometimes think he is on the wane, but then he comes back and sets more standards. He has started hitting more 180's than he has ever done. He has not been a great 180-hitter, but in the semi-final he hit loads.
"It's incredible how a guy of his age can still keep improving - but he is."