Wayne Mardle Q&A: Sky Sports expert on his life in darts
Wayne Mardle tells us his favourite and funniest memories from playing and watching darts.
Last Updated: 06/12/13 6:32am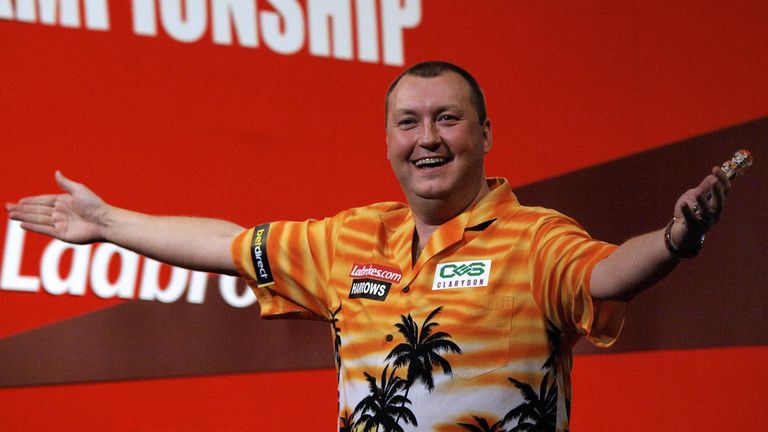 MY EARLIEST DARTS MEMORY... It was standing on a phone book in my bedroom when I was 10 years of age. I hadn't really started playing darts, but I wanted to play so my dad put a board up for me, but at the right height and it felt too high so I stood on a phone book from 6ft, rather than 7ft 9¼in and I found it was easier to reach than I thought. Within a couple of darts I'd moved the book away and was standing back at the proper distance. From the age of 10 I was throwing from the right distance and the right height and maybe that stood me in good stead. My first ever three darts from the right distance were 45 - which I think is pretty good!
MY FAVOURITE DARTS VENUE... It used to be the Circus Tavern, but now it's got to be the Winter Gardens in Blackpool. It wasn't built for darts, but the way it turned out, it probably should have been. It's absolutely magnificent.
MY FAVOURITE OPPONENT IN DARTS... John Part. We used to let each other play and there was a mutual respect that you don't get from a lot of players or don't give a lot of players. Because I respected him as a man it was a bit different.
THE BEST WORLD CHAMPIONSHIP MATCH I PLAYED IN... Obviously beating Phil Taylor in the quarter-final in 2008 was special, but the one that really sticks in the mind was when I played Colin Lloyd in the quarter-finals in 2005. I was really ill, but somehow pulled it back from 4-1 down to win 5-4. It was memorable because it took such an unbelievable effort from me and that's satisfying.
THE BEST WORLD CHAMPIONSHIP MATCH I WATCHED... Without doubt it was last year's quarter-final between Adrian Lewis and Michael van Gerwen. It was absolutely brilliant.
MY FAVOURITE WALK-ON SONG... I've got to say Phil Taylor's. I love the music and the crashes of lightning. Having played Phil numerous times on the big stage, rather than getting in the zone and trying to focus on the job in hand I'd be singing and clapping along! I can't help it!
THE BEST DARTS I'VE THROWN... I remember hitting a double nine (funnily enough I'd missed double 18 the shot before) to win the fourth set against Barney in the Dutch Open many years ago. I went on to win it and without that double nine I didn't think I would have reached the level I did. That made me feel like I belonged at the top. It was only a double nine, but it was an amazing dart for me and I still remember it.
THE BEST NICKNAME IN DARTS... Tongue in cheek I'd have to say Hawaii 501. I like it, I think it's good. It's clever!
THE BEST PLACARD I'VE SEEN... "Wayne Mardle: the thinking woman's choice." I still don't get it...
THE BEST FANCY DRESS I'VE SEEN... I like superheroes because they make me laugh. When you see Batman sitting down to go and cheer somebody on a stage it makes me chuckle.
WHAT THE WORLD CHAMPIONSHIP MEANS TO ME... All I think about is the difference between winning and losing. I've reached the semi-final five times so I know what it's like to have runs and I know the difference between winning a few games and going out early. Losing early on that stage is heartbreaking and there's nothing like it. Equally, there's nothing like winning up there as well. That's why I think so many people under-perform there. So when I think of the worlds I think of the elation of winning and the horrendous heartbreak when you lose.