Michael van Gerwen on World Championship memories and beating Phil Taylor
Michael van Gerwen tells us about beating Phil Taylor and his best World Championship memories.
Last Updated: 17/12/13 10:18am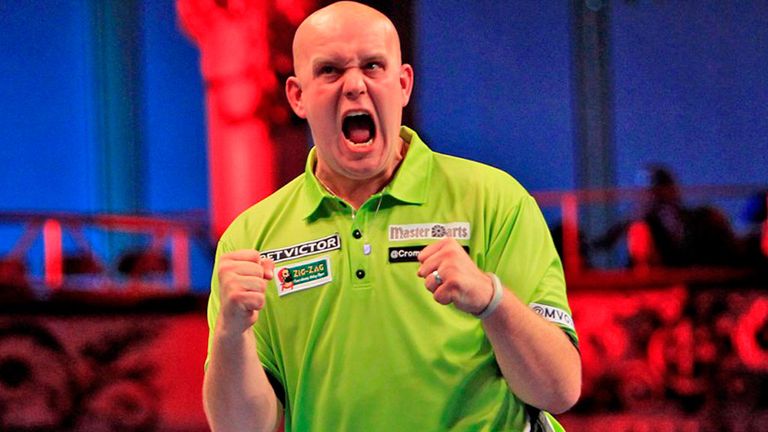 MY EARLIEST DARTS MEMORY...In the first tournament I ever played in I came third, which was not bad! I was 12 years old in the local place where I live in Holland.
IF I HADN'T BECOME A DARTS PLAYER I WOULD... I'd be a tiler. I'd be making floors and laying stones because I used to do that - so playing darts for a living is a bit better!
MY FAVOURITE OPPONENT IN DARTS... Phil Taylor, of course. They are always superb games. Also Adrian Lewis is a nice guy to play against. Everyone has something, but you always want to play the top players.
MY FAVOURITE DARTS VENUE... Ally Pally and the O2 Arena.
THE BEST WORLD CHAMPIONSHIP MATCH I PLAYED IN... Me and Adrian Lewis in the quarter-finals last year. It could have gone either way that game.
THE BEST WORLD CHAMPIONSHIP MATCH I'VE WATCHED... I can't remember. Maybe Taylor v Barney in the final in 2007 or the final between Anderson and Lewis in the final in 2011. That was a very good game.
MY FAVOURITE WALK-ON SONG... Vincent van der Voort (Give it Up by KC and the Sunshine Band). That's a very good one for the crowd.
THE BEST NICKNAME IN DARTS... Everyone has their own thing, but I think 'Jackpot' for Adrian Lewis is a good one. There is a nice story with that. He won the jackpot on the slot machines in Las Vegas, but he couldn't claim the money because he was too young!
THE BEST DARTS I'VE THROWN... When I won the Premier League Final against Phil Taylor on the bullseye. That was amazing.
THE BEST PLACARD I'VE SEEN... I don't know. I never watch the signs in the crowd. I don't notice them because I'm too focused on the game and the most important thing is to win the game.
THE BEST FANCY DRESS I'VE SEEN... People come dressed as me with the bald hats, which is funny, but I also like the wizards. It's good to see everyone enjoying themselves at the darts.
WHAT THE WORLD CHAMPIONSHIP MEANS TO ME... It's the big one of the year. If you win it then you are the World Champion for the rest of your life and that's what I want to be.
Every session of the World Darts Championship 2014 is live on Sky Sports. Michael van Gerwen's first-round match will be live from 7pm on Sky Sports 2 on Tuesday December 17.