World Darts Championship: Rod Harrington's guide to round two
Rod Harrington tells you what to expect from every round two match at Alexandra Palace.
By Rod Harrington
Last Updated: 20/12/13 12:55pm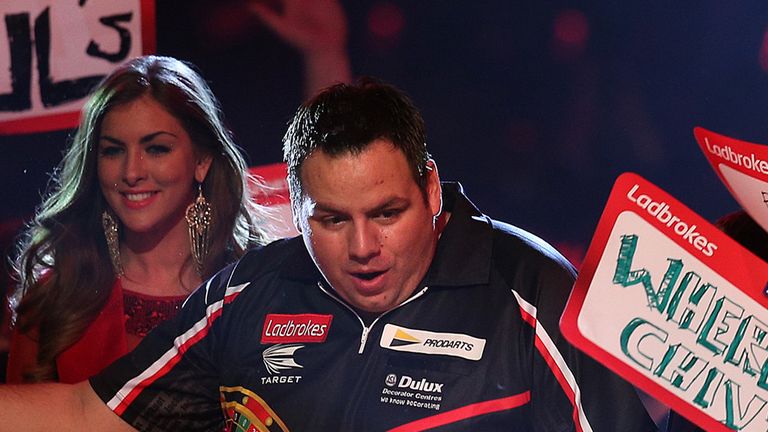 I've said many times in this column that Peter Wright is the most improved player of the year. His outfit in round one was John Daly-esque, but he is turning himself into a character and you need to do that in this game - but he can pull it off because he's playing brilliant darts. He can cope with the character he's built for himself and you have to say Wright is doing it right. As for Per Laursen, he is in a rich vein of form and played some of the best darts of his life against Terry Jenkins in round one. I expect Wright to win, but he'll have noticed Laursen's form and needs to be on top of his game. It could be close.
Raymond van Barneveld v Jamie Caven
We always say the first set is so important - and I sometimes get criticised for saying that - but in this game it really will be. Jamie Caven is one of those boys who just goes up and throws darts without worrying about who he plays against. If he can take the first set and get in Barney's head, especially if the Dutchman misses a few doubles, that could pave the way for an upset. If Barney wins the first set comfortably and gets into that lovely rhythm then Caven will be in trouble. I expect Barney to win, but you wouldn't get any of my money on this game!
Phil Taylor v Michael Smith
Phil Taylor has an indifferent match every now and again and we saw that in round one - but his indifferent matches still result in 96 averages! Michael Smith is one of the new talents of the game and I love watching him play because he has a similar style to Michael van Gerwen, Adrian Lewis and Gary Anderson. He's a raw talent, who can flick darts into the treble - but when they're off colour they can be a little bit off. He got frustrated in round one, but says he's going to go up and enjoy himself in this match because nobody expects him to win. I think the young man will play well and a good performance would set him up for the year, but I don't think he will beat Taylor. Put your money on The Power averaging above 100!
Saturday December 21 (7pm)
Andy Hamilton v Richie Burnett
This game has got seven sets written all over it and should go all the way. Andy Hamilton always throws a solid game and that is going up against Richie Burnett who is often capable of polishing off a set 3-0 in just 45 darts. However, he can also give legs away when he gets the snatch going. I would love to see Burnett win and have a good performance, but I like Hamilton as well. I wouldn't put any money on this and I'll shake the hand of whoever comes out on top. I expect a long game and lots of 180's.
Robert Thornton v Beau Anderson
Beau Anderson beat a below-par Colin Lloyd in round one and that's already a great tournament for him. His brother threw a nine-darter and he has put in the performance of his life, which is great for darts in Australia. When we go down there for the Sydney Masters it will really enlighten the tournament. However, Anderson faces a different competitor in Robert Thornton who is throwing well and full of confidence. I expect a convincing win from the Scot, but the Anderson brothers have earned a few quid and had a very nice Christmas!
Kim Huybrechts v Ian White
Kim Huybrechts has got to improve after his opening match because he played his brother on that night instead of focusing on the dartboard. Meanwhile, Ian White is a very underrated player and people don't give him the credit he deserves. He's not an all right player, he is a great player and this is going to be a close game. I would bet on a lot of 180's in this game because there will be at least 30 legs in the match, but you wouldn't get a ha'penny of my money on the result because the two players are very similar in standard at the moment.
Sunday December 22 - Afternoon Session (12.30pm)
Brendan Dolan v Gary Anderson
Brendan Dolan is one of the most underrated players on the circuit. I watched him beat Ricky Evans in the final of a Tour event, when he rolled off five legs in less than 15 darts - including three in less than 12 to win from 3-1 down. He doesn't waste chances very often. Gary Anderson is a joy to watch and I hope he's got his eyes sorted out. If he gets his scoring power working then he will win the game - but if he gives Dolan chances he could get beaten. However, I'm backing Anderson to prove himself and move up the rankings.
Kevin Painter v Paul Nicholson
This will be a good game and there could be a little bit of niggle, which we all like to see! Kevin Painter produced the best display of the first round and looked really solid, while Paul Nicholson played brilliantly the other night as well. They both come into this game in good form and so I can't call it. Kevin is an old mate of mine so I would like to see him win, but Paul needs to get on a good run and both of them will have half an eye on the Premier League. This should be a seven-set match and if you're looking for a bet then take whoever has the handicap.
Simon Whitlock v Jarkko Komula
Jarkko Komula played well in the World Cup and also did well in Eindhoven this year. He is a solid player, who has been around for a long time and won't bottle this match. Simon Whitlock started very well in his first-round match but lost a bit of consistency towards the end and needs to address that. He has got the game to win the tournament, but his display the other night was not good enough to win it. If he gives Komula too many chances there could be an upset, but now the first-round jitters have gone I think Whitlock will be really up for it.
Sunday December 22 - Evening Session (7pm)
Wes Newton v John Part
John Part has got a great record against Wes Newton and while I don't expect him to win this game, you can never write him off against anybody. He has beaten them all over the years and is a very nice and intelligent darts player, but I don't think he's in the best form of his life. Wes opened the tournament with two 14-darters and then went right off the boil and it turned out his journey to London was delayed by traffic and he didn't arrive until 3am on the day of the game. He should have travelled down the day before and I thought he looked tired - hopefully he will get a good night's sleep before this game!
John Henderson v Mark Webster
John Henderson is a gentle giant and produced a superb performance to beat Dave Chisnall in the first round. The 132 checkout with two bullseyes is a shot that everybody loves to see and he threw brilliant darts at the right time to walk off as the winner. Mark Webster struggled a bit in his first match, but dug deep and I expect another close game. His consistency from the days when he was a World Champion is not there any more but I think he might just nick this match. I can see it going to seven sets though.
Michael van Gerwen v Kevin McDine
Michael van Gerwen was not on top form in round one, but we will see better from him in this match. Kevin McDine is a great player, but doesn't have the consistent scoring power that Michael has got. McDine will win legs and maybe even a set, but Van Gerwen is far more consistent on the treble 20 and that's why he has won two major tournaments this year. I can see him winning convincingly, but McDine needs to go up there and enjoy himself and see what happens.
Monday December 23 (7pm)
James Wade v Andy Smith
James Wade should have lost to Darren Webster, who missed six match darts in the first round. I remember playing in the Swedish Open when a Swedish teenager had darts in every leg to beat me and let me off - and I went on to beat Phil Taylor in the final! Everybody has a bit of luck in this game from time to time and Wade was totally right not to show any sympathy. James is "up for none", he took his chance and I think we'll see a different player now. His leg-on-leg game should be too good for Andy Smith.
Mervyn King v Ricky Evans
Mervyn King played brilliantly apart from the final leg in round one, while Ricky Evans' win over Ronnie Baxter was the upset that we all tipped! It's so pleasing for me personally to see players from the Youth Tour doing so well. Evans is fast and furious and there should be plenty of pace to this game, but I don't think Evans will get over King. The older player should have an extra gear, but he could get a fright if Ricky plays like he did the other night. I expect King to take out the big shots and that should make the difference in a close match.
Adrian Lewis v Vincent van der Voort
The speed of this game should be incredible and should suit both players. Vincent van der Voort has lost consistency on his scoring and I don't think he will have enough against Lewis, who is on top of his game. In the past we've seen him miss a lot of doubles, but that's not the case at the moment and I think his extra scoring power will be the defining factor in this match. There should be an awful lot of 180's though.
Friday December 27 (12.30pm)
Justin Pipe v Devon Petersen
Devon Petersen was great in round one and we need more young characters like him. He came on stage and did "The Mirror" dance (Wayne Mardle tried to copy it, but his head was too big for a one-handed mirror...) and it was great to see. He will continue to enjoy himself and is not under much pressure. Justin Pipe's slow game upsets people, but what people are missing is that he is a great and consistent player. He needs a good run and I expect him to come through, but I'd love to see Petersen run him close and give us a bit more dancing!