World Matchplay Darts 2014: Dave Chisnall eyes maiden major
St Helens man looking to improve doubles as he prepares for Blackpool
Last Updated: 18/07/14 7:53pm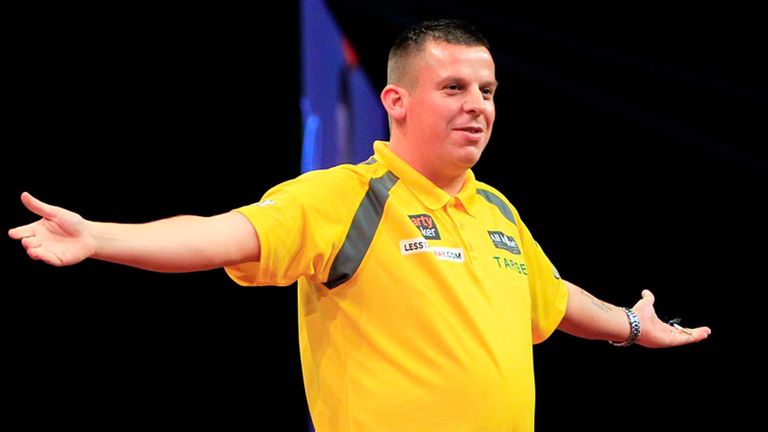 Dave Chisnall says he is ready to break his duck and win a PDC major.
The quickfire St Helens thrower has emerged as one of the most popular players on the circuit since his switch from the BDO in 2011, reaching the World Grand Prix Final in 2013 and making his debut in this year's Premier League Darts.
Chizzy, currently ranked ninth in the world, is now setting his sights on the World Matchplay in Blackpool, telling skysports.com that if he can improve his finishing then he has the tools to take the title….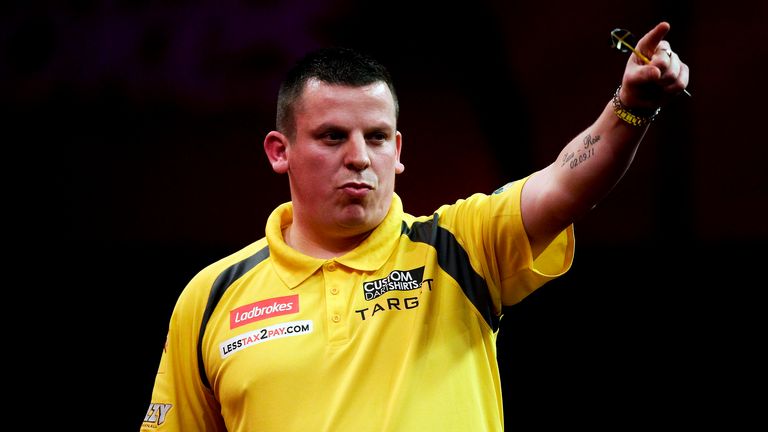 skysports.com: Hi Dave. How are you feeling ahead of the World Matchplay?
DAVE CHISNALL: I'm feeling confident, I've been playing ok, but I could do with a bit of practice before it starts. My season hasn't been too good though really. My scoring has been good, but I've been missing loads of doubles. I don't really know why… they're not far away, but they just haven't been going in. They go in when I practise, but when I go up on stage it seems they don't go in for some reason.
skysports.com: You made your Premier League debut this season. Did you enjoy that and do you think the experience will help you moving forward?
DC: The Premier League was the best, that's where you want to play, and I enjoyed it being up there playing in front of all them people. The best highlight was playing in Scotland. I was playing Gary Anderson so the atmosphere was brilliant. I thought I was going to get terrorised by his fans, but they gave me some good support. I feel more confident going on stage now. I feel more confident doing the walk-on. It has helped a lot.
skysports.com: Do you expect to be back in that competition next year?
DC:  I don't know. I don't look that far on. I just take one competition at a time and get ready for that. Then you re-start again.
skysports.com: Many players rate the Matchplay as their favourite tournament of the year. What does it mean to you?
DC: My favourite tournament is the Worlds, but I really like the Matchplay because it's in my own county. I only live 50 minutes away so that's good and it's at Blackpool which is a good destination for a competition.
skysports.com: Do you enjoy going to Blackpool? The Winter Gardens is quite an arena.
DC: It's a spectacular venue. It's right big and you can get lost in there! In the first two years I played there I didn't do very well, but last year I had a good run, got to the quarters and got beat off Van Gerwen. I played well against him and could have done a little bit better.
skysports.com: Last year was your best performance there. What would you see as a good result for you this year?
DC: Winning it of course! I just want to have a good run and try and stay in the competition for as long as I can. Hopefully I can win it. A major title is only around the corner I think, I've got all the experience I need and I've just got to tidy up in different departments.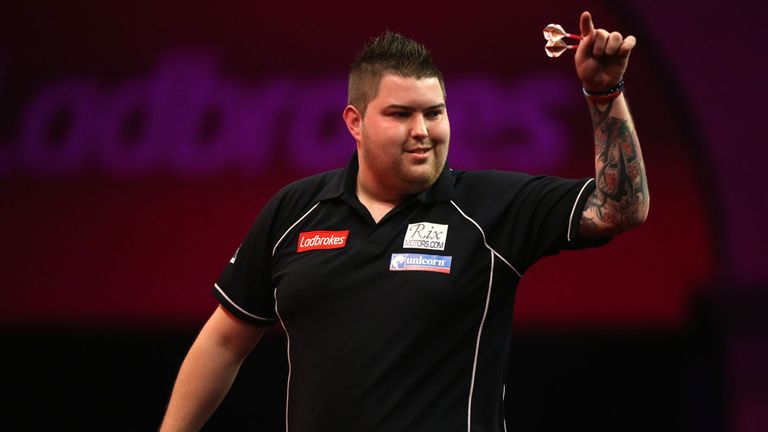 skysports.com: Who do you see as the major contenders for the title apart from yourself?
DC: There's a few. Mike Smith has been on top form and you've obviously got Michael van Gerwen and Phil Taylor. James Wade is back playing well again and did well in Gibraltar. Also, Gary Anderson as well. They are my favourites.
skysports.com: Michael Smith? He's a relative newcomer to the big stage. Do you really think he can win it?
DC: I think he's got it; he's a quality player. He plays Justin Pipe in the first round which will be a tough game with the speed and that. I don't know which way that will go.
skysports.com: It's never easy against a slow thrower like Justin Pipe…
DC: I like playing him! It gives you time, when a player is slow, to think about what you're going to do. I would rather play fast, but I can play against slow players.
skysports.com: Finally, you have Dean Winstanley in the first round. Are you happy with that draw?
DC: It's very tough because he has started playing well again. I didn't mention him before because I'm playing him, but he is a very good darts player. I've just got to look forward to it and what goes, goes. I'm confident.
World Matchplay Darts 2014 starts this Saturday from 7pm on Sky Sports 1. Dave Chisnall plays Dean Winstanley on Saturday afternoon from 1pm on Sky Sports 1.
Dave Chisnall will be playing with Target Darts at the World Matchplay in Blackpool. Click here for more information about their range.