Michael van Gerwen, Peter Wright, Phil Taylor and Gary Anderson talk Premier League finals night
Who will become 2017 Premier League champion?
By Raz Mirza
Last Updated: 18/05/17 7:14pm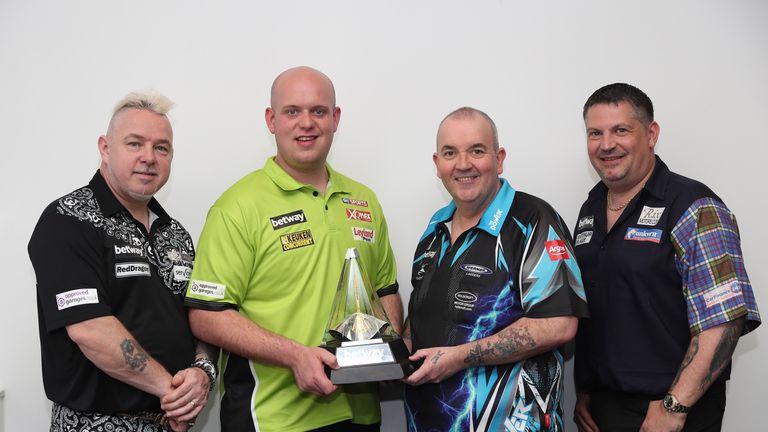 Michael van Gerwen, Peter Wright, Phil Taylor and Gary Anderson give us their predictions ahead of Premier League finals night at London's O2.
After 16 weeks of action, the culmination of another epic season comes to a head on Thursday night when the four best players on planet darts battle it out at the magnificent O2 Arena.
Van Gerwen topped the regular season's league table for a fifth successive year - maintaining a record which stretches back to his debut in 2013.
But he faces stiff competition from Scotland's finest in Anderson, who is also a two-time winner of the tournament.
Taylor will be bidding to claim his seventh Premier League title, having won the tournament from 2005-2008 as well as in 2010 and 2012, while UK Open champion, Wright, is appearing at this stage for the first time, having finished in fifth place in two of the previous three seasons.
We've asked the players to give their predictions ahead of Thursday night's action. Here's what they said...
Michael van Gerwen v Gary Anderson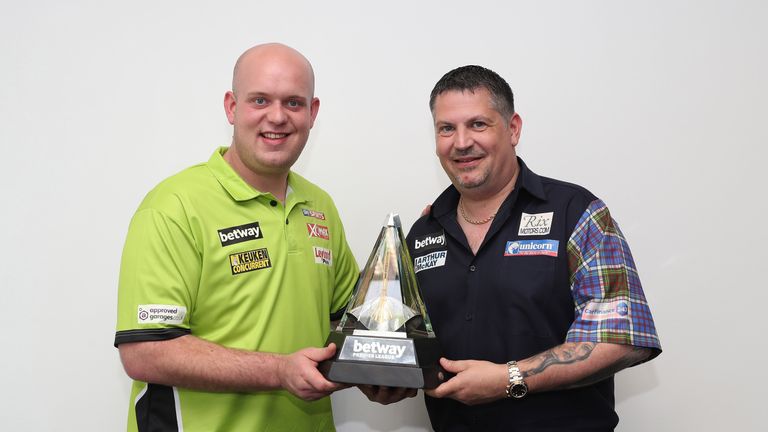 Van Gerwen's prediction...
The other players need game plans, but I have one game plan and that's Thursday night at 7 o'clock. You have to do it on the big stage - it's as simple as that.
I'm still playing well - I beat Gary last week in Aberdeen - to win the league and I think that gives me more confidence.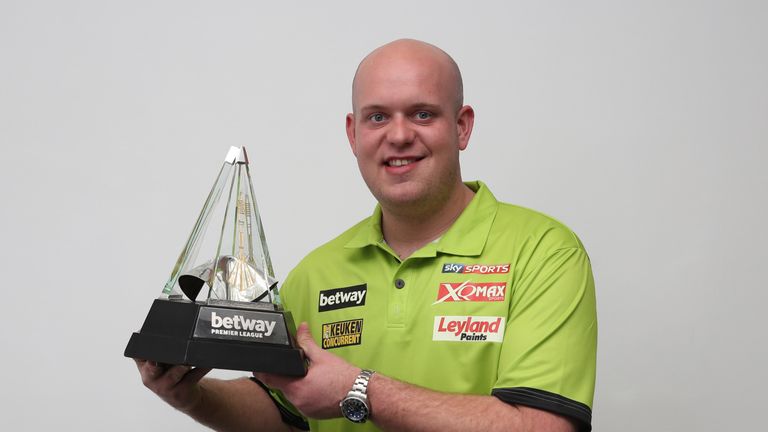 For Peter Wright - it's going to be his first Premier League semi-final. This is Phil Taylor's last Premier League, but can he do it for two games in a row? And then Gary Anderson, which I think will be the most difficult game for me.
You never know with Gary, but I expect him to bring his A-game because that's what you expect from other players.
I don't mind who I play because if you want to win you have to beat everyone. That's what I always say and I'll always keep on saying it. You can't fear anyone, otherwise you'll end up losing.
I'm still the best player even though I'm not playing 100 per cent. I believe that I'm still a better player than any of those three.
Anderson's prediction...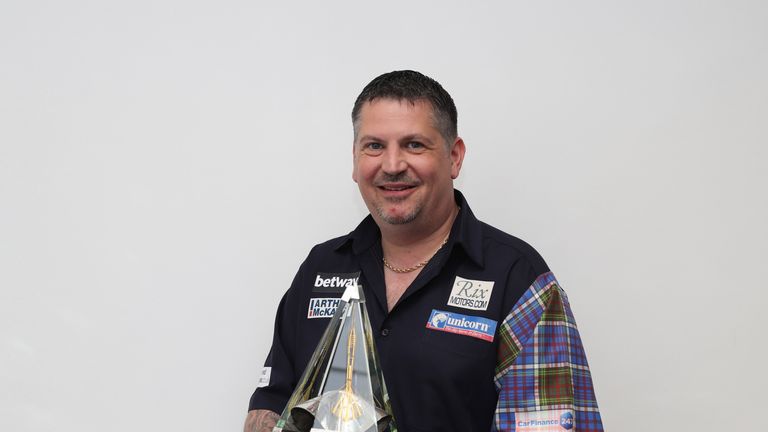 It's been a hard old 16 weeks but I'm quite happy to get to the final four, so I've done my job and now it's down to the one night.
I'm going from one Thursday through to the following Thursday without throwing a dart because I'm spending more time with my family now. I've not done any Europeans this year, so a man that doesn't practice could win it.
I'm looking forward to taking on Michael, but hopefully it will be a different game to last week in Aberdeen, when I lost.
I enjoy playing Michael because he plays my sort of game. He throws his darts and gets on with it.
If we both turn up and play the way we know we can play then it will be a cracking match. If I can hold him and get to 7-7, I can have that three-leg burst to beat him.
In the other semi, people will be expecting to see Peter win, but never, ever right Phil Taylor off. He's been a thorn in my side for decades. It will be sad to see him go, but I might start making some extra money now that he's gone.
Peter Wright v Phil Taylor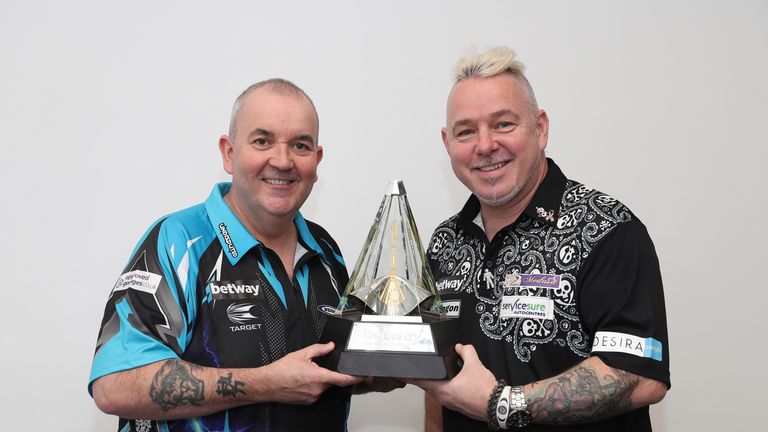 Wright's prediction...
It's been a few years in waiting, but now I've finally made it. Really looking forward to it because my form is good and I have no fear.
I've won seven tournaments this year, but it's really weird being odds-on to beat him because he's a 16-time World Champion.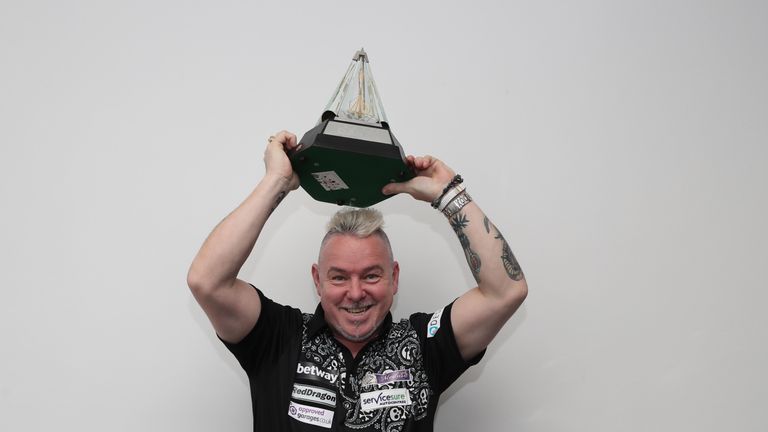 These guys know if they turn up on their day they can beat anyone, so you just have to make sure your head is in the right place.
Hopefully, I can make this my second major after winning the UK Open but there won't be any tactics because I'm not one of those players.
I'm gutted that Phil Taylor is retiring but I'm going to enjoy the match. I'm not playing well yet, but it's slowly coming.
Nobody remembers the runner-up and nobody worries about the runner-up. I'm still learning and there are times this year that I've changed things to improve too. I've learned a lot over the years and I know how to beat people now, especially Michael because he's the man we all want to beat.
Taylor's prediction...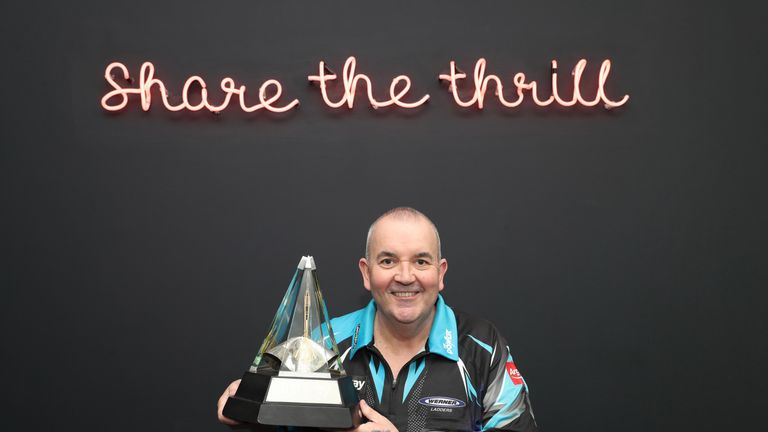 Peter Wright is the man to beat to be honest with you - he's in a rich vein of form. Having said that, he hasn't won a great deal in fairness to him.
It's all on the day and how you feel. For me, I'm going to go in there and enjoy it and if I win, I win, and if I don't it won't be the end of the world and that makes me more dangerous. He's got a game on his hands.
Both games are going to be good, but it's the O2 so it will be a bit special. There's no pressure on me at all.
I wouldn't bet against Gary not beating Michael [in the other semi-final] - he hasn't been playing out of his skin.
But if I was to play Michael - I know how to beat him - play well, play nice and steady and don't let him dictate the pace otherwise you end up rushing so you need to play your normal game.
You can see all the action from The O2 in London, with the semi-finals and final in one night on Thursday from 7pm on Sky Sports 3 HD, including Michael van Gerwen v Gary Anderson and Phil Taylor v Peter Wright.
Grab a NOW TV Sky Sports Day Pass and watch Premier League Darts from Aberdeen next Thursday night for just £6.99. No contract.
Who will win the Premier League? Let us know your thoughts by tweeting @SkySportsDarts or by using the comments box below - sign in with Facebook. Follow us on Twitter & use #LoveTheDarts