Phil Taylor admits to nerves during semi-final defeat to Peter Wright
By Sky Sports Darts
Last Updated: 22/05/17 6:31pm
Phil Taylor admitted Peter Wright deserved to prevail in their tense Premier League semi-final at The O2 on Thursday.
Taylor, a six-time winner of the event, has confirmed 2017 is his final year on the tour, and was bidding to reach the final for the second consecutive year.
The Power battled back from 4-0 and 6-3 down on the night but was unable to set up a final with eventual champion Michael van Gerwen, who earlier overcame Gary Anderson.
"I had my chances. I didn't take them," Taylor told Sky Sports. "The people behind me were giving me so much inspiration, trust me, some of the lads on the front tables.
"They were making me laugh as well as cheering me on. They were so involved in the game. It was brilliant, it really was.
"It was just a couple of shots that I missed. I could actually feel my heart beating. Honestly, I was so nervous. I went in front and went nervous, I don't know why. Every time I was behind I seemed to win the leg comfortably and then went nervous.
"It doesn't make sense but maybe it's because it was my last one but I don't know. I am shattered now."
After Wright capitalised on a slow and nervous start from Taylor, who was playing his 207th Premier League Darts match, The Power recovered to lead 8-7 and 9-8.
Taylor was left to rue several close double finishes, including one for the match, before Wright fought back to take the match in a dramatic decider.
I could actually feel my heart beating. Honestly, I was so nervous. I went in front and went nervous, I don't know why.
Phil Taylor on suffering nerves during his 10-9 defeat
"If Ronnie O'Sullivan did that it would have gone in off the cushion. It's like having number 46 and when number 47 is on the lottery. It can be so close and yet miles and miles away. It doesn't matter. Peter was the better player.
"I can't fault him. He held his bottle, hit the right shot at the right time. He has got a long career ahead, my career's coming to an end, well another few months."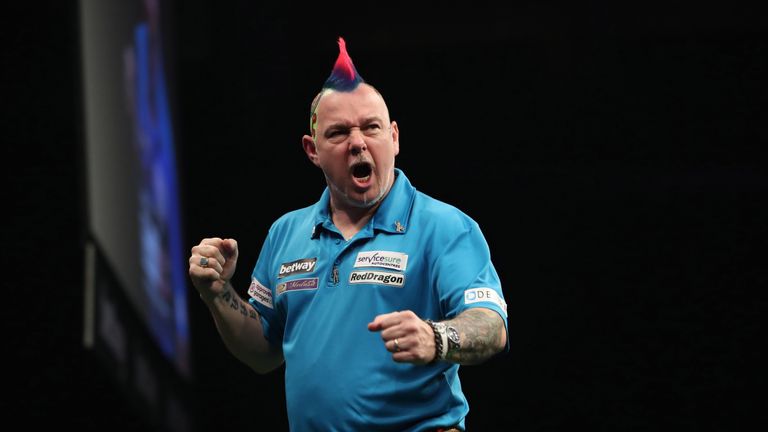 Taylor admitted he could not summon the energy levels to see him over the line into the final and set up an eagerly-anticipated clash with Van Gerwen.
"It's a different world for me at my age, Michael's jumping around the stage like a jumping jack and a kangaroo and Peter's got the energy and Gary has probably got more energy," Taylor said.
"I just haven't got it now - I have got the ability but I have not got it in longevity. Michael has only had me, he's got the next generation coming through and probably another generation after and then let's see how good he is then."
You can see all the action from The World Cup of Darts, live on Sky Sports. The arrows run from 1-4 June.
Who will win the World Cup of Darts? Let us know your thoughts by tweeting @SkySportsDarts or by using the comments box below - sign in with Facebook. Follow us on Twitter & use #LoveTheDarts