Wizard wants revenge
Simon Whitlock is after revenge in Aberdeen on Thursday when he faces Raymond van Barneveld in week nine of the Premier League.
By Paul Higham - Twitter @ SkySportsPaulH
Last Updated: 07/04/11 6:31pm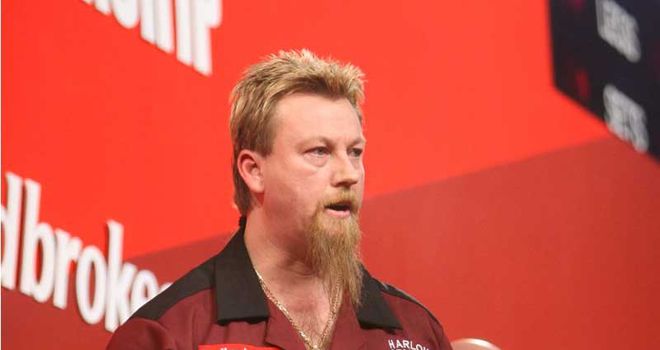 Simon Whitlock is after revenge in Aberdeen on Thursday when he faces Raymond van Barneveld in week nine of the 888.com Premier League.
Whitlock was thrashed 8-3 by Barney back in week two in Nottingham, with the Dutchman in sparkling form, especially on his out shots with four ton-plus finishes doing the damage.
The Wizard can draw level with van Barneveld in the Premier League table on ten points should he defeat the five-time world champion at the AECC.
"He was ruthless the last time we played - every time I hit a 180 he went out on a massive finish," said Whitlock. "Raymond was brilliant on that night and he's having a good season.
"I've got a good record against him and I'm confident going into it. If I can get a win it can put me in the top four, and that's where I want to be at the end of the season to make the play-offs."
Stragglers
The bottom three in the table are hanging on by a thread with Terry Jenkins, Mark Webster and James Wade all three wins away from the top four with six games remaining.
Wade plays reigning world champion Adrian Lewis in Aberdeen, with the left-hander producing the best darts of his unpredictable campaign against Jackpot in Nottingham during an 8-6 win.
"It was James' highest average when we played last time, and it was the same when Mark Webster played me in Exeter too and hit a 110 average," said Lewis.
"I'm the world champion and I expect people to do that against me, but I'm ready for them, as I showed last week. If I can win my next two games, I think I will be certain to finish in the top four, and making the play-offs is the first target."
Welshman Webster has lost four games on the bounce and was thumped by Lewis in front of his home fans in Cardiff last week - and things get no easier as he faces table topper and 15-time world champion Phil Taylor in Scotland.
"I've got to restore a bit of pride because I've been playing terribly," said Webster. "I'm not playing well at the minute, and when you're in the Premier League you're in the spotlight and you've got to produce.
Trying
"I'll keep trying hard and that's all I can do. I'm playing Phil on Thursday and it would be great to get a positive result against him."
Jenkins will tackle Scottish ace Gary Anderson, who will be hoping for a better performance from himself and his home fans this time around.
Anderson was beaten by Lewis in Glasgow as some of the Scottish crowd let themselves and their hero down by throwing beer and coins at Lewis during their game.
"I hope I can enjoy it this time," said Anderson. "What happened in Glasgow was disappointing but when I won against James Wade last week I managed to put it behind me.
"It's an honour to play in front of Scottish crowds and I'm looking forward to a good game against Terry."