The fab four
The cream of the crop will be at Wembley on Thursday night as the top four in the Premier League battle it out for the coveted title.
Last Updated: 21/05/11 9:28am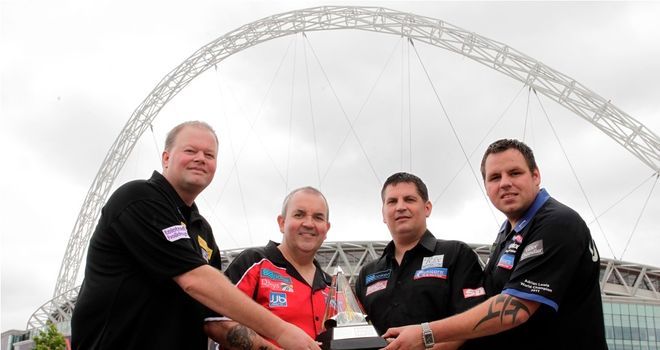 The cream of the crop will be at Wembley Arena on Thursday night as the top four in the 888.com Premier League battle it out for the coveted title.
The Premier League crown is probably second only to the World Championship title in status, owing to the fact it is fought out over such a long period and only between the best eight players in the world.
Defending champion Phil Taylor leads the way, with Raymond van Barneveld, Adrian Lewis and Gary Anderson completing the line-up for the semi-finals - and their credentials could hardly be higher.
Only Anderson has not won the World Championship, although he was in the most recent final won by Lewis - and there could be a huge rematch at Wembley should they get through their respective semis.
Lewis faces 15-time world champion Taylor though - who could go on to face his big old rival and five-time world champion van Barneveld if the Dutchman can reach a first Premier League final by beating Anderson.
Excited
"I'm really excited about Thursday and it will be a brilliant night," said Taylor, who lost his opener to Lewis but then reeled off 13 straight wins. "We've been the four players who've been the best throughout the league season and there will be some great match-ups.
"One thing about Adrian, when he beats you he never lets you forget about it, he keeps reminding you - and that's good. He is inspiring me week-in and week-out."
Taylor will do well to top last year's effort, as he stuck in two nine-darters in the final victory over James Wade - becoming the first player in darts' history to do so.
"That was an incredible night, one of the greatest of my career, and it's a brilliant feeling coming back to Wembley," said Taylor. "There's no reason why we can't see more nine-darters, not just from me but also the other guys because Adrian, Gary and Raymond are all capable of it."
Lewis hopes to add the Premier League to his World Championship crown, when he also hit a nine-darter in beating Anderson, and he insists facing Taylor holds no fear.
"To leave Wembley with this trophy as well would be an incredible achievement," said Lewis. "I think I've got a really good chance - even though I play Phil first.
"Phil has won 13 games out of 14 and his form's obviously good, but I'm world champion and I'm not world champion for nothing. I think I've still got a lot more in the locker yet and I haven't shown anywhere near my best - if I can go up there and perform like I can do, I'll win it."
Barney v Anderson
Barney defeated Anderson twice during the league stages, but has never made the final and last year missed out on the play-offs altogether, so he will have that psychological hurdle to get over.
Anderson showed the best form of anyone early on in his debut season in the Premier League, and he insists he has nothing to lose now he has made the play-offs.
"I've got nothing to lose," said Anderson. "I'm in the play-offs and it's been a great season, but I'd love to top it off by winning the title on Thursday.
"Even though he won twice in the league I've got to be confident. If I thought Raymond van Barneveld was going to beat me every time I played him then I wouldn't be playing the game.
"I won't be sitting down to him. Barney's got to play me now and he'd better have had a good week practising since last week because I'll be ready for him!"