Veteran world champion Dennis Priestley wins Dutch Darts Masters place in Dublin
Double world champion Dennis Priestley was one of 20 men to win places in the Dutch Masters during qualifying in Dublin.
Last Updated: 06/10/12 9:16am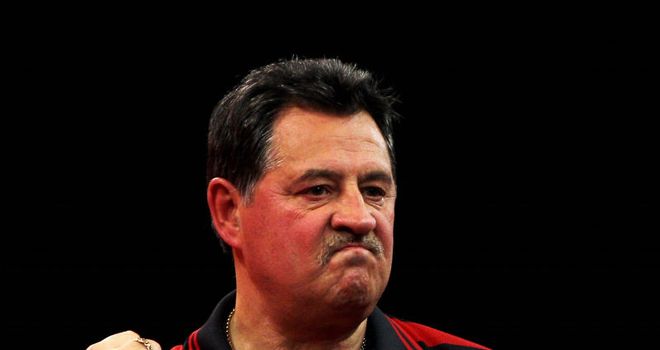 The European Tour event will take place in Holland later this month but saw 62 players competed for spots in Nuland at Dublin's Citywest Hotel on the first of ten days of darts action at the venue.
Stoke's Ian White, St Helens' Michael Smith and Yorkshireman Dean Winstanley all warmed up for their challenges in next week's PartyPoker.com World Grand Prix, live on Sky Sports, by qualifying for the European Tour event.
European Tour Event Four runner-up White edged out Ted Hankey 6-5 to qualify, Winstanley saw off Kevin McDine and Paul Barham, while Smith was a 6-4 winner against Keith Stephen to earn his place in Holland.
Priestley overcame youngster Adam Smith-Neale, Dennis Smith defeated Darren Whittingham and Joe Murnan to win through and Andy Jenkins was a 6-1 winner against Welsh prospect Jamie Lewis.
Hubbard
The Professional Darts Corporation's Unicorn World Youth Champion Hubbard - a quarter-finalist in the third European Tour event in Dusseldorf earlier this year - saw off Northern Ireland's Michael Mansell and Norfolk rival Darren Webster to be one of the 20 to qualify.
Former World Youth Champion Monk, who currently heads this year's Youth Tour Order of Merit ahead of Smith, defeated fellow youngsters Shaun Griffiths and Joe Cullen to win his place in Holland, sealing a 6-2 win over the latter with legs of ten and 12 darts.
Tony West, a quarter-finalist in Stuttgart in the German Darts Masters event last month, saw off Yorkshire pair Darren Johnson and Reece Robinson, to qualify, with Jim Walker, Brian Woods, Scott Rand, Johnny Haines and Steve Hine also winning through.
Mark Jones saw off Michael Barnard and William O'Connor, Mick Todd won tough contests with Prakash Jiwa and John Scott, and further spots went to Peter Hudson, Ross Smith, Terry Temple and Dave Ladley.
The top 32 players from the PDC Order of Merit who entered are placed directly into the first round draw, with the 20 UK Qualifiers joined by four players from a Home Nation Qualifier to be held on Rosmalen on Friday October 12 and eight players who will come from the European Qualifier in Bielefeld on Saturday October 13.