Wes Newton thrashed Scott Rand 4-0 to reach the last 16 of the PDC World Darts Championship
Wes Newton thrashed Scott Rand 4-0 to secure his place in the last 16 of the PDC World Darts Championship.
By Mark Kendall - Twitter: @SkySportsMK
Last Updated: 23/12/12 3:14pm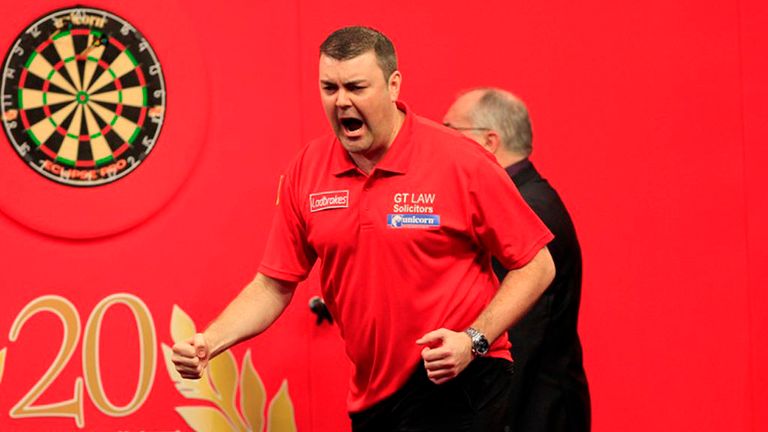 The World No 6 produced a confident display as he finished with a 99.53 average, posted five maximums and produced three 100+ finishes.
The first of those big finishes came in the third leg when he took out 144 to move 2-1 ahead and, although Rand would level, Newton took the set by hitting double-19.
Newton then checked out 143 to break at the start of the second set and followed it with a stunning 133 finish in the next on the way to moving two sets ahead.
The Lancastrian thrower did experience something of a nightmare run on the doubles midway through the third set, as he missed a total of 13 darts at double-16 and double-eight to offer Rand some encouragement.
But Newton recovered his composure when it was necessary to find double-five in the deciding leg of the third set and then completed victory as he took out 68 to win the fourth.
"I felt good, I felt like I played well and I know I've got more in the locker. I'm getting better every round, that's the main thing," Newton told Sky Sports afterwards.
"I didn't see the game with Kim (Huybrechts), but I knew he must have played well to beat Kim so I thought I've got to come out, get on top of him and stay that way which I did and I hit some big finishes when I needed them."
Whitlock impresses
Simon Whitlock was equally impressive as he thrashed Colin Osborne 4-0 to join Newton in the next round at Alexandra Palace.
The Australian won the first set without dropping a leg and then dug deep in the second to come from two legs down to double his lead, producing a 164 finish in the process.
Whitlock proved he had the clinical edge when it mattered most in the third set as well, hitting double-10 after repeated success on treble 19 to again take it in the deciding leg.
Osborne looked a deflated figure having fallen three down and Whitlock raced through the fourth set, taking out 54 to complete a one-sided success.
"It was a solid performance, Colin didn't play like I expected him to play so I just did what I had to do," Whitlock stated.
Lewis does enough
In the final match of the night, Adrian Lewis saw off Denis Ovens with a 4-1 success.
Despite being some way from his best, the defending cruised into a 2-0 lead with Ovens simply unable to put him under any pressure.
But that changed in the third set as Ovens took advantage of some lacklustre throwing from his opponent to win it to nil and he had the chance to level the match having moved two legs to one ahead in the fourth set, but Lewis upped his game to hit double-11 and stretch into a 3-1 lead.
With the advantage of throwing first in the fifth set, Lewis always held the upper hand and, although Ovens came up with a brilliant 113 check-out to keep the match alive, Lewis duly took out 65 to end the contest.