Raymond van Barneveld and Phil Taylor rivalry still fierce, says Wayne Mardle
Wayne Mardle says Raymond van Barneveld must show aggression to beat Phil Taylor in Glasgow.
Last Updated: 27/03/13 3:24pm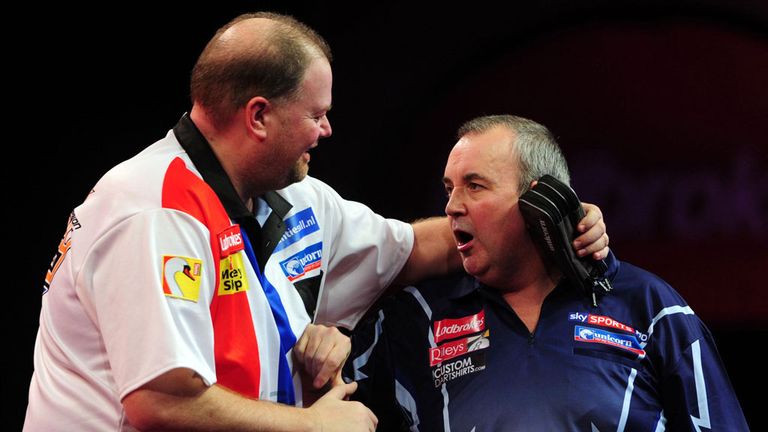 The two great rivals both occupy play-off berths in the Premier League with the Dutchman in second place following Thursday night's draw with James Wade, while The Power moved up to third after beating Wes Newton in Cardiff.
The stage is now set for the duo to renew their rivalry on television for the first time since December's controversial World Championship semi-final when they were involved in a heated exchange as they left the stage.
Van Barneveld battled back from 5-1 down before eventually losing 6-4 and Mardle says the passion displayed that night suggests the rivalry between them is as fierce as ever.
"They haven't mellowed if the Worlds is anything to go by," he told Sky Sports.
"Because the rivalry between these two has been over so many big matches, it's one-upmanship. It's not about the points, it's all about getting the win over each other. If it's a draw they would both be happy.
"Against Wes Newton, Phil started off pretty poorly, but he ended up with a 101 average. He's got this way of getting better and better in a match.
"Barney didn't play particularly great either - he said that after he came off - but he got points again. The pair of them know how to get matches won and I think they're both playing OK; Barney was playing brilliant but tonight was just OK.
"In the World Championship, Barney wasn't in the game for five or six sets and then the game came alive.
"It's all about Barney in my opinion. When he goes up there and tries to bully Phil Taylor - rather than vice versa - we have a match on."
Vital
Thursday's Premier League event in Glasgow is also the penultimate night of matches before the bottom two are eliminated from the competition.
Basement boys Gary Anderson and Wes Newton face each other in a crucial clash after Adrian Lewis moved out of the relegation zone for the first time this season.
The two-time world champion hit a last-leg double five to overcome Robert Thornton in Cardiff and Mardle said his celebrations showed how vital that result was to him.
"He nearly didn't make it off his knees," he said.
"It was a great double five. It was one of those doubles that is so easily pulled low when it means so much. A couple of weeks ago, he needed to get wins and points and that's just what he's doing.
"He's now in the mix and if he has two weeks running of picking up more points he puts himself in a play-off position.
"He has shown how good he is when he's not playing at the top of his game. This is only his B-Game, but he's showing glimpses. The 155 was one of the best finishes I've seen in the Premier League.
"Adrian Lewis winning was a shame for Wes Newton and Wes is going to have to win his last two matches or he will be gone, there's no doubt about it.
"There's so much to play for."