World Matchplay Darts: Rule changes brings in sudden death leg for Blackpool
A new sudden death rule change brought in for the World Matchplay will make for even more dramatic matches in Blackpool.
Last Updated: 21/06/13 10:26am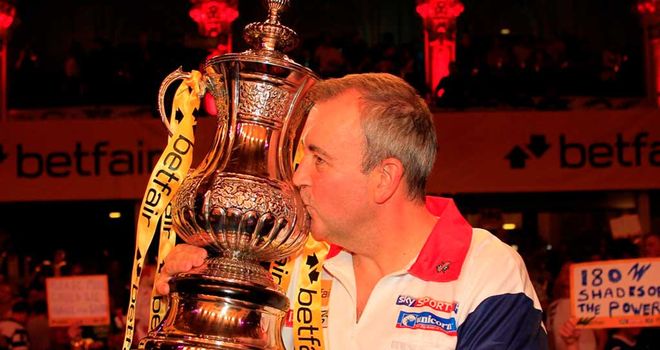 For the 20th staging of the tournament, matches will no longer run and run until a winner by two clear legs is found, with instead five extra legs being played before a sudden death one-leg shootout comes into operation.
In previous years of the tournament matches could continue 'ad infinitum' beyond the original scheduled distance until a player achieved a two-leg lead.
However, following consultation with the event's host broadcaster Sky Sports, the PDC have amended this rule for 2013, with games now proceeding a maximum of five extra legs before a tie-break leg comes into play.
The original scheduled formats for each round will remain the same, with the new ruling only coming into play should no two-leg lead be found in the extra five legs.
In the event of any game going to a deciding leg, there will be no re-throw for the bull, and the order of play continues unchanged. The order of throw will be decided by a bull-off pre-match in the practice room.
The field for the World Matchplay will be confirmed following the forthcoming European Championship, which will be held from July 4-7, with the draw expected to be made on Tuesday July 9.
The World Matchplay will be held from Saturday July 20-Sunday July 28 at the Winter Gardens in Blackpool.
The first round will be held across Saturday evening, two sessions on Sunday and the evening session on Monday July 22.
The second round will be played on Tuesday and Wednesday evenings, with the quarter-finals on Thursday and Friday evenings, the semi-finals on Saturday July 27 and the final on Sunday July 28.
The 2013 BetVictor World Matchplay format will be:
First Round - Best of 19 legs (if a match reaches 12-12, then the 25th leg will be the final and deciding leg)
Second Round - Best of 25 legs (if a match reaches 15-15, then the 31st leg will be the final and deciding leg)
Quarter-Finals - Best of 31 legs (if a match reaches 18-18, then the 37th leg will be the final and deciding leg)
Semi-Finals - Best of 33 legs (if a match reaches 19-19, then the 39th leg will be the final and deciding leg)
Final - Best of 35 legs (if a match reaches 20-20, then the 41st leg will be the final and deciding leg)