Adrian Lewis display 'had every single thing' says Rod Harrington
The Sky Sports experts hailed Adrian Lewis' win over Michael van Gerwen as one of darts' best ever displays.
Last Updated: 28/07/13 2:07pm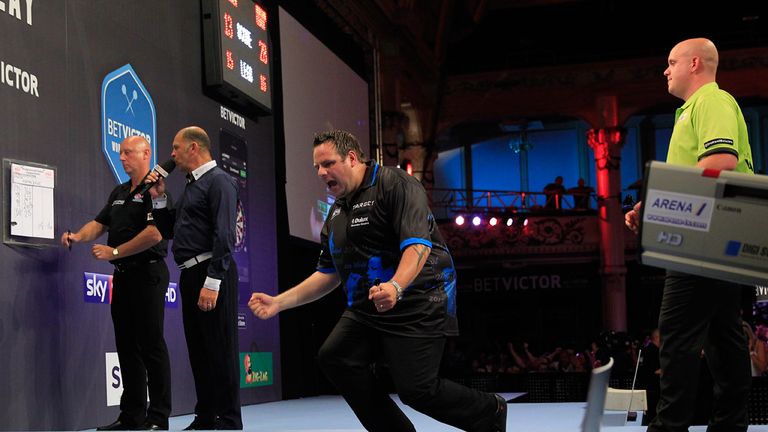 The 2011 and 2012 world champion was in breathtaking form as he threw sixteen 180's in his 17-15 World Matchplay semi-final success over the tournament favourite in Blackpool, only falling behind once in the entire match.
Lewis had not reached a major final since his world title win in January 2012, but his victory at last month's European Championship catapulted him back into the limelight and set him up for a fine streak at the Winter Gardens.
And Rod Harrington says his high-octane clash with Van Gerwen was one of the greatest games that darts has ever seen.
He told Sky Sports: "That's up there with the best thing I've ever seen in this game and possibly any other sport I've ever watched as well. That had every single thing. We said it was going to have it and it did.
"Fair play to Lewis, who threw three 12-darters to go into that first break well up. That's incredible darts. He got them few legs in front and every time Michael came back he had to do something special.
"He didn't make many mistakes. My only worry was that he was going to throw the odd loose dart and Michael would punish him, but Aidy didn't.
"We've criticised him for perhaps being on the road too much and he's put that right. Sometimes in the game other people come through, so of course you're going to talk about them and leave the other people behind - but we've always been waiting for Aidy Lewis to show up and do what he's done at this tournament.
"We need Adrian Lewis at the top in this game. That's how we survive. That game, and games like it, will make this game survive."
Sublime
Fellow pundit Wayne Mardle has criticised Lewis over the last few months, particularly during the 2013 Premier League when he narrowly avoided relegation.
But he was full of praise following the Van Gerwen clash, which he says will live long in the memory.
Mardle said: "Adrian Lewis came out of the blocks really quick. OK, the first few legs were a little bit ropey but after that he was magnificent and never let Michael dictate or dominate in any way.
"Me and Rod have played darts and when someone dominates you just think about hanging on and trying to get in front at a certain point, but Michael could not do that. That was sublime from Adrian Lewis.
"He's a twice world champion so we've got to talk about him, but we can't talk about him in a good light when he gets beaten in the first or second round. We can talk about him in a good light when he performs like that.
"We can't talk about how great he's playing when he's not playing great, that would be a sheer lie.
"But I'm not lying when I say that was one of the best performances I've ever seen in my life."