Sydney Darts Masters: Simon Whitlock to face Phil Taylor in semis
Simon Whitlock battered Andy Hamilton 8-1 to set-up a Sydney Darts Masters semi-final against Phil Taylor in Australia.
Last Updated: 08/09/13 11:24pm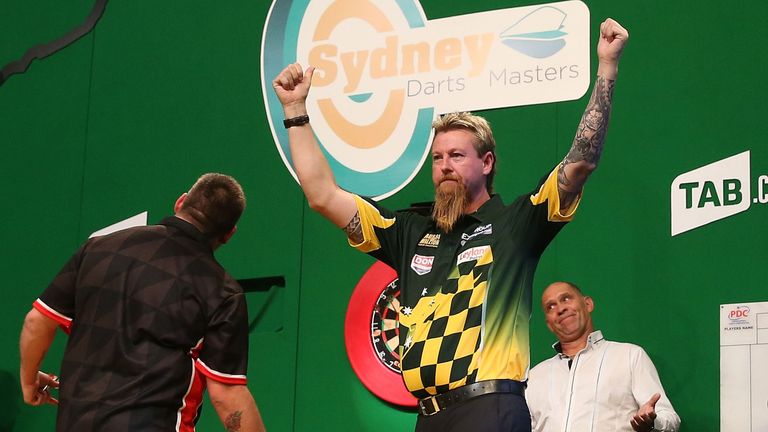 The Wizard roared into the last four on home soil in Sydney with a thrilling 8-1 victory over Andy Hamilton in their last eight clash.
Whitlock opened the game with a 180, bringing the capacity Luna Park crowd to its feet, and was relentless as he powered into the semis, with Hamilton's only leg coming as he hit a 180 and finished 84 on the bull for a 12-darter.
With Paul Nicholson and Clinton Bridge losing out in the last eight on Friday night, Whitlock will now carry the hopes of the host nation on his shoulders going into Saturday's decisive semi-finals and final - which will kick off with his clash against Taylor.
"It's fantastic to be in the semi-finals and I can't wait for Saturday night," said Whitlock. "It would be awesome to beat Phil Taylor here in Australia and I'll be confident going into the game.
Scoring
"I played pretty well again, I'm scoring well and my finishing's been good, and I played some great darts at times. I hit Andy hard early on and that was the big thing tonight."
World champion Taylor, meanwhile, produced the highest average of the tournament so far in a clinical 8-2 win over Paul Nicholson, who took the first leg but would only win one more in the next nine.
"My finishing was the secret in this game," said Taylor, who took out 50 percent of his chances at a double. "In a short format it's important to take out your doubles, and I did that well tonight.
"After Paul got back to 3-2 I kicked on and I needed to because you could see him closing in. He's on his way back and the next few months can be big for him."
Taylor and Whitlock were joined in the semi-finals by the other two members of the world's current top four, Michael van Gerwen and Adrian Lewis.
Mighty Mike
Van Gerwen followed up Thursday's ten-minute whitewash of Gordon Mathers by knocking out Australian left-hander Bridge 8-1.
"I'm very happy to have won," said van Gerwen. "Clinton showed some great darts at times and he beat a five-time World Champion yesterday, so I knew he would be good and it shows that the future in Australia is bright."
Lewis won through to the semis with an 8-5 triumph against Wes Newton, who shared the game's first eight legs before the European Champion pulled clear.
"Wes got off to a good start, but when push came to shove I produced two 11-dart legs against the throw and that was massive in winning me the match," said Lewis, who also hit seven 180s.
"It was a tough game and I thought I'd let him in at one point, so it's a relief to be through and I'm very happy with how I'm playing. I knocked in a 103 average last night and nearly 100 again tonight."