Championship League darts: Richie Burnett claims place in winners group
Richie Burnett made an overnight drive across the country count as he claimed Group Seven of the Championship League.
Last Updated: 23/10/13 8:30am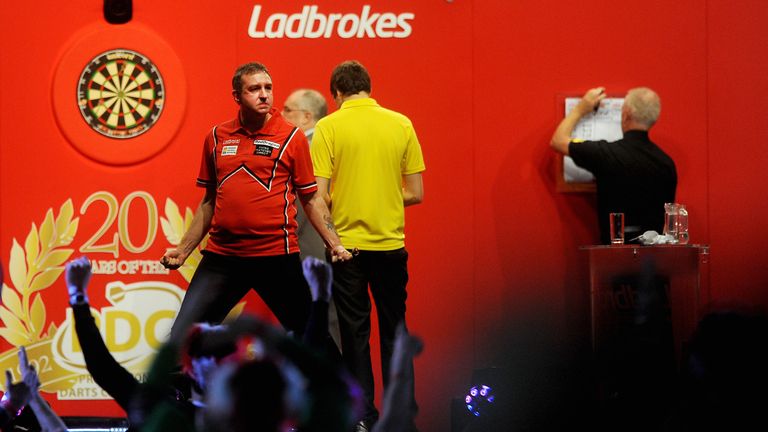 The Welsh ace was amongst a trio of former world champions who came into the tournament for the seventh of eight groups, and showed his class by topping the league table following the round-robin stage.
He won five of his seven league games, with a brilliant 6-0 whitewash of Paul Nicholson in the final round seeing him knock his opponent out of the top four places as well as seal top spot above Steve Beaton.
Burnett then enjoyed a 6-3 semi-final win over Kim Huybrechts as he won through to the final, where he edged out Anderson in a see-saw thriller.
"I'm so happy to get through," said Burnett. "I was 3-1 up and then it was three-all, then I was 5-3 up and it went five-all and I really thought that I'd blown it.
"I had some darts before that to get through and Gary's a class act, and he must be gutted to lose at the end there because he had darts to win.
"I hung in there in the last leg; I was chucking myself through the air, snatching my darts and I'm just over the moon to get through.
Final
"The final wasn't brilliant because I think we were both waiting for each other to hit the big scores, but it was at the end of a long day and I'm just glad to get through.
"Maybe I had a bit of luck in one game, where I should have lost against Kim Huybrechts and I won 6-5, and I just went from there.
"I got stronger as the day went on, and you build momentum, and by the time I beat Paul Nicholson 6-0, that was probably at the peak of my form and I played really well."
Three-time world champion John Part and Jamie Caven, a double ranking event winner this year, were both eliminated though in Group Seven, winning one game apiece during a gruelling day.
Huybrechts, who entered the event in Group Three, will appear in his sixth group of the season on Wednesday in the last-chance Group Eight, while Peter Wright and Anderson will both play for a fifth day as they bid to join Burnett in the Winners Group.
Beaton and Paul Nicholson will also return to Crondon Park GC in Essex to compete in Group Eight, alongside 2009 champion Colin Osborne, Andy Smith and Mark Walsh.
The day's champion will return on Thursday to compete in the big-money Winners Group, alongside Phil Taylor, Andy Hamilton, Wes Newton, Terry Jenkins, Michael van Gerwen, Ian White and Burnett.