Championship League Darts: Kim Huybrechts earns last spot in Winners Group
Kim Huybrechts came from 4-0 down to beat Peter Wright 6-4 in the final of Group Eight of Championship League Darts.
Last Updated: 25/10/13 9:53am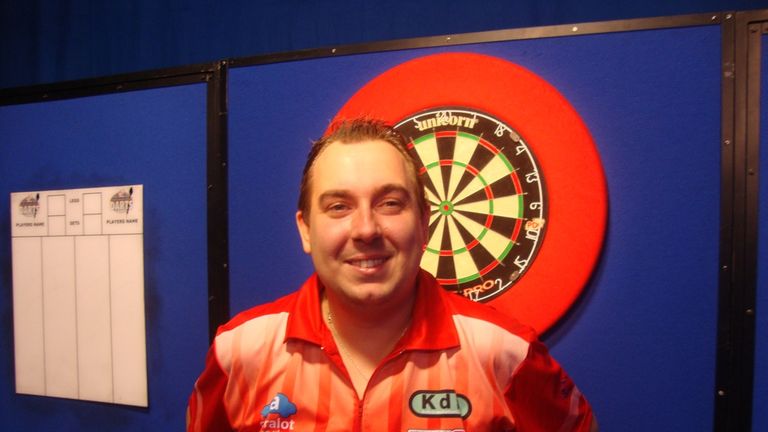 The Belgian's comeback earned him the final place in Thursday's Winners Group, where a £10,000 first prize is on offer.
Huybrechts edged out Gary Anderson on leg difference to claim the fourth semi-final spot in Group Eight thanks to a 6-3 win over Mark Walsh in his final round-robin match, coupled with Anderson's defeat to Steve Beaton.
He defeated table-topper Paul Nicholson 6-3 in the semi-finals, breaking the deadlock from three-all by taking the last three legs without reply.
Wright, competing in his fifth day of the event this year, punished some shaky doubling from Huybrechts to storm into the lead in the final.
Huybrechts fired his challenge with an 11-darter in leg five, before finishing 67 in the next, and he then hit a 177 to set up double 16 as he cut the gap to one leg.
A 14-darter then saw him level the game, and when Wright missed a dart at double 16 in leg nine, Huybrechts followed an earlier 180 by taking out 108 on tops to lead 5-4.
Huybrechts added a 177 score in the 10th leg, Wright missed the bull for a 132 finish which would have sent the match into a decider, and Huybrechts returned to hit double four for victory.
Happy
"It's been six long days but I'm really happy," said Huybrechts. "Maybe I was lucky to be here in the final, but it's fantastic to win and now I get to play again tomorrow in the Winners Group.
"When I lost against Paul Nicholson in my sixth game, I had one game left but I thought I was nowhere near the qualifying places.
"I went into the last game against Mark wanting to win, and I did, and then someone said to me that if Gary lost I was still in. Gary did lose, so lucky me and I won the tournament today!
"At 4-0 down in the final, I just wanted to win a couple of legs and not to lose 6-0. When I got back to 4-3, I thought maybe if I get the next leg I can put a bit of pressure on Peter, and I started playing really well."
The triumph continues a superb spell for Huybrechts, who hit a nine-darter earlier in this event and won a Players Championship in Killarney last Sunday.
"The top players like Phil and Michael are going to be really fresh and I've had some very long days, but it's not going to influence my fighting mode," added Huybrechts.
"I'll try to win every game and I'm going to battle to the end, and we'll see how far I get. Playing in this is the best practice there is - you're playing top players and it's been great for my game, I've got a lot of trust in my game from the form.
"The last week has made my year already, but I'm going to enjoy the experience tomorrow. It's my first time playing in Championship League Darts and I've made it to the Winners Group, so I'm very happy with that."
The full Winners Group line-up consists of Phil Taylor, Michael van Gerwen, Andy Hamilton, Wes Newton, Terry Jenkins, Ian White, Richie Burnett and Huybrechts.