Darts in great shape: Rod Harrington on Van Gerwen, Taylor, Wade and more
Rod Harrington hails Van Gerwen, backs Taylor and explains Wade's Premier League omission.
By Rod Harrington
Last Updated: 13/01/14 9:13am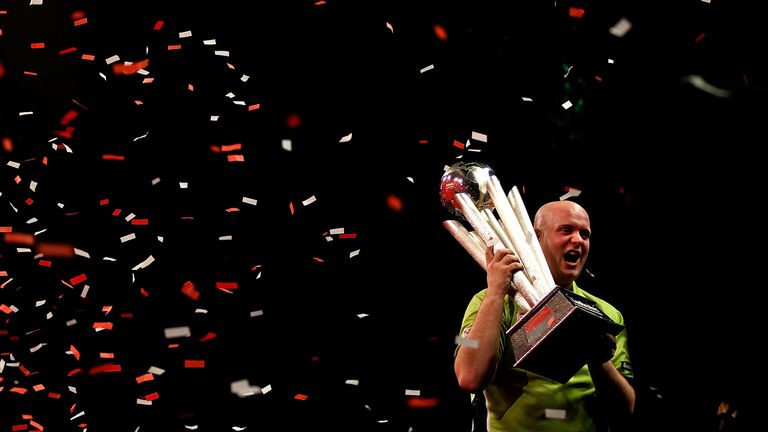 It would be a silly statement to say otherwise because he has just won the biggest tournament in the world after playing exceptional darts. I actually don't think he was at the top of his game, but he did the right things at the right time.
The thing about players like him - or Phil Taylor, Adrian Lewis and Gary Anderson - is they get on runs where they can fire off a few sets at a time and there's nothing the opponent can do about it. That firepower makes a real difference.
I think he will go on and win more world titles, I don't think there's any question about that, and he must feel unbeatable at the moment. When he's in that sort of mood he'll feel like he is flying and can do what he wants.
You're always going to have ups and downs in your career, but when you've won the World Championship - and other titles as he has - it is easier to get over a loss or a bad spell because you know you've got the ability.
It's great to see younger players coming through and winning world titles, but a lot of people are coming out and saying this is the end of Phil Taylor. What a load of rubbish. It's crazy to say there will be a total sea change in the game.
People go through little spells and as long as you can look back on a loss and explain why you lost then you have a good chance of getting over it. The real problem comes when you don't know how to get over a tough spell.
The top players bounce back and it's going to be incredible to see Taylor face Van Gerwen on the opening night of the Premier League on February 6. It's so hard to call a winner there because The Power will be so up for beating him; I think "fierce" would be the word.
However, Michael will feel ready to beat him and it will be interesting to see how that goes. Expect Taylor to come back with a vengeance!
Debutants
There are two debutants in the Premier League this year - Peter Wright and Dave Chisnall - and I think both are going to do a great job.
Wright proved his ability with his run to the World Final and you have to remember that this is a show and people will love you if you hit lots of 180's - and Chisnall does that. I think he will probably win more than he loses. He has the ability to go on and do some great things.
It's a really good Premier League this year and, as always, some people will miss out. James Wade has had a well-documented illness and as Barry Hearn said, that has caused problems for him in the game and nobody likes to see that.
We all want him to get over it and get back to being the player that he was because you can't question his talent, but at the PDC we felt he needed a break. It was a massive decision by the board.
You could see James getting very frustrated, especially in his interviews, and we just felt that he needed a break. The Premier League will be a gruelling 16 weeks with Tour events on the weekends to play on top. We felt that may be too much for him.
Of course I understand that he's disappointed. If I was him I would be gutted, but I would also sit down and think about why it has been done. The decision was a huge one and it's not been taken lightly because we know it's taken a big chunk of money away from someone, but we have to look after the business of this game and look after every player.
Business decisions have to be made whether an individual likes it or not and a decision was made that was best for the business and that, we felt, was for the best of the health of James Wade.
We now hope he bounces back and proves us all wrong. I like James because he's a brilliant darts player and has got more bottle than 10 of the players in the top 32 put together.
Of course he's going to be missed from the Premier League because he's a great player, but decisions have to be made and we have to stand by them.
Miss out
I think the only other person that can be disappointed to miss out is Andy Hamilton because he was number 11 in the world, but Sky chose Raymond van Barneveld (world number 10) and Gary Anderson (world number 18) as their wildcard picks.
Hamilton is a larger-than-life guy who entertains the crowd, but Sky felt Anderson was more of a crowd-pleaser than some of the other players in the mix.
Anderson can count himself very lucky after last year's performance when he finished bottom of the table and based on that he doesn't deserve to be in. But there are signs that he's coming back to form and there's no question if he does that then he's a brilliant darts player who will entertain the crowd with his high scoring.
Wes Newton will benefit from last season in the Premier League. He doesn't seem to do it consistently on TV and he needs to stop worrying about what people think and say about him. If he thinks the pundits have said something wrong then he should get up there and prove us wrong.
The Premier League just seems to get better every year and overall the game is in great shape. I'm so pleased to be a part of the PDC and to go to all of the tournaments, in particular the Youth Tour and the Challenge Tour.
This year's Q-School starts on January 16 and anyone can enter via the PDPA website. We are putting £160,000 prize money into the Challenge Tour and £100,000 into Youth tournaments in 2014, so the rewards are very good!
That shows the commitment we are putting in to find more great players like Michael Smith, who knocked Taylor out of the World Championship. We have more players like that coming through, who just need a bit more experience on the big stage.
Those tours will be great because people can treat it as a job rather than a game of darts down the pub. The game is in great shape.