Qualifiers confirmed for opening two European Tour events
Terry Jenkins and newcomer Glenn Spearing have qualified for the opening European Tour events of the season.
Last Updated: 21/01/14 10:57am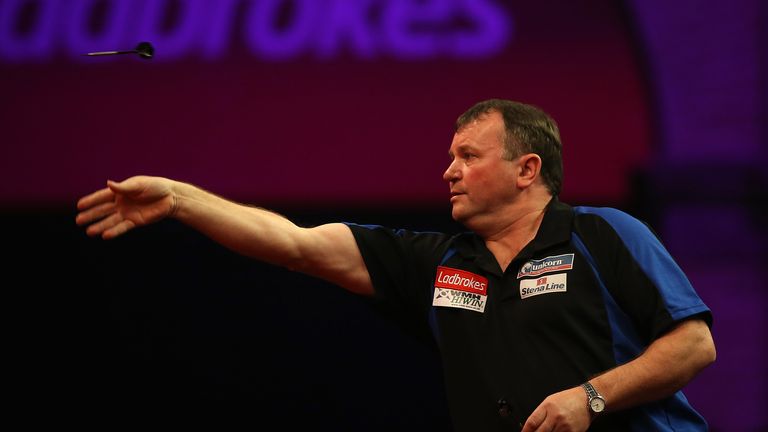 They all came through the 2014 UK Qualifiers in Wigan to earn their places at the opening two £100,000 European Tour events to be held in Germany and Holland over the next month.
The UK Qualifiers will be joined by a further eight European Qualifiers and four Host Nation Qualifiers in the first round of the main event, before the top 16 seeds enter in the next round.
While Dean Winstanley and Steve Maish have plenty of experience on the stage, Irish newcomer Glenn Spearing followed up his participation in Qualifying School by securing his place in both European Tour events.
Spearing overcame 2013 Challenge Tour Order of Merit winner Ross Smith to win his place in the German Darts Championship, before later seeing off former World Youth Champion Arron Monk to qualify for the Dutch Darts Masters.
Seven-time major finalist Jenkins defeated Kevin Dowling and Barrie Bates on his way to securing a place in Germany, before going on to secure 6-1 wins over Lee Hayes and Chris Aubrey to earn a spot in the Dutch Darts Masters.
Burnett was pushed all the way by Richie Howson in his final game of Sunday's first qualifier, and then sealed a place in Holland with a win over Vernon Sheppard.
Wayne Jones - a semi-finalist in the German Darts Masters last September - defeated Keegan Brown and Steve West in his deciders, while March's UK Masters runner-up Stuart Kellett defeated Paul Amos and James Richardson as he qualified for both events.
Walsh, meanwhile, enjoyed two wins over Michael Burgoine on the day, and defeated Steve Douglas and Marc Dewsbury in his respective deciders.
Other qualifiers for the German Darts Championship included top 32 stars Andy Hamilton, Justin Pipe, Ronnie Baxter and Michael Smith, the World Youth Champion.
Winstanley, Mark Dudbridge and Marc Dewsbury were other players to win through to the German Darts Championship, which will be held in Hildesheim from 31 January-2 February.
The qualifiers for the Dutch Darts Masters included young quartet Joe Cullen, Jamie Lewis, David Pallett and Josh Payne, while Mick Todd followed up his success in winning back a Tour Card by defeating Andy Hamilton to secure a Veldhoven spot.
Andy Smith defeated Colin Osborne to qualify, while Darren Webster, Michael Mansell, Michael Barnard, Kevin Thomas, Terry Temple and Peter Hudson also progressed to compete in Holland from 14-16 February.
There was disappointment, though, for world number six James Wade, who lost out 6-5 in both of his deciders on the day as Lynn and Thomas secured their European Tour spots.