Phil Taylor vows to return to top after signing lucrative new deal
Phil Taylor is to switch darts manufacturers after signing a lucrative five-year deal with Target Darts.
Last Updated: 05/02/14 12:04pm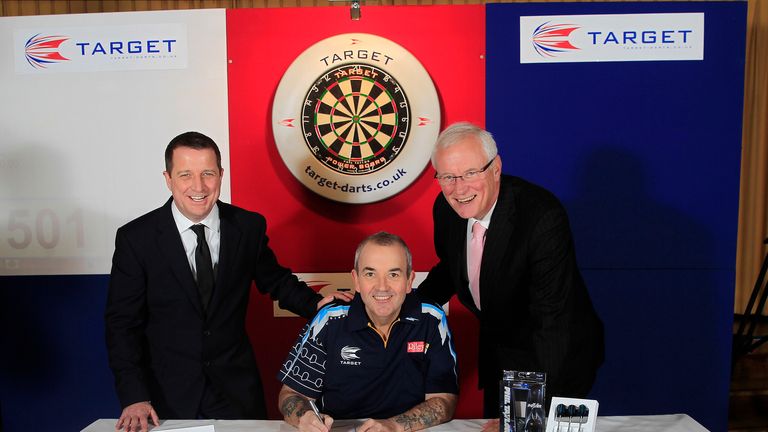 The 16-time world champion has ended his long-standing relationship with Unicorn after penning what is said to be the biggest sponsorship deal in the sport's history.
Taylor will throw his new darts for the first time on television in his Premier League clash with current world number one Michael van Gerwen in Liverpool on Thursday night, live on Sky Sports.
And despite only practising with the new darts for a few days he hopes the switch will help him return to the top of the PDC rankings.
Speaking at a the contract signing in London he said: "I had a great career with my last sponsor Unicorn, which I'm very thankful for, but this is a matter of me moving forward and trying to reinvent myself.
Improve
"That's what I'm trying to do every time the new competition comes along.
"You get all the new players that come along and it's up to me to up my standards, try different things, alter my lifestyle and do whatever I can to improve.
"The defeat (at the World Championship) was a good kick up the backside for me and gave me a good lesson.
"The beauty of it is, for how old I am, I'm still learning and trying to improve. It's a massive thing for me. I hardly slept last night because I'm excited - and I don't get excited at my age really.
"God bless Michael van Gerwen and people like Adrian Lewis and Gary Anderson and the likes because it's making me enjoy my career again. I could retire, but I don't want to do that.
"I'm looking forward to trying to get back on top again. I've lost my world number one, which I'll be challenging for again this year. I think Michael deserved it but it's up to me to get off my backside and put it right."
Contract
The deal will see Taylor promote Target Darts products until 2019 and he says he intends to carry on playing for the duration of the contract.
And after helping to design new equipment to his own specifications he is hopeful of bouncing back from the disappointment of his second-round defeat to Michael Smith at the World Championship.
"I went into the World Championship thinking 'I would win this quite easy', Taylor added in his first public appearance since his surprise defeat at Alexandra Palace.
"Leading into the tournament, I had been playing the best darts of my life. But, on that weekend, I just didn't feel right.
"I must have made a mistake and didn't prepare properly - and that won't happen again.
"Changing darts is a calculated gamble but I am confident it will work. You need confidence in your equipment.
"Darts is not all about standing up there and simply throwing darts. You need everything to be right in your preparation."