Premier League: Adrian Lewis threatened a whitewash before beating Phil Taylor
Phil Taylor is threatening to become an also-ran in this year's Premier League after being dismantled by Adrian Lewis.
Last Updated: 14/02/14 3:08pm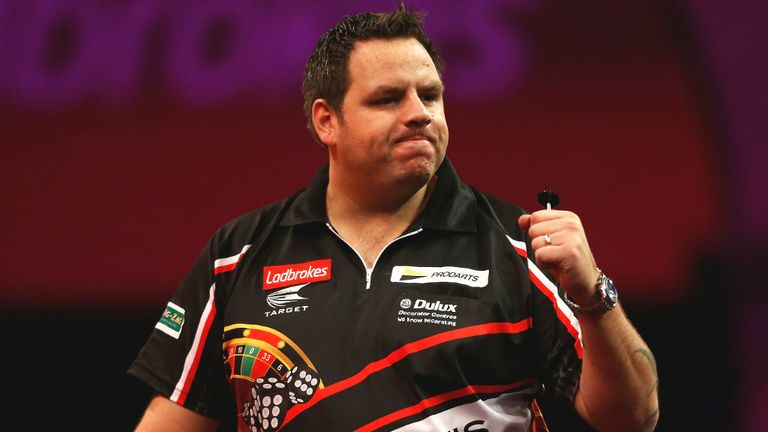 The highly-anticipated clash failed to ignite as Lewis stormed into a 5-0 lead, threatening Taylor with a second whitewash in as many weeks.
But unlike Michael van Gerwen seven days ago, Lewis was unable to close it out 7-0, allowing his great friend and rival three legs before eventually completing the inevitable win.
Taylor began with a 180 but stuttered at the doubles allowing 'Jackpot' an early lead, which was doubled and then trebled as Lewis took advantage of the 16-time champion's sloppy finishing.
It became 4-0 after another Lewis maximum and tops finish, and the whitewash became a reality when Taylor missed two shots at double 16 and Lewis nipped in to make it five.
But Taylor finally recorded his first leg in this year's event when hitting double 10, and then showed a glimpse of his old self to check out 140.
Lewis was in no mood to hand the initiative back, though, breaking the throw again to seal at least a point and, although Taylor pulled another back, the former two-time world champion closed it out in the 10th leg.
"He started off like a train, then he missed a couple of doubles and knocked his confidence again," Lewis said of Taylor. "But he's definitely on the mend.
"I've got to move on now. It's one of those nights and I'm glad I've got him out of the way."
Van Gerwen
Van Gerwen made it two wins from two although he was less impressive in securing a 7-5 victory over Robert Thornton.
There was never more than a leg between the pair until the world champion forged 6-4 ahead late on.
The lead changed hands throughout - first Thornton getting on top before the Dutchman edged 3-2 up after the Scot missed five darts to win the leg.
But Thornton rallied to win the next two with double top and double 10, however Van Gerwen stepped up a gear to take the next three and set up victory.
Thornton then hit double one under pressure to stay alive in the match but the 12th ended in a whimper, Van Gerwen taking out double 16 with his opponent a mile back.
Wes Newton scored the first shock of the evening by defeating Raymond van Barneveld 7-5.
Barney moved into an early 3-1 lead after Newton narrowly failed to checkout 167 in the second leg, but it was scrappy stuff and Newton soon levelled this time closing out 149 after the Dutchman appeared to have the sixth at his mercy.
Newton missed three darts at a double to gift Barney the next before the former world champion held his throw to lead 5-3.
But once again Newton forced his way back into it, nailing a first 180 in the 10th leg to level after van Barneveld missed shots at double 16.
Newton then moved ahead for the first time since the first leg before closing out the match.
Under-par Chizzy
Dave Chisnall grabbed an unlikely point against world championship finalist Peter Wright in a sub-standard affair.
Wright took advantage of some low scoring and poor finishing from the St Helens slinger to build a 5-1 lead, but 'Chizzy' fought back to draw 6-6.
They started as they meant to go on - Wright eventually hitting double one in the opening leg after Chisnall had missed three darts at 'madhouse'.
Chisnall held his throw second time but with both players averaging in the low-80s in was Wright who was finishing better to open a big lead.
But Chisnall held and then broke thanks to a 180 before producing an 11-dart leg from nowhere to make it three in succession.
However, 'Snakebite' showed some venom to seal at least a point in the 10th leg but with victory at his mercy his scoring went to pot, Chisnall allowed the chance to square matters with double top.
Simon Whitlock went down 7-1 to Lewis in week one and he fared little better against Gary Anderson, losing 7-2.
The Aussie checked out 98 to level at 1-1 and then took the next against the throw after narrowly missing a 164 out, but the Scot quickly broke back and surged ahead.
He cruised through the fifth and doubled his lead in the sixth via a maximum and a bullseye finish, before making it 5-2 after Whitlock missed his chance to pull one back.
It was one-way traffic by now and another maximum set up 45 to win leg eight before Anderson clinically ended matters in the next, completing a 70 percent checkout rate in the process.