Barry Hearn talks to Sky Sports about the rise of darts after Premier League success
Barry Hearn tells Sky Sports about his plans to take darts into the global arena after success in the UK.
Last Updated: 30/03/14 8:35pm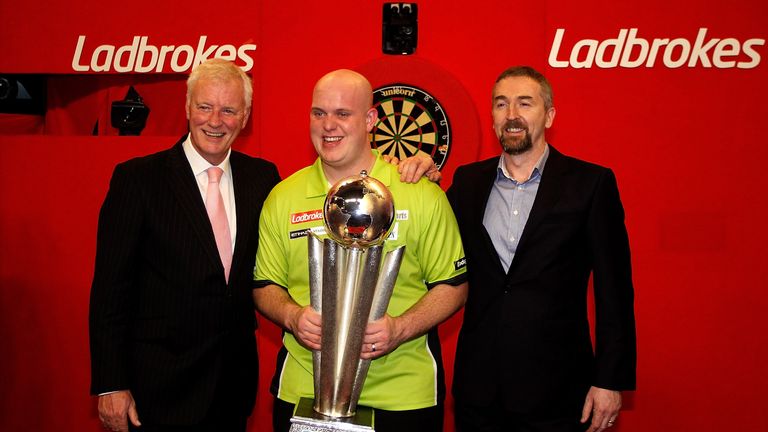 Darts has grown immeasurably over the last few years, and from a game played in pubs and working men's clubs it is now filling up hue arenas week in and week out as the Premier League goes from strength to strength.
Prize money has gone through the roof to over £7 million and there are over 100 worldwide tournaments run by the PDC now each year.
The Premier League's recent stop in Leeds set a post-war attendance record with over 11,000 fans watching the darts - and with sell-outs now a regular occurrence Hearn is looking towards extending the sport's global reach.
"We go global," Hearn told Sky Sports News Radio. "The World Series of Darts gained a lot of momentum last year and this year it's going up to four different venues. Everywhere from Hong Kong to Toronto is phoning up saying we've seen it on TV, we want an event here ourselves.
Long way to go
"So I don't think we've even started. This is working man's golf and we're changing the lives of thousands of people because of it and I'm very excited about the next ten years. I don't think we've peaked yet - I think we've got a long way to go."
Hearn says the mixture of the sporting talents of the top darts stars and the entertainment value of a night out at the darts is why it is proving so popular - and he's proud to be involved in taking the game so far.
"I just think it's the best night out, it's a mixture of entertainment coupled with world class sport in action. You're here for the atmosphere and the crowd as much as the players - Sky's coverage is brilliant showing the crowd enjoying themselves, some of the costumes out there are just wild!
"For the players themselves, they've been involved in darts all of their lives and to walk out in arenas like we have and the atmosphere it generates is a huge compliment to everything they've achieved as much as anything else and I'm just very proud to be involved.
"It's gone way past what it was even in the old days of Bristow and the likes - they were big in small arenas and now we're talking about regular eight, nine, ten thousand every week and the O2 finish will be memorable."
Professional era
Darts players have also changed over the last few years, and with so much money and so many events now on offer they are making a handsome living if they can remain on top on the oche.
"Every week there's a new tournament - there's over 100 PDC tournaments worldwide now so these guys are honed in on producing some excellent sport. They're full time pros earning lots of money and changing their lives, which is what sport is all about."
And the competitiveness of this year's Premier League has only been adding to the attraction in 2014.
"The players get on OK but at the end of the day we're talking about a lot of money and we're talking about pride and nobody wants to be relegated. We've had Phil Taylor struggling such is the standard these guys are playing.
"We've got Peter Wright, who's burst onto he scene and Michael Van Gerwen who's winning just about everything and playing like a man possessed, so it's got all the soap opera characteristics of coronation street with arrows and I think people just warm to it."