Premier League darts: Peter Wright and Raymond van Barneveld play twice in Sheffield
After relegation drama last week, the final eight men left in the Premier League continue their chase for the play-offs.
Last Updated: 10/04/14 4:08pm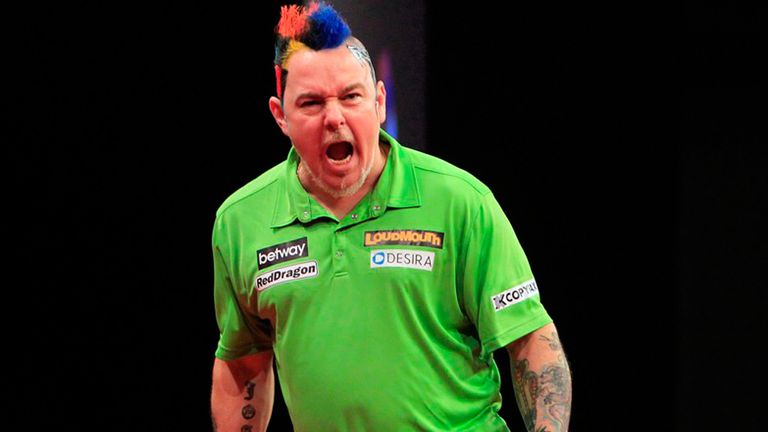 With Simon Whitlock and Wes Newton exiting the competition, we're down to the final eight in the Betway Premier League fighting it out for four places in the play-off night in London next month.
There are still five fixtures on offer at the Motorpoint Arena in Sheffield on Thursday though, and this week Peter Wright and Raymond van Barneveld will both play twice - including a clash between the two to close the night's action.
Van Barneveld kicks off the night against Dave Chisnall and Wright plays Gary Anderson before they face each other, and both know they could overtake Michael van Gerwen at the top of the table by the end of the night, or at least help cement their place in the top four.
Both men are keen to stake an early claim for a play-off spot, but they both know they're in for two tough games on Thursday night.
Brilliant Barney
"Raymond's been brilliant," said Wright. "I'd say that he's been the best player in the Premier League so far this year, without a doubt. He's so consistent and the only reason he's had those draws is because he's missed a few doubles, otherwise they'd have been all wins."
Wright has been a revelation in the Premier League with five wins, three draws and just one defeat in nine matches so far, but he knows it will not get any easier from here on in.
"If I get any more relaxed I'll go to sleep!" Wright added. "I'm just looking forward to playing all these fantastic players again, and the ones I beat will be wanting their revenge, but I'll keep my head on.
"I want to get closer to Michael and put the pressure on him in the next few weeks. It was getting a bit tight between the top five players, so to get a win last week gave me a little bit of breathing space."
Van Barneveld came back from 4-1 down to draw with Adrian Lewis last week to continue his run of stalemates, and believes more is needed to maintain his top-four status.
"It's nice of Peter to say that and I'm working hard but I've been in draw mode," said the Dutchman. "From now on I've got to win matches. Last week was a gift from Adrian and I know I need to improve.
"I'm still third but from now on it's open season and every player could reach the semi-finals. I'm always thinking about the top four; I'm not Raymond van Barneveld to entertain the crowd, I'm trying to get into the top four and reach the final. That's what I do, I want to win."
MVG still top
League leader Van Gerwen faces Robert Thornton looking for more than the point he got against Whitlock last week.
"I can do a lot better than I did last week and I need to be sharper," said Van Gerwen. "I'm still hitting above a 100 average in nearly every game, and that's what I should do. If I don't do that I'm very disappointed, but the most important thing is to win and that's what I'm looking for against Robert."
The other game on the agenda is a crucial all-Stoke clash between resurgent Phil Taylor and Adrian Lewis, with 'Jackpot' now just a point above 'The Power' after the six-time Premier League champion's recent run of form.
"It's exciting and we're all looking to kick on and push for the top four now," said Taylor. "My game's still improving and I always believed it would.
"In some of the games earlier in the season I wasn't far off at all, but I was missing doubles. I knew I only had to up it a little and it would start to turn around and it has been in the last few weeks, but I want to keep it going now."