World Cup of Darts: Kim and Ronny Huybrechts signs new darts deals with Unicorn
Last Updated: 04/06/14 3:49pm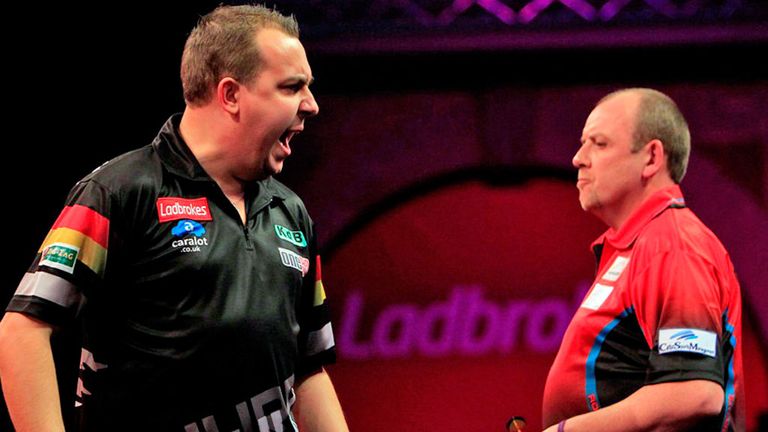 Belgian brothers Kim and Ronny Huybrechts are hoping to go one better than last year in the World Cup of Darts after being boosted by both signing new darts deals.
The dup have both signed four-year deals with Unicorn and will take their new arrows to Hamburg this week as they look to claim victory in the World Cup.
Last year the brothers made it all the way into the final but were just edged out by England pair Phil Taylor and Adrian Lewis – who secured back-to-back World Cup titles.
The brothers have faced each other twice on the big TV stage, at the World Championship and also the Grand Slam of Darts, in what they both labelled as the toughest matches of their careers – young brother Kim won both.
But this week they will combine in the World Cup, and boosted with new contracts they will both be high in confidence.
"This is just a real honour for me and it has come at the perfect time as I try to take my game to the next level," said 28-year-old Kim, who also became a father for the first time last week.
"To be able to work with Unicorn and develop my darts is a huge boost and I will deliver the results over the next four years."
Top 16 aim
Kim is hoping to get back into the  top 16 in the world and has made one big final at the Players Championship.
"I have gone from Mr Nobody to Mr Somebody but it is only the start. I know I have to work hard," he said.
Ronny, who is 20 years older, is delighted to be playing at the highest level after so many years and wants to climb into the top 32 in the world, whilst trying to urge his brother onto bigger and better things.
"It is difficult to find the words after what has happened to me in the last year or so. Finally I am playing and winning at the highest level and now I am part of Team Unicorn. I have to pinch myself!
"He (Kim) can achieve whatever he wants to in this sport but I tell him that he is lazy and has to work harder!"
Unicorn Managing Director Edward Lowy couldn't hide his delight at the capture of the Huybrechts brothers.
"Well, there you go. You toe the oche at Unicorn for 77 years waiting for a Huybrechts to come along and would you believe two join us at the same time!"
"We are delighted to be working with Kim and Ronny - the fabulous Belgian boys - having admired their skill and tenacity from afar for some time.
"We have the greatest respect for these two fine players and look forward to developing their darts equipment for them. I am quite sure that Kim has learnt much from Ronny, such an experienced mentor, and I have no doubt that Kim can achieve his goal of a place in the top 10 in the world."