Wayne Mardle says 'underestimated' James Wade can win Premier League
Wayne Mardle says James Wade can win the Premier League after sneaking into the play-offs.
Last Updated: 15/05/13 3:46pm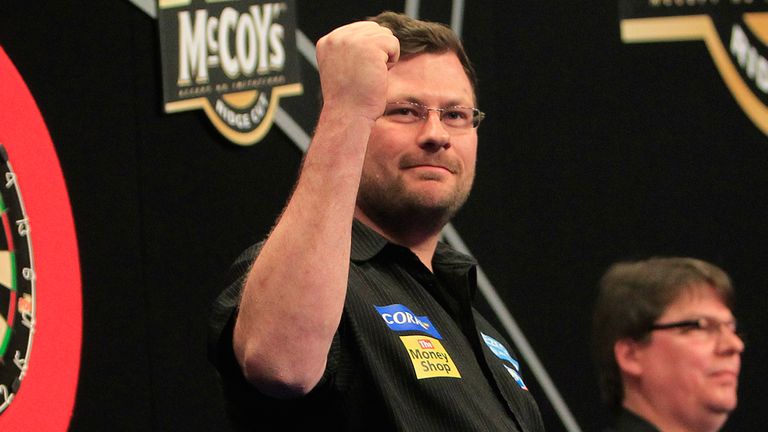 That's the verdict of Sky Sports pundit Wayne Mardle after The Machine produced an impressive draw with Phil Taylor in Newcastle to book a semi-final spot against Michael van Gerwen at the O2 Arena next Thursday.
Wade pulled off a superb 90 finish to claim the crucial 10th leg with The Power waiting to pounce on double top and, even though he was the last man to book his spot in the top four, Mardle says Wade has the potential to reclaim the trophy he last won back in 2009.
"You just know with James that he's going to fight," he explained.
"With the way he's played the last three weeks, the doubles hadn't been there but tonight the double 15 for the 90 finish was one of the best finishes of the Premier League because of the situation.
"Everything had been thrown at him and Phil Taylor had one dart to go 6-4 up and put him in trouble, but that 90 said everything about James Wade and why he's won six majors.
"I think he's underestimated in his quality. Not for winning, because everyone knows he can carrying on winning, he's underestimated because he doesn't bang in 110 averages.
"The thing with James is he sneaks through in fourth place and you know he's capable of winning this, no matter who he plays."
Enjoyed
Wade's progression came at the expense of Robert Thornton, who finished in fifth place in his debut Premier League season, just two points off the play-offs.
But Mardle backed the Scotsman to return to the competition next season after impressing with a series of tenacious displays over the last 14 weeks.
"He's played superbly and he's enjoyed it," he added.
"I've had the pleasure of speaking to Robert nigh on every week and all he's said is 'this is great, this is superb, this will do wonders for my confidence'.
"It already clearly is and he's such a great little character. He's tenacious and hopefully we will see him back in the Premier League again."