World Darts Championship: Sky Sports experts analyse Taylor-less field
With Phil Taylor out, Wayne Mardle, Eric Bristow and Rod Harrington analyse the main Ally Pally contenders.
Last Updated: 23/12/13 4:40pm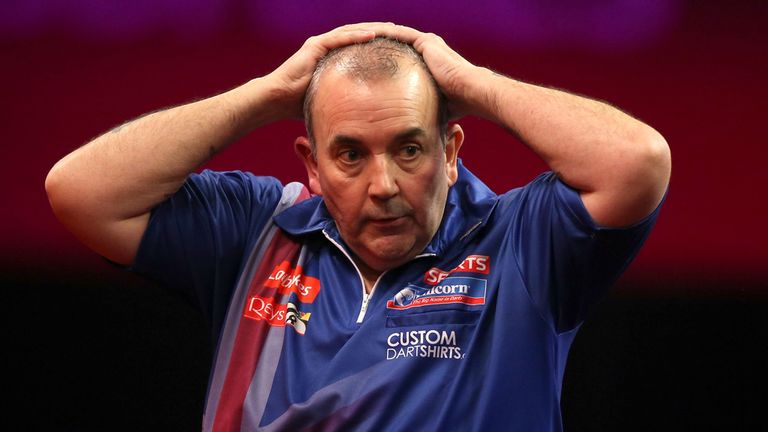 Phil Taylor's shock defeat to Michael Smith has blown the 2014 World Darts Championship wide open, but who is now the favourite to take home the Sid Waddell Trophy on New Year's Day?
Sky Sports experts Wayne Mardle, Rod Harrington and Eric Bristow have been having their say over the weekend and here's their take on some of the men who could be king....
Michael van Gerwen
WAYNE: He's exciting to watch and the reason he is the favourite is because he's the world number two and because of the way he demolished Phil Taylor in the Players Championship. He routed him with seven legs on the trot and kind of destroyed Phil for the World Championship. He deserves to be favourite and if he plays like he can then he will probably go all the way to the final and we will have to see who comes through the top half.
ROD: Very rarely do you see a guy hit more 180s than 140s, but that's what Michael did against Kevin McDine. He hit eleven 180s to ten 140s. That's incredible power scoring.
Adrian Lewis
WAYNE: The bottom half of the draw is a minefield. The big boys are in there in Van Gerwen and Lewis, whereas in the top half, every single one in there, no matter who you are, has got to fancy it. Lewis is twice a World Champion and when he is on form he is one of the best in the world. However, when he's off form he is capable of being beaten by anybody. That's why anybody who has a punt on him will always be worried until that winning double has gone in!
ERIC: I understand why the bookmakers have made Van Gerwen the favourite because he's the world number two, but if you're going on world form then you'd have to make Lewis favourite because he's won it twice out of the last three years and Van Gerwen has never won it.
Robert Thornton
WAYNE: The one for me is Thornton. He sticks out like a sore thumb. Eric thought he had a massive chance before the start and all of those in the top half are worth a bet. There is value, but it's picking the right one. If I was gambling man I'd pick Thornton - and I am! My money's there already.
ERIC: I tipped him in the paper before the tournament even started. He has won major tournaments and beaten top players and he has the averages for it. He won't worry about anyone.
Raymond van Barneveld
ERIC: Two or three years ago if Barney had gone 2-3 down he would have folded and gone out, but he has showed no emotion when he was hitting important doubles. He's been focused and he looks good. He's got a lovely draw as well. While all of this is going on around him he's looking at the programme and thinking 'this is looking good'.
ROD: I know the bottom half of the draw is tough with Van Gerwen and Lewis, but 14/1 for Barney is good value. If he gets on a run then he has got the quality and everything it takes to win the World Championship. It may be worth a tenner each way on him.
Peter Wright
WAYNE: Wright was superb again in the second round. He looks so controlled, there's nothing flustered about him and it looks as though he knows what he's doing. There's not many, at the moment, who are playing better than him. I don't get why he changed his darts. You should play your first game and know what you're going to use and it's not like he played bad in the first round with a 98.5 average. Peter has done this a lot, so I think he's trying to improve daily or he's trying to switch himself on. Sometimes you need to kick-start yourself and obviously he feels new darts all the time are the way forward.
ROD: Wright has got a good shout. He's played really well. He changed his darts, which I thought was a mistake, but he has played so well so I'd back him or Thornton each way.
Gary Anderson
WAYNE: There could be carnage in his section of the draw with Van Gerwen v Anderson and Mark Webster v Barney. There are potential banana skins everywhere in this tournament, but Gary is playing beautifully. Like a horse or a greyhound he has changed his way of running. It doesn't make sense. The 180s and 140s in huge bursts have gone, but the bad shots have also gone. They are mediocre shots now, which is better than the rubbish ones obviously. He seems to be in a decent place in his mind and knows where he's going and what he's doing. He still needs that extra go at finishing off a match and you can't do that. Against a top three or top four player he won't get a second crack of the whip.
Michael Smith
ROD: What was nice about Michael is that when he got his first set he thought 'I'm just going to enjoy it now' and when it went on and on he thought he had a chance of beating Taylor. A lot of players then fold. He didn't. He took the game to Phil and the number of 140s he hit were incredible. He took out some great shots. We said he was a brilliant darts player and he proved it. He's beaten Taylor so if he has beaten the best he can beat anybody. He will be on a high. He's a confident young man and he's worth a couple of quid.
WAYNE: From the get-go he played like a person who believed he could win the match against Taylor and the way he acquitted himself at the end of it was the way of someone who's been at the top for a long, long time. He didn't falter. The top half is blown open and Smith will believe, if he carries on in this vein, that he has got every chance of reaching a World Championship Final.