If Michael van Gerwen keeps it professional he will be World Champion, says Wayne Mardle
If Michael van Gerwen can keep up his professional performances he'll be World Champ, says Wayne Mardle.
Last Updated: 31/12/13 11:28am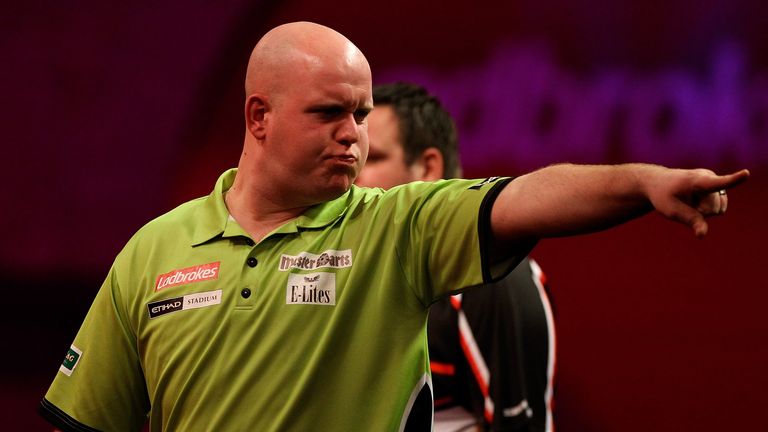 The Dutchman booked his final meeting Peter Wright after flattening Adrian Lewis 6-0 at Alexandra Palace on Monday night.
But, Sky Sports expert Wayne Mardle believes Van Gerwen, a losing finalist to Phil Taylor on New Year's Day 2013, can only lift this year's trophy if he keeps up the concentration and doesn't slip in to the troughs of poor form shown against Mark Webster in the quarter-finals.
Mardle said: "Van Gerwen was brilliant in the first half. Adrian played well but just kept missing chances; you can't average in the 20's on your double percentage against someone who's percentage is 60, it's not going to wash.
"The scoring was very similar, it was like-for-like but Michael van Gerwen when he was presented an opportunity he took it and every one one that Lewis had he kind of messed up and that was why it was 6-0. Michael said it was never a 6-0 game and it wasn't to be honest because Adrian Lewis played really well apart from the outside segments.
"If Michael van Gerwen plays that game I think he will win it because there's going to be points in the game where it's going to be 180/140 game shots or reeling off a set in 4 minutes 25 seconds - something ridiculous but if it becomes a grind for him, as in he's just slightly off of his top game, Peter Wright will win it because he will not drop, he will not fold, he's just going to go out there and play his game.
"Michael van Gerwen has been going through peaks and troughs all tournament, tonight he didn't and I thought that was sending out a signal that 'you know what I can concentrate for as long as you want me to.' If he goes through a trough then he could well be beaten."
Fulfulling potential
Mighty Mike has long been labelled a prodigy of the darts world after winning the World Masters and throwing a nine dart finish by the age of 17. Now aged 24, Van Gerwen will be looking to prove his label and win his first World Championship crown against Scotsman Wright on New Year's Day, but Wayne Mardle warns that the 2013 Premier League Champion may find it difficult.
"It's been said about so many that have never fulfilled what we all thought was going to happen," added Mardle.
"With Michael I've always thought it's been slightly different - he won the World Masters when he was a teenager and was favourite for the BDO World Championships when he was 17, he broke on to the scene and he was special already. He went missing for three or four years but last year getting to the final has definitely helped him this year and he's got no Phil Taylor in the way.
"Who's looked the most consistent player of the whole tournament - Peter Wright. Who's looked the best finisher - Peter Wright. Who's looked the coolest under the lights and the cameras - Peter Wright. I've just talked myself round, it's Peter Wright.
"But I've got to go Michael van Gerwen. I thought that was a really impressive, professional performance."