Premier League Darts 2014: Rod Harrington's season preview
Could Premier League Darts soon go global? Rod Harrington previews the new season...
By Rod Harrington
Last Updated: 11/02/14 3:44pm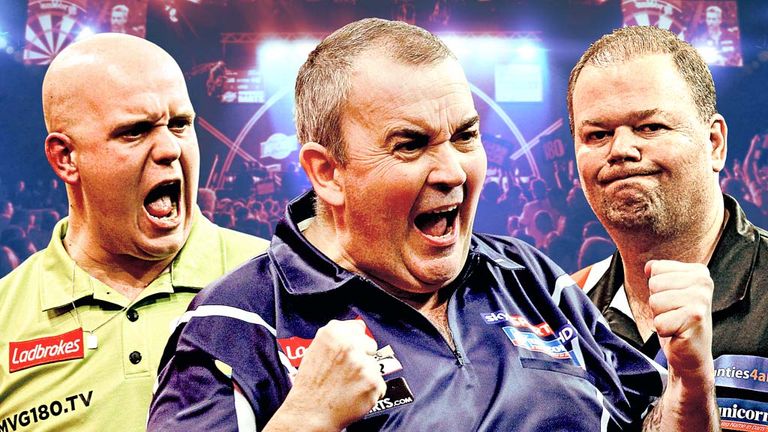 For those people who aren't day-to-day darts fans it's a great night out and a big party - and over the 16 weeks we are going to see some huge crowds.
Every night is different. We move venues each week and it takes us to Scotland, Ireland and right across England and Wales. That's one of the things I like most about it.
Maybe it's a few years down the road, but I do see this as an international event in the future, especially in Europe. We were in Germany last week where the crowds and the response are getting bigger all the time. There is a huge market there.
I'd like to see Premier League events in Germany and the Netherlands and I think that is realistic within two or three years. As a fan and somebody who wants to see the game grow I think the PDC and Sky Sports would be silly not to look at that possibility.
In an ideal world we could have 16 Premier League nights with eight in Europe and each night has a wildcard entry. So you'd invite a German player to play in Germany or an Austrian player in Austria.
That would be ideal and it's something I'd like to see happen.
Experience
It's great for the players involved because they get up to 16 nights on TV while all the other pros are sitting on their bums at home. They get experience of big crowds and that gives you a major advantage.
There are two newcomers this year including Dave Chisnall, who I think was probably unlucky not to be involved last season.
I hope he turns his form around because it has dipped recently and he didn't play well in Germany last week. He is a prolific scorer and even if he doesn't win too many games he will be a massive hit if he hits loads of 180s. That will get the crowd on his side.
The other debutant is Peter Wright, who played the worst game of darts I've seen from him in Germany last week. He changed his darts after getting to the World Championship Final, but he realises it didn't work and is going back to the other darts.
He will go into this tournament with confidence and he will keep doing things to try and improve himself. If it doesn't work then he'll go back to what he was doing before. That's what Phil Taylor has done throughout his career and I like to see that in a player. It's better than sitting there and hoping it will happen.
Wright is a character and I'm sure we will see fans turning up with coloured hair and outlandish clothes. I expect him to get quite a following.
Grind
Elsewhere, Raymond van Barneveld got a wildcard entry and we all know how good he is, but he's so hit-or-miss with his form and he still lacks the blood and guts you need to grind results out.
Gary Anderson also got a wildcard from Sky Sports and just won the German Masters and so he comes into this event on fire. He's playing very well.
You always know what you'll get from Simon Whitlock; he's a steady and solid player who will be hard to beat and will always be in the mix.
Adrian Lewis has been playing extremely well and if he can continue to control the speed of his darts then he will be great throughout this season.
We all know what Robert Thornton is like - as solid as it comes. He was the surprise package in last year's Premier League and nobody will ever take him lightly again.
And it's good to see Wes Newton in the Premier League for a second year, but he has a lot to do. It's hard work playing in this event every week, but he's learning all the time and another year should only see him grow in stature.
Big match
The big match on Thursday night sees Phil Taylor taking on Michael van Gerwen and The Power has a lot to prove.
Taylor will use new darts after switching companies, but I don't think he will change the shape or weight of his equipment. He's had a long break since the World Championship and it will be interesting to see what sort of form he's in.
He will want to beat Michael in Liverpool and prove right from the start of the year that people are wrong to write him off. It wouldn't surprise me if he turns up and throws a brilliant game of darts.
I spoke to Michael in Germany and he moaned at me that Phil wasn't there. He says he wants to play Taylor and Van Barneveld and all the best players while he's number one and playing at his best.
That's what any top sportsman wants to do and I like that sort of talk in a player. Michael will undoubtedly throw a good game - but I have no doubt Phil will be ready for him on Thursday night.