World Darts Championship: Rod Harrington's guide to rest of week one
Rod Harrington guides you through the rest of the first-round matches at Alexandra Palace.
Last Updated: 17/12/13 2:05pm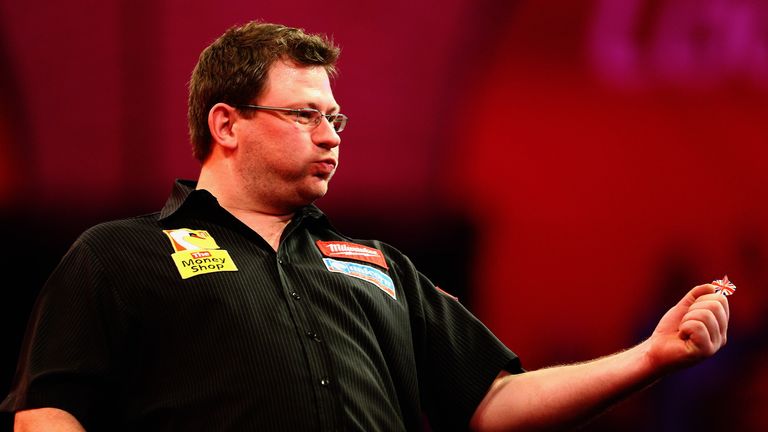 Ronnie Baxter v Ricky Evans
Devon Petersen v Mohammed Latif Sapup (P)
Kim Huybrechts v Ronny Huybrechts
Steve Beaton v Petersen/Sapup
Mervyn King v Darin Young
ROD SAYS:It was incredible when the Huybrechts brothers were drawn to play each other in the opening round but I can't see Ronny beating Kim. They played each other on TV for the first time at the Grand Slam and Kim showed he can shut off his emotions and proved he is the better of the two. Kim is a great player and I'd like to see him move forward - and if he has a great World Championship then there could be a Premier League place waiting for him at the end of it. I'm going with Kim all the way on that one.
Ricky Evans is one of the players who has come through the Youth Tour and has been playing extremely well so I can see him upsetting Ronnie Baxter. He is a quicker thrower than Michael van Gerwen - probably the quickest player on the Tour - and if he gets his first dart right then he will cause all sort of problems. However he can't give Baxter a chance or else he will take it; the youngsters can't afford to let the old guard off when they get an opportunity. However, if Evans plays like he has done in some of the recent Tour events then an upset is on the cards.
Tuesday December 17 (7pm, Sky Sports 2)
Colin Lloyd v Beau Anderson
Zoran Lerchbacher v Ben Ward (P)
Vincent van der Voort v Matt Clark
Michael van Gerwen v Lerchbacher/Ward
Simon Whitlock v Ross Smith
ROD SAYS: Michael van Gerwen came back from 6-3 down to beat Phil Taylor in the final of the Players Championship and is on fire at the moment. You can't come into a World Championship with more confidence and encouragement than he has got and I can't see any upsets there. He'll be bouncing off the ceiling by the time he gets to the stage.
Simon Whitlock has had a few dodgy results lately and will need to stay focused against Ross Smith, who is a great player and won the Challenge Tour Order of Merit. He's taken a few scalps and threw a nine-darter in Gibraltar recently. Simon is the favourite, but it would not be a huge shock if his Christmas was ruined. I expect Vincent van der Voort to beat Matt Clark because of his scoring power; he just needs to tidy up his finishing. He shouldn't have any trouble.
Wednesday December 18 (7pm, Sky Sports 2)
Andy Smith v Steve Brown
Morihiro Hashimoto v Paul Lim (P)
Justin Pipe v Arron Monk
Michael Smith v Hashimoto/Lim
Adrian Lewis v Dennis Smith
ROD SAYS: Dennis Smith is an old campaigner who could upset anybody and never bottles it. He has been up on the big stage several times and knows what it's all about, but Adrian Lewis should still win that game. A bit like Michael van Gerwen, his exceptional scoring power gives him so many chances over other players but he needs to be careful that Smith's slow play doesn't put him in the back foot. He needs to stay focused because he should get plenty of darts at doubles.
I don't think Justin Pipe is ready to win the World Championship, but he's going to be a spoiler and do well. He has drawn Arron Monk, who has not been playing well this year. He looked like a great prospect, but has been to the gym and beefed himself up and I wonder if that has had an impact on his form because he hasn't been playing too well. He will have to play extremely well to get through and I don't think he will.
Thursday December 19 (7pm, Sky Sports 1)
Mark Webster v Mensur Suljovic
Gino Vos v Royden Lam (P)
James Wade v Darren Webster
Wes Newton v Vos/Lam
Kevin Painter v Tomas Seyler
ROD SAYS: Tomas Seyler is a solid player, but I expect Kevin Painter to come through that game because he has enough big-stage experience to cope. Elsewhere, Gino Vos and Royden Lam are good players, but I expect Wes Newton's experience to pull him through. He has been playing well enough, although he can't afford to take any of his potential opponents lightly.
James Wade is always great at beating whoever is in front of him. He doesn't throw 100 averages in every game, but still beats most people. It seems like he doesn't waste big shots in legs that he doesn't feel he can win - he won't hit a 180 when his opponent is on a double because it's wasted - and maybe that helps him to relax. I don't think that's a bad attitude to have and whilst he is not exceptional every night he does the job more often than not. He's a very good player.