Part puts out Painter
John Part moved into the quarter-finals of the World Championship with a 4-2 victory over Kevin Painter at Alexandra Palace.
Last Updated: 29/12/11 5:41pm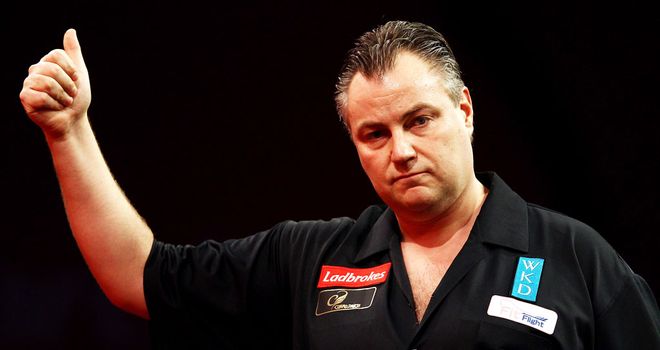 John Part stormed into the quarter-finals of the Ladbrokes World Darts Championship with a thrilling 4-2 victory over Kevin Painter at Alexandra Palace.
The three-time world champion took on a rejuvenated 2004 finalist in a real old school darting battle, with Painter looking the favourite early on as he looked extremely confident following on from his Players Championship victory.
The Artist averaged almost 107 as he took the opening set, but Part hit back in a tight second before a brilliant 161 outshot helped him to the third and he looked to have turned the tide.
There was little between them in the fourth with both missing crucial doubles, but despite Painter taking it to level he continued to make the most mistakes and Part made the most of his chances.
In the end there was little between them in averages and Painter had five more 180s but those doubles saw Part through - and it could be a significant win as every other time he has beaten Painter in the World Championship he has gone on to win it.
"I was working real hard," Part told Sky Sports after the match. "We've got a history and it wasn't easy. I made a lot of shots that I needed to, missed a few but so did he too. Scoring wise we kept it very tight, as we've got a lot of respect for each other and it was a good fight for a while there.
"I'm still here, into the quarter-finals now, and I don't want to jinx myself but I'm doing well. I missed a bunch of 180s with the third darts but I hit the shots that I needed to and that's what darts is all about."
Hot Huybrechts progresses
Belgium's Kim Huybrechts continued his impressive run, 'The Hurricane' coming from a set down to record a superb 4-1 victory over Paul Nicholson.
Huybrechts looked rather nervy early on as Nicholson took out a 112 finish on his way to winning the first set.
But the momentum of the match shifted after the British-born Australian missed nine darts at a double to allow his opponent to pinch the third leg of the second set.
From that moment Nicholson's confidence seemed to evaporate while Huybrechts' went through the roof as he bombarded his rival with some relentlessly heavy scoring.
The Belgian took the second set to level and - despite a defiant 170 check-out from Nicholson - moved clear by taking the third and then the fourth, swamping Nicholson by winning nine out of ten legs at one point.
Nicholson looked to have got himself in a position to clinch the fifth but then missed seven more darts at a double to allow Huybrechts to steal in and take out 80 to secure a crucial break in the third leg.
It was to cost Nicholson dearly as, after he missed two more darts at a double to stay alive in the next, Huybrechts hit double-eight at the third time of asking to seal his place in the quarter-finals.
Waltz for Wade
James Wade will face Part in the last eight, after the six-time major winner turned up in superb form to take out Steve Farmer in a comfortable 4-0 victory.
It seemed it would be a bad day for farmer when he hit a second consecutive 180 early on, only to then look up and find out he was sat on 176 and had bust his score.
Wade hit four 180s and averaged 91.30 but was barely forced to move out of second gear and after so many poor displays in the biggest tournament of them all this could finally be his year.
"It wasn't easy I can assure you of that," said Wade. "He missed a few shots there, and the one that stood out was when he hit a 180 when he had 176 left and I thought with that silly shot he was a bit nervous so I think that made the game for me.
"I never play well at the World Championship I do OK in certain games but you never know what's going to happen and if I'm there at the end of it I'm there and if I'm not I'm not - but I will be there one year!"