Wizard works his magic
Simon Whitlock reached the last four of the PDC World Championship with a resounding 5-1 win over Gary Anderson.
Last Updated: 30/12/11 10:11pm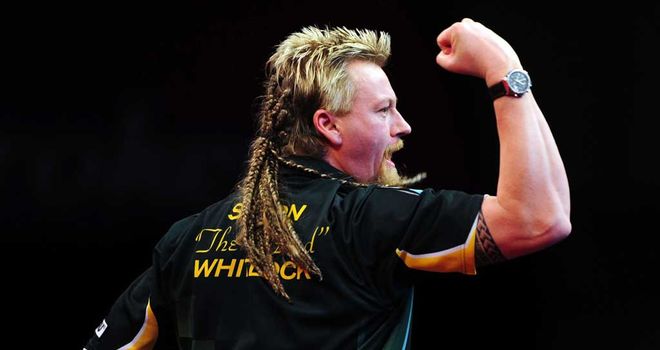 Simon Whitlock reached the last four of the PDC World Championship with a resounding 5-1 triumph over Gary Anderson.
The Australian bounced back emphatically from losing the first set to see off a player who had been installed as the new favourite for the tournament following the early exit of Phil Taylor.
Anderson scored well enough but endured a night to forget on his doubles, allowing his opponent to cash in and complete an unexpectedly one-sided win.
Things had started off so well for the Scott too, a 151 finish in just the third leg being followed by double five in the next, putting him a set to the good.
Whitlock - still hobbling on stage due to a pin inserted in his broken ankle - responded in fine style. He managed a 121 checkout, made even more impressive by the fact his rival was waiting in the wings on 20, on his way to levelling things up at 1-1.
Missed chances
Anderson missed chances in all three legs that he lost in the third set, then quickly slipped 2-0 behind in the fourth.
A comeback appeared possible when back-to-back 14-darters made it 2-2, only for Whitlock to steal in with double seven to move further clear.
He swept through the next set in a hurry and then rallied from a 2-0 deficit in the sixth, Anderson failing with five darts for the set in the the fourth leg.
"It's all a bit hard to believe, but I always had that belief in myself," Whitlock told Sky Sports. "I wasn't going to let my leg be a handicap to me. In fact, I'm using it to be a positive.
"Gary didn't play his best game - he missed a lot of doubles. I don't think my game suited him tonight.
"I had to play slow because of my leg, and I know he doesn't like to play slowly because he can't get in a rhythm."
Standing in his way next is Andy Hamilton, a comfortable 5-2 winner over Kim Huybrechts of Belgium in Friday's afternoon action at Alexandra Palace.
Asked if he is a better player than when he lost to Phil Taylor in the 2010 PDC final, Whitlock quipped: "I am mentally, but physically no!"